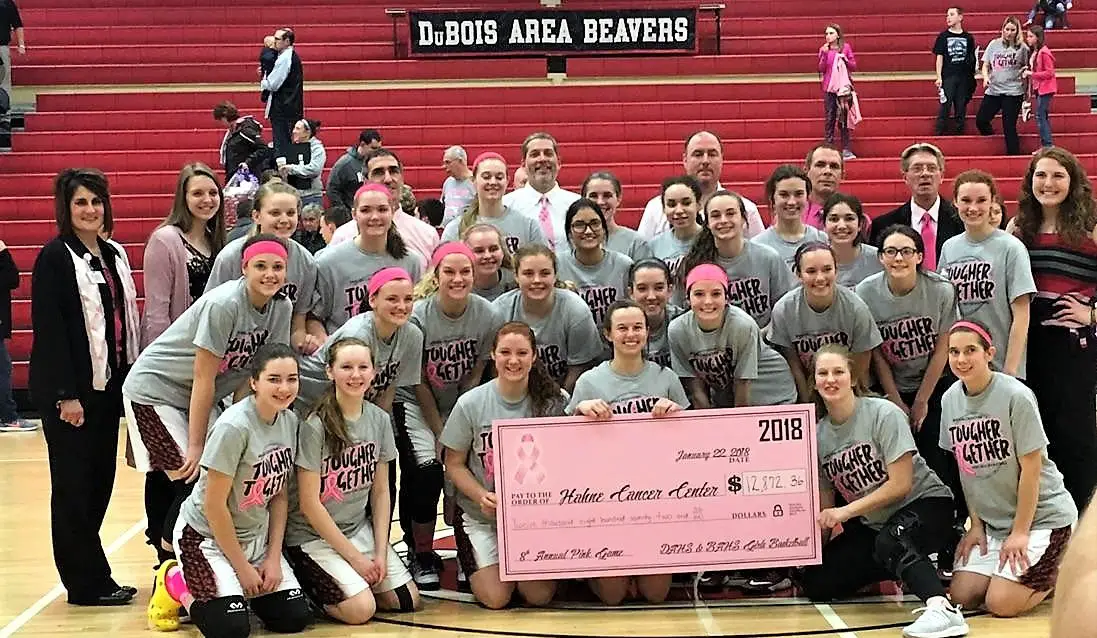 DUBOIS, Pa. – The DuBois and Brockway girls' basketball teams raised nearly $13,000 for the Hahne Cancer Center in DuBois through their eighth annual Pink Out Game Monday at DuBois.
(Photo of members of the DuBois and Brockway girls' basketball teams came together to raise nearly $13,000 for the Hahne Cancer Center in DuBois Monday. Photo submitted by Michelle Snyder)
The two teams combined to raise $12,842 with all proceeds going to the Hahne Cancer Center in DuBois.
"It is definitely a collaboration between the two schools," Michelle Snyder, a teacher at DuBois who coordinated this year's game, said. "This year, it was our turn to host. Next year it will be Brockway's."
Snyder said the money was raised through various means including several raffles (basket raffles and a 50/50) held during the game as well as a separate raffle for cash prizes during December and January where players from both teams sold raffle tickets.
"We also did jeans weeks where teachers could donate money and then dress down during the school day," Snyder said. "And the DuBois Social Studies Department, after 'No Shave November' did a mustache contest and donated all the money from that as well."
Additionally, the schools held a bake sale and donation letters were sent out to businesses and individuals in the community.
"Some people donated money and some to the raffles," Snyder said. "We probably had between 70 to 80 donations by the time we were done."
At the game, cancer fighters and survivors were also honored by the teams.
In the eight years of the Pink Game fundraiser, Brockway and DuBois have come together to donate between $124,000 and $125,000 to the Hahne Cancer Center in that time.
"I think it is important because all the money we give to Hahne they use to benefit the patients directly," Snyder said. "They have used our money to buy a van to pick up patients and bring them in for treatment. They have also used it to help patients pay bills when their treatments keep them from working and also to buy groceries and other things. All of the money goes directly to people who need it."
Snyder said she wasn't around when the two schools started the game but she believes at this point it has become a great tradition.
"We have seen the value to it and the benefit it brings," Snyder said. "And I think the students benefit from it as much as the Cancer Center does. I was on Social Media (Monday night) and saw a post from someone who said the Pink Out Game was her favorite part of high school and she was sad she couldn't be there this year. I believe the kids see value in it, the way we celebrate other people. The kids get a lot out of it too."
Games to raise money for cancer centers and cancer research happen at many schools throughout District 9. A couple of upcoming ones including Clarion and Keystone getting together for a boys'/girls' doubleheader Monday, Jan. 29, and Forest Area doing one at East Forest Monday Feb. 12