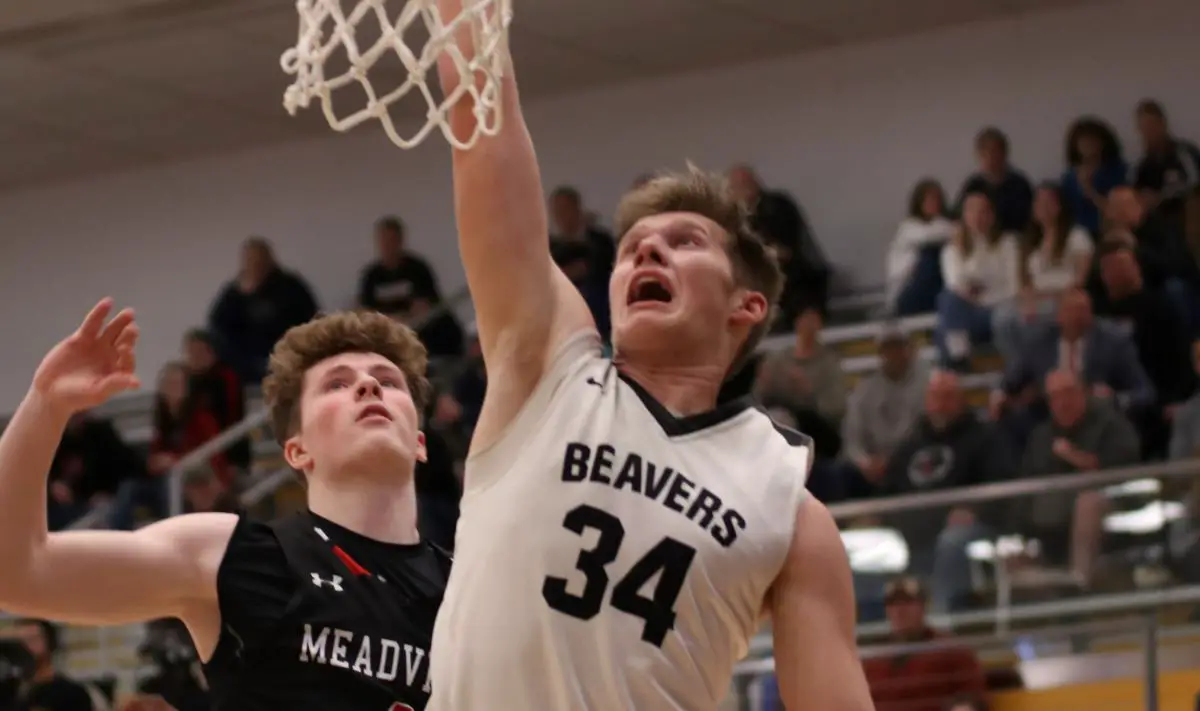 CLARION, Pa. – Davyon Butler and Lemaro Husband combined for 25 points, and Meadville held off a late DuBois rally to pick up a, 54-42, win in the District 8-9-10 Class 5A subregional semifinals at Clarion University's Tippin Gymnasium Tuesday night.
(Photo by Jared Bakaysa of JB Graphics. See more of Bakaysa's work here)
Butler had a game-high 15 points for the Bulldogs. Eleven of his points came in the first half while Husband scored all 13 of his points in the second half.
DuBois trailed 41-27 with 5:10 left but went on a 13-2 run to cut the deficit to 45-40, thanks to six points from Chase Husted and a 3-pointer from Nick Farrell with two minutes left to play.
Charlie Waid spoiled a chance at the comeback, as he went 5-for-6 from the charity stripe in the final 1:40 of the game.
"There's no quit in our guys," DuBois head coach Dave Bennett said. "We just needed another play or two to keep it going. Tribute to Meadville, they knocked down their free-throws and closed out the game."
A sloppy third quarter from the Beavers (19-4) saw a 24-20 halftime deficit turn into a 35-22 deficit after being outscored 11-2 in the third quarter.
The Bulldogs (13-11) got three 3-pointers from three different players – Husband, Keeon Lindsey and Waid at the buzzer.
"I thought the third quarter was the difference," Bennett said. "They did a good job being physical and offensively we didn't get as many of the looks we wanted."
Waid finished the game with eight points for the Bulldogs with Reese Pero adding seven points, including a 3-pointer as time expired in the second quarter.
Nick Felix came on late and scored eight of his 11 points in the fourth quarter. Lennon Lindholm and Jordin Sommers were each held to a 3-pointer in the game.
"It was a great year," Bennett said. "That is a tremendous group of young men. Those guys worked really hard in the offseason and this group flipped the script that we won close games this year, which we didn't last year."
Meadville will take on Obama Academy in the title game either Friday or Saturday at a site and time to be announced.
DuBois postseason information is brought to you by: Fran Morelli Sales & Service • Lezzer Lumber
Full coverage of District 9 teams in the basketball postseason can be found here.
D9Sports.com's District 9/PIAA basketball playoff coverage Powered by Lezzer Lumber is brought to you by:
Lezzer Lumber • Delta Contracting & Design/Ace Concrete & Excavating • Team Minard • Fran Morelli Sales & Service • Burford & Henry Real Estate Services • Potter County Family Campground • Close's Lumber Company • Tin Town Metal Works • State Representative Donna Oberlander (Paid for by Friends of Donna Oberlander) • 120 Pub and Grub in Clearfield • Campbell Bus Lines