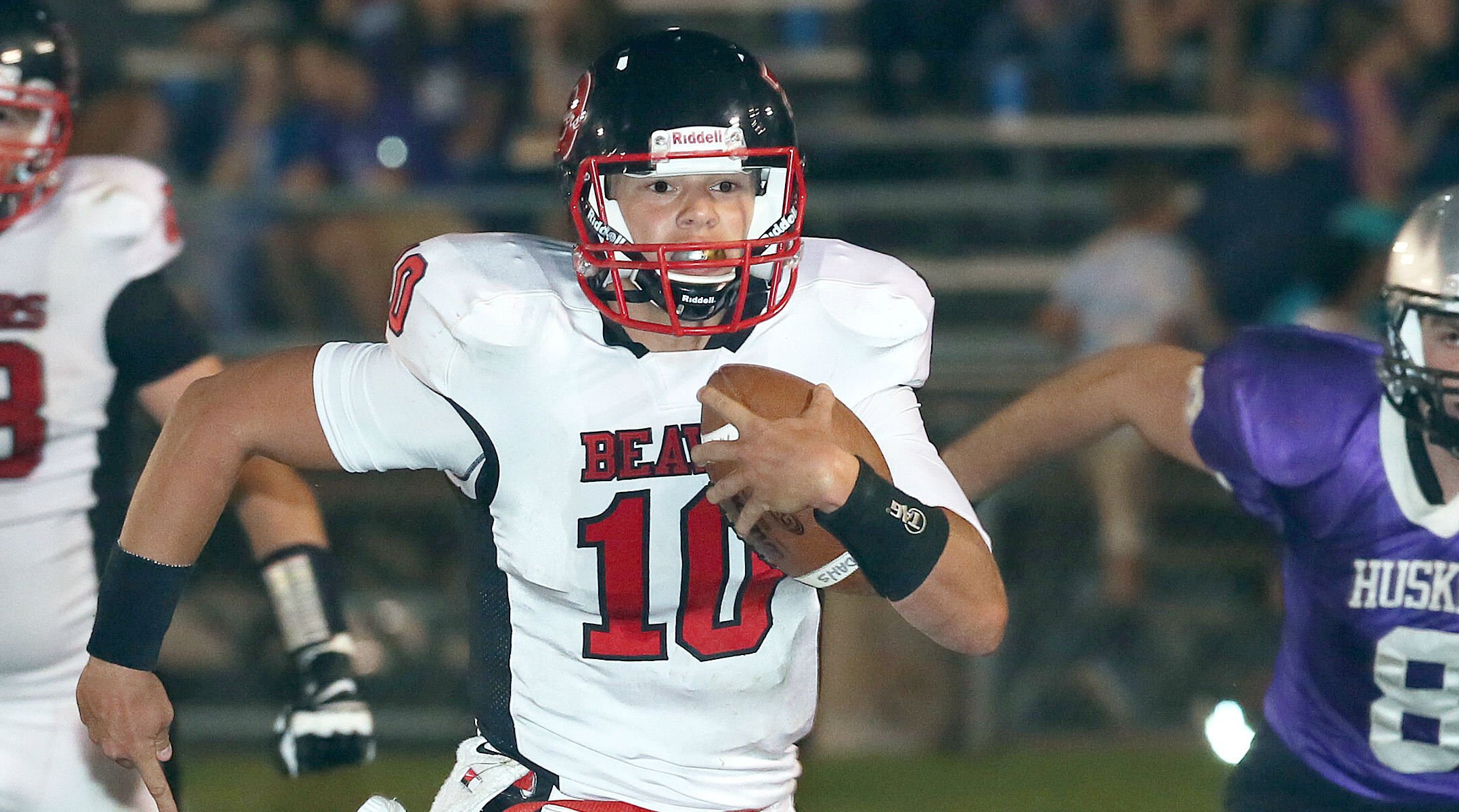 CLARION, Pa. – After accounting for seven touchdowns in a 77-21 win over Franklin, DuBois senior quarterback Gabe French is the D9Sports.com District 9 Football Player of the Week for Week Eight of the 2014 season.
French was 19-for-23 for 431 yards and six touchdowns while running six times for 84 yards and a touchdown in the Beavers' six victory of the year.
Joining French in being honored are 15 players on the Week Eight 2014 District 9 Honor Roll.
The Player of the Week and Honor Roll will run through Week 10 of the 2014 high school football season and will be released at the conclusion of the week's games either Sunday or Monday.
Located at www.d9sports.com, D9Sports.com is in its 15th year of covering athletics within the PIAA's District 9. The site, which is not affiliated with the PIAA in any way, covers all 25 football playing teams playing in District 9. For more information on the site, please visit it or e-mail the staff at sports@d9sports.com. The site is also active on Twitter @D9sports and on Facebook at www.facebook.com/d9sports.
D9SPORTS.COM DISTRICT 9 PLAYER OF THE WEEK
Gabe French – DuBois: 19-for-23 passing, 431 yards, 6 touchdowns; 6 carries, 84 yards, 1 touchdowns – DuBois 77, Franklin 21
D9SPORTS.COM DISTRICT 9 HONOR ROLL (in alpabetical order my team)
Anthony Benson – Brockway: 8 carries, 109 yards, 1 touchdown; 4 catches, 37 yards; Intercepted a pass on defense – Brockway 31, Curwensville 14
Caleb Burnside – Cameron County: 17 carries, 137 yards, 3 touchdowns; Intercepted a pass on defense – Cameron County 40, Coudersport 7
Ian Corbett – Clarion: 21 carries, 100 yards, 1 touchdown; 3 catches, 101 yards, 2 touchdowns; Returned a fumble 10 yards for a touchdown – Clarion 41, St. Marys 0
Cody Spaid – Clearfield: 7-for-9 passing, 131 yards, 3 touchdowns – Clearfield 49, Bald Eagle Area 14
Tyler Lansberry – Curwensville: 3 catches, 126 yards, 2 touchdowns – Brockway 41, Curwensville 14
Devin Clark – DuBois: 12 carries, 69 yards, 2 touchdowns; 2 catches, 31 yards, 1 touchdown; Intercepted a pass on defense – DuBois 77, Franklin 21
Kevin Foley – DuBois: 5 catches, 174 yards, 1 touchdown – DuBois 77, Franklin 21
Collin Dunmyre – Karns City: 17 carries, 151 yards, 3 touchdowns – Karns City 42, Keystone 7
John English – Kane: 34 carries, 178 yards, 2 touchdowns – Elk County Catholic 13, Kane 12
Seth Drummond – Otto-Eldred: 23 carries, 230 yards, 4 touchdowns – Otto-Eldred 41, Sheffield 14
Tre Garzel – Port Allegany: 13 of 27 passing, 135 yards, 3 touchdowns – Port Allegany 26, Smethport 19
Dakota Thomas – Punxsutawney: 7 of 12 passing, 106 yards, 2 touchdowns; 9 carries, 74 yards, 2 touchdowns – Punxsutawney 42, Clarion-Limestone 6
Jake Dougherty – Redbank Valley: 16-for-28 passing, 220 yards, 4 touchdowns, 2 interceptions – Redbank Valley 26, Moniteau 14
Marquis Clark – Sheffield: 9 catches, 137 yards, 1 touchdown – Otto-Eldred 41, Sheffield 14
Lane Cicciarelli – Union: 8 of 13 passing, 156 yards, 2 touchdowns; 7 carries, 9 yards, 1 touchdown – Union 32, Ridgway 7