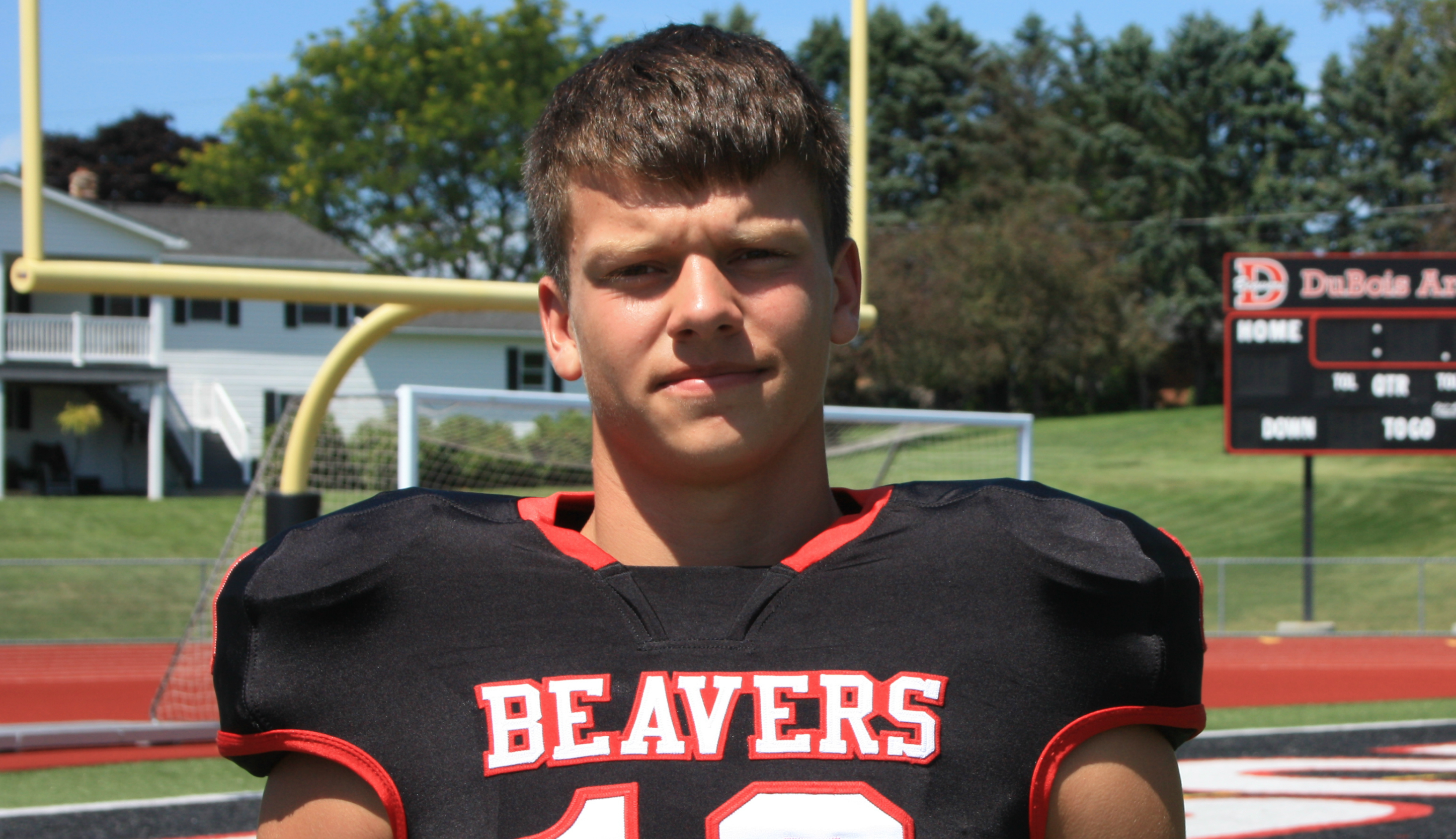 CLARION, Pa. – After a near-perfect performance that saw him rack up over 500 yards of total offense, DuBois senior quarterback Gabe French is the D9Sports.com Football Player of the Week for the first week of the 2013 season.
French accounted for eight Beaver touchdowns in a resounding 61-38 win at Mifflin County Friday night throwing for seven and rushing for one. He was 19 of 23 passing for 424 yards while tying for the second-most passing touchdowns in a game in District 9 history. He added 10 carries for 94 yards.
Joining French in being honored are 15 players on the Week One 2014 District 9 Honor Roll including a pair of French's teammates, Bryson Paulinellie and Cole Kriner.
The Player of the Week and Honor Roll will run through Week 10 of the 2014 high school football season and will be released at the conclusion of the week's games either Sunday or Monday.
Located at www.d9sports.com, D9Sports.com is in its 15th year of covering athletics within the PIAA's District 9. The site, which is not affiliated with the PIAA in any way, covers all 25 football playing teams playing in District 9. For more information on the site, please visit it or e-mail the staff at sports@d9sports.com. The site is also active on Twitter @D9sports and on Facebook at www.facebook.com/d9sports.
D9SPORTS.COM DISTRICT 9 PLAYER OF THE WEEK
Gabe French – DuBois: 19 of 23 passing, 424 yards, 7 touchdowns (tied for 2nd most in a game in District 9 history); 10 carries, 94 yards, 1 touchdown – DuBois 61, Mifflin County 38
D9SPORTS.COM DISTRICT 9 HONOR ROLL (in alpabetical order my team)
Anthony Benson – Brockway: 6 carries, 60 yards, 1 touchdown; 4 catches, 76 yards, 1 touchdown; Returned a punt for a touchdown – Brockway 38, Smethport 0
Mark Latuska – Brockway: 5 carries, 120 yards, 2 touchdowns – Brockway 38, Smethport 0
Ian Corbett – Clarion: 12 carries, 129 yards, 4 touchdowns; 4 tackles, 1 sack – Clarion 54, A-C Valley 0
Ryan Lezzer – Clearfield: 7 catches, 187 yards, 3 touchdowns – Kyser (W. Va.) 43, Clearfield 30
Jakob Terry – Curwensville: 4 of 5 passing, 133 yards, 3 touchdowns – Curwensville 48, Port Allegany 16
Nick Stewart – Curwensville: 13 carries, 176 yards, 2 touchdowns; 1 catch, 46 yards, 1 touchdown – Curwensville 48, Port Allegany 16
Cole Kriner – DuBois: 4 catches, 171 yards, 2 touchdowns; 4 tackles – DuBois 61, Mifflin County 38
Bryson Paulinellie – DuBois: 6 catches, 147 yards, 4 touchdowns; 12 tackles – DuBois 61, Mifflin County 38
Mitchell Smith – Elk County Catholic: 7 of 9 passing, 121 yards, 1 touchdown; 11 carries, 47 yards, 1 touchdown – ECC 32, Coudersport 0
Cody Skiver – Moniteau: 6-for-13 passing, 92 yards; 20 carries, 50 yards, 1 touchdown; Returned an interception for a touchdown – Moniteau 22, Punxsutawney 14
Braxton Giavadoni – Punxsutawney: 5 carries, 67 yards, 1 touchdown; 3 catches, 44 yards, 1 touchdown; 1 interception, 1 fumble recovery on defense – Moniteau 22, Punxsutawney 14
Jake Dougherty – Redbank Valley: 15 of 20 passing, 176 yards, 3 touchdowns; Became the school's all-time leading passer with 3,717; Ran for 74 yards, 1 touchdown – Redbank Valley 47, Clarion-Limestone 0
Ben MacDonald – Ridgway: 6 carries, 47 yards, 2 touchdowns; 2-for-4 passing, 62 yards, 1 touchdown – Ridgway 48, Sheffield 0
Kyle Glatt – St. Marys: 13 carries, 57 yards, 1 touchdown; 4 caches, 38 yards, 1 touchdown – St. Marys 19, Bradford 14
Dugan Gallagher – Union: 17 carries, 156 yards, 1 touchdown; 1 catch, 26 yards, 1 touchdown; Scored game-winning touchdown with under 6 minutes to play; Made 9 tackles on defense – Union 14, Keystone 8