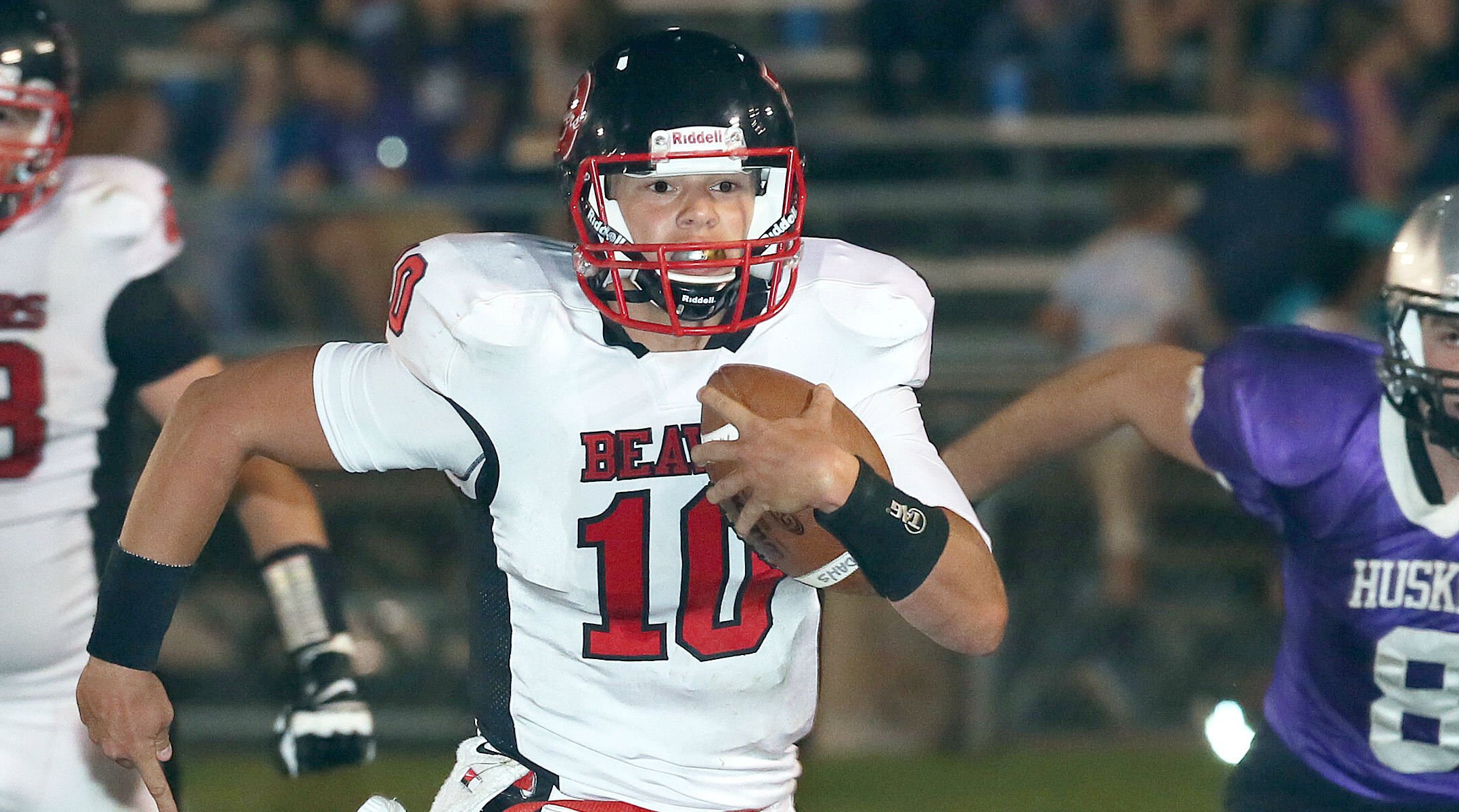 Cover photo by George Powers – Visit http://www.georgepowersphotos.com/
CLARION, Pa. – For the second straight week, DuBois senior quarterback Gabe French is the D9Sports.com Football Player of the Week for the second week of the 2014 season.
French, who has 12 passing and two rushing touchdowns through two weeks, threw for five scores and ran for a sixth in the Beavers 56-24 win at Meadville Friday night. He was 14 of 19 passing for 357 yards and ran nine times for 68 yards.
Joining French in being honored are 15 players on the Week One 2014 District 9 Honor Roll including Kane's John English, who ran for 164 yards and four touchdowns.
The Player of the Week and Honor Roll will run through Week 10 of the 2014 high school football season and will be released at the conclusion of the week's games either Sunday or Monday.
Located at www.d9sports.com, D9Sports.com is in its 15th year of covering athletics within the PIAA's District 9. The site, which is not affiliated with the PIAA in any way, covers all 25 football playing teams playing in District 9. For more information on the site, please visit it or e-mail the staff at sports@d9sports.com. The site is also active on Twitter @D9sports and on Facebook at www.facebook.com/d9sports.
D9SPORTS.COM DISTRICT 9 PLAYER OF THE WEEK
Gabe French – DuBois: 14 of 19 passing, 357 yards, 5 touchdowns, 2 interceptions; 9 carries, 68 yards rushing, 1 touchdown – DuBois 56, Meadville 24
D9SPORTS.COM DISTRICT 9 HONOR ROLL (in alpabetical order my team)
Anthony Benson – Brockway: 4 catches, 67 yards, 2 touchdowns; 4 carries, 49 yards, 1 touchdown – Brockway 48, Coudersport 0
Braden Martini – Brockway: 13-for-17 passing, 228 yards, 4 touchdowns – Brockway 48, Coudersport 0
Bobby McGranor – Brookville: 8 carries, 46 yards, 2 touchdowns; 8-for-16 passing, 114 yards, 1 touchdown, 1 interception – Brookville 28, Union 20
Colton Rapp – Clarion: 12 carries, 112 yards, 2 touchdowns; 5 tackles on defense – Clarion 68, Sheffield 0
Nick Stewart – Curwensville: 16 carries, 146 yards, 2 touchdowns – Curwensville 34, Otto-Eldred 12
Mitchell Smith – Elk County Catholic: 4-for-4 passing, 54 yards, 2 touchdowns; 14 carries, 108 yards, 2 touchdowns – Elk County Catholic 39, Port Allegany 0
John English – Kane: 21 carries, 164 yards, 4 touchdowns (113 yards, 3 touchdowns in 3rd quarter) – Kane 42, Smethport 0
Collin Dunmyer – Karns City: 4 carries, 72 yards, 3 touchdowns – Karns City 55, Brashear 7
Josh McBride – Moniteau: 10 carries, 49 yards, 2 touchdowns; 4 catches, 36 yards, 1 touchdown – Moniteau 28, Clarion-Limestone 20
Cody Skiver – Moniteau: 7-for-13 passing, 70 yards, 1 touchdown, 1 interception; 11 carries, 78 yards, 1 touchdown; Intercepted a pass on defense; Scored game-winning touchdown on 30-yard run with 5:01 left to play – Moniteau 28, Clarion-Limestone 20
Seth Drummond – Otto-Eldred: 24 carries, 151 yards, 2 touchdowns – Curwensville 34, Otto-Eldred 12
Braxton Giavedoni – Punxsutawney: 5 catches, 108 yards, 2 touchdowns; 2 carries, 4 yards; Recovered a fumble on defense, made 2 tackles and broke up a pass – Punxsutawney 42, Keystone 0
Jake Dougherty – Redbank Valley: 9-for-15 passing, 143 yards, 2 touchdown; 15 carries, 49 yards, 1 touchdown – Redbank Valley 35, Carrick 14
Ben MacDonald – Ridgway: 8 carries, 150 yards, 2 touchdowns; 3-for-9 passing, 40 yards; Returned an interception for a touchdown – Ridgway 42, Cameron County 8
Cole Morris – Union: 3-for-11 passing, 81 yards, 1 touchdown in backup role; 8 carries, 104 yards, 1 touchdown, 1 catch, 14 yards – Brookville 28, Union 20