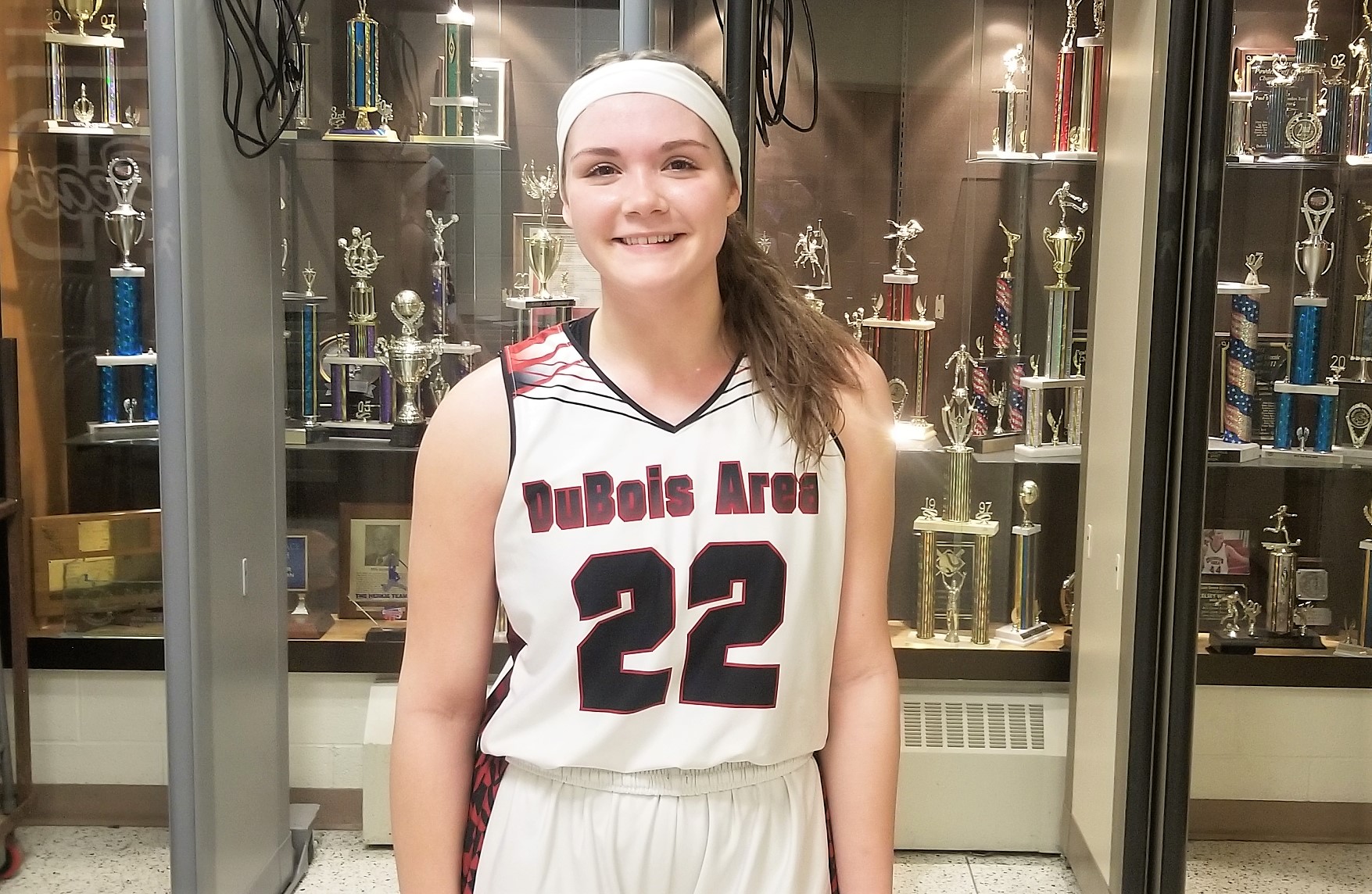 DUBOIS, Pa. – The last time the DuBois girls' basketball team won a playoff game, Bill Clinton was president and Major League Baseball was coming off a season that saw a strike wipe out the World Series.
(Photo: Saige Weible had 9 points and 14 rebounds in the win for the Lady Beavers)
It was 1995, and two of the top movies that would hit theaters that year were Braveheart and Toy Story. None of the current Lady Beavers had been born yet.
This current group of DuBois players, however, were well aware of the history they accomplished when they used a team-wide effort to defeat visiting Bellefonte, 45-40, in the District 6-8-9 Class 5A quarterfinals Monday night.
"It's history," senior Chelsea DeSalve, who tied for team-high honors with 11 points while adding seven rebounds, said. "I can't even speak right now. I don't have the words. It's so exciting. I am so proud of my team."
Prior to the game, DuBois, which has only two seniors with the rest of the team made up of sophomores and freshmen, decided it was going to have to be about the team if it was going to get its second win of the year over the Lady Raiders.
"Right before we went out, we said this is the game where we need to have each other's backs," DeSalve said. "This game right here we need to have confidence. We did it."
Sophomore Olivia Johnson tied DeSalve for the team lead with 11 points while adding eight rebounds but scored all of her points in the first half before second-half foul trouble kept her on the bench before she fouled out with just over three minutes to play.
"Taylor (Smith) came in when OJ fouled and out and did the job," DeSalve said of the sophomore Smith who had two points and four rebounds.
Another sophomore, Saige Weible also did the job.
Just missing a double-double, Weible had nine points and a game-high 14 rebounds with four of the points and seven of the rebounds coming in the fourth quarter.
"I'm just doing what helps my team," Weible said.
Weible scored five of her points in the second half and said that with a team that has so many young players on it being together as a team was important in the victory.
"I think everyone was nervous," Weible said. "But together as a team we were always there for each other, and we were very uplifting and came in and gave it our all. Whenever we broke down in the team huddle, we chanted 'together.'"
DuBois started quickly grabbing an early 11-6 lead behind four points from Weible and seven from Johnson.
Bellefonte, which trailed 11-8 after a quarter, came back and took five leads in the second quarter only to see DuBois rally each time to go back in front with the Lady Beavers scoring the final three points of the half, all from DeSalve, to go into halftime up two, 25-23.
DuBois then maintained that lead – although never by more than four points – throughout most of the third quarter before Bellefonte tied the game at 34 on a basket by Mallorie Smith, who scored a game-high 14 point with 1:57 to play in the quarter. Weible, though, hit a free throw with 1:46 left in the third to give the Lady Beavers a 35-34 lead heading to the fourth quarter.
"It was very important to not be playing from behind," Weible said. "We gave it everything we had."
DeSalve agreed saying maintaining the lead throughout the third quarter was one of the keys to victory.
"Normally, we seem to come out slow in the third quarter," DeSalve said. "We said we need to stay on top."
Watch the full interview with DeSalve and Weible.
Abby Guiher added eight points for DuBois.
Sara Dehaas had a double-double for Bellefonte with 12 points and 12 rebounds, including nine boards in the third quarter alone.
NOTES – DuBois' last playoff win prior to Monday night came in the 1995 District 9 Class 4A championship game when the Lady Beavers beat Punxsutawney, 32-29 … DuBois will now face top-seeded Hollidaysburg at 7 p.m. Thursday, Feb. 21, at Hollidaysburg in the D6-8-9 semifinals with a PIAA playoff berth on the line … DuBois is 11-12 on the year. Bellefonte, which DuBois beat, 36-34, Jan. 10 in DuBois, finished the season 9-14.
DUBOIS 45, BELLEFONTE 40
Score by Quarters
Bellefonte 8 15 11 6 – 40
DuBois 11 14 10 10 – 45
BELLEFONTE – 40
Maddie Steiner 3 0-1 7, Mallorie Smith 6 2-2 14 Lily Gardner 0 0-0 0, Mia Johnson 2 1-5 5, Bella Corman 1 0-0 2, Sara Dehaas 6 0-2 12, Emmalee Neff 0 0-1 0. Totals 18 3-11 40.
DUBOIS – 45
Abby Guiher 2 2-2 8, Maddie Smith 2 0-0 4, Allie Snyder 0 0-0 0, Taylor Smith 0 2-3 2, Chelsea DeSalve 4 3-4 11, Saige Weible 3 3-8 9, Sarah Henninger 0 0-0 0, Olivia Johnson 5 1-2 11. Totals 16 11-19 45.
Three-pointers: Bellefonte 1 (Steiner). DuBois 2 (Guiher 2).