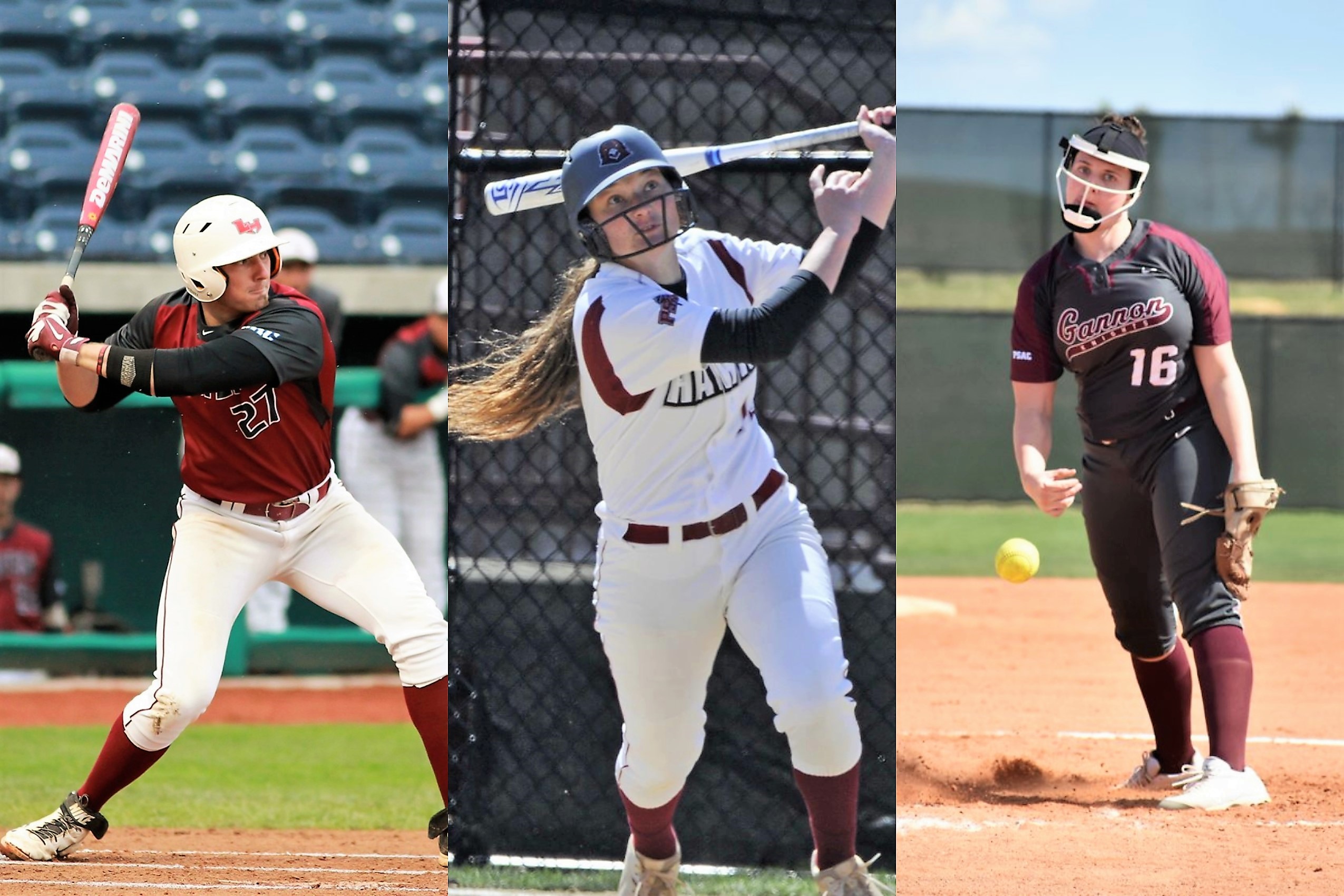 LOCK HAVEN, Pa. – DuBois graduate Kaitlyn Beers of IUP was named the PSAC Central Softball Athlete of the Year this week and is joined on the All-Conference baseball and softball teams by two additional alumni.
(Photo from left: Justin Sleigh, Kaitlyn Beers and Kennedy DeMatteis. Photos courtesy of Lock Haven, IUP and Gannon athletics)
Joining Beers in being honors in softball is Moniteau graduate Kennedy DeMatteis of Gannon, who was named an All-PSAC West pitcher, while DuBois graduate Justin Sleigh of Lock Haven was named second-team All-PSAC West at designated hitter.
Beers, who was also the All-PSAC Central second baseman, is a sophomore. She led the Crimson Hawks with 33 runs scored, 46 base hits, 13 doubles, four home runs, 33 runs batted in, and a .575 slugging percentage in 37 games.
Beers also hit .362 batting with a .413 on-base percentage, had eight steals in 10 attempts, and struck out just 10 times in 127 at-bats.
She led the team with 15 multiple-hit and 11 multiple-RBI games this season and had a career-best 14 game hitting streak.
Reliable and consistent all year, Beers was one of only four players to start all 37 games for the Crimson Hawks (20-17), who made their fifth straight conference tournament appearance.
This is her second straight conference honor, earning a first-team All-PSAC Central nod as a freshman.
Beers is only the second IUP softball athlete to earn Player of the Year honors joining fellow District 9 alumnae, Molly Carr of St. Marys, who earned the honor in the PSAC West in 1999.
DeMatteis earned her first all-conference selection as a true freshman, joining Beining to sweep the pitching accolades. She was the starting pitcher in 15 games, tossing 109.2 innings this season. She earned 10 victories and one shutout. DeMatteis posted a 2.23 ERA in the circle with a team-high 71 strikeouts. DeMatteis is part of the three-player pitching staff that posts a conference-best ERA of 2.08. At the plate, DeMatteis hit a two-run home run against Slippery Rock in the first at-bat of her career.
Gannon is 29-12 on the year and won the PSAC Title. The Lady Knights take on Seton Hill in the opening round of the NCAA Division II Tournament Thursday at West Virginia Wesyelan.
Sleigh, a senior, hit .353 with 31 RBIs and 10 doubles. He had 48 hits and scored 32 runs in 39 games.
Under first-year interim head coach Heath Stover – a longtime assistant coach and 20 –plus year LHU baseball veteran – the Bald Eagles went 22-19 overall. Lock Haven was 12-14 in PSAC East play and went into the final weekend with a playoff berth on the line.