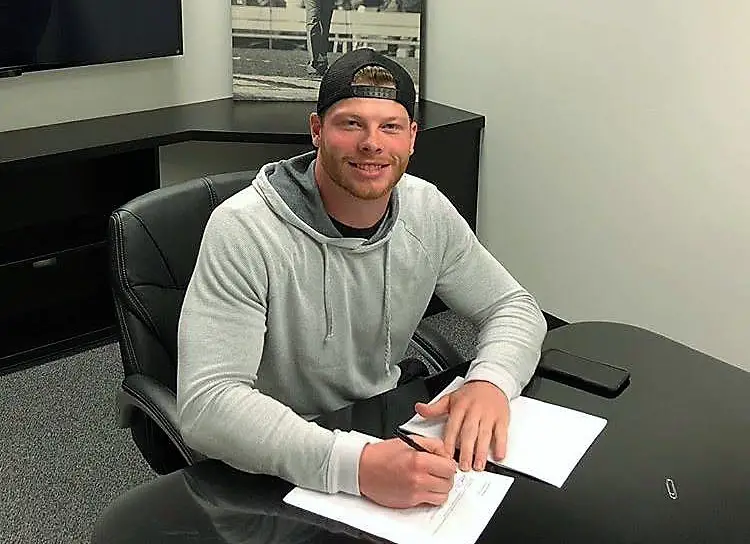 OAKLAND – Paul Butler's dream of playing pro football is another step closer after the DuBois High School graduate signed a contract to play for the Oakland Raiders last week.
(Photo of Paul Butler signing his contract with the Oakland Raiders. Photo courtesy of Butler)
Butler, who tight end in college at California (Pa.) impressed the Raiders enough at their rookie mini-camp that they offered him a contract.
"I'm crazy excited about being apart of the Raiders organization," Butler told D9Sports.com.
Butler believes his great strength to the Raiders is his versatility.
"I can block and make plays with my hands," Butler said.
Making the Raiders is no sure thing, and Butler knows it going to be a challenge.
"It's going to take a lot to make the team," Butler said. "But most of it will be mental for me, learning the playbook and adjusting to the game speed, all of which I'm confident I can do."
The 6-foot-6, 252-pound Butler had a solid college career at Cal with 32 career catches for 381 yards and five touchdowns in a career that came to a close in 2016. Butler attended the Pittsburgh Steeler rookie camp in 2017 but was not offered a contract.
Oakland is coming off a disappointing 6-10 season a year ago that started with high expectations one year after making the playoffs.
The Raiders first OTA session is from May 22-24 with the second being May 29-31 and the third June 4-7. Then from June 12-14 is mandatory minicamp and training camp report date will be sometime near the end of July.
Butler is believed to be the first District 9 football player to sign a contract with an NFL team since Clarion's Tyler McMeans singed with the Chicago Bears in the mid-2000s.