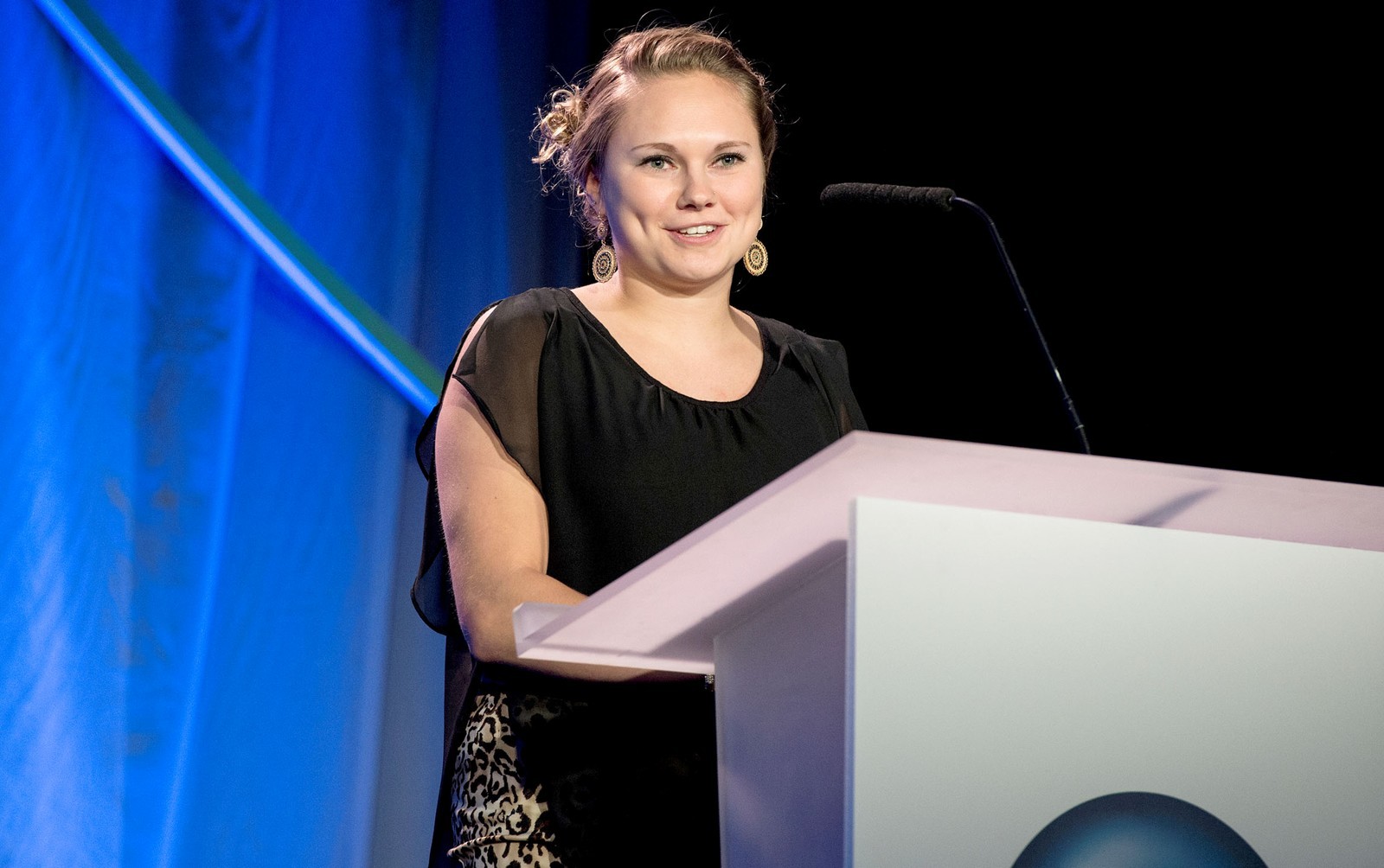 See full Clarion University release
INDIANAPOLIS, Ind. – DuBois graduate and former Clarion University diver Kristin Day was named the 2015 NCAA Woman of the Year Sunday at the 25th annual NCAA Women's of the Year Awards Ceremony at the Westin-Indianapolis.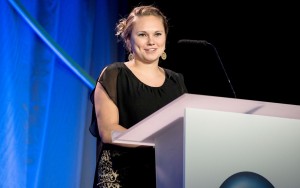 The NCAA Woman of the Year program honors the academic achievements, athletics excellence, community service and leadership of graduating female college athletes from all three divisions. To be eligible nominees must have completed eligibility in their primary sport. The NCAA Woman of the Year selection committee selects the Top 30 – 10 from each division and then three finalists from each division. The Committee on Women's Athletics selects the winner from the Top 9.
"I was so shocked and ecstatic at the same time when she (Olympic Gold Medial softball player and current ESPN MLB color commentator Jessica Mendoza who was the MC of the event) called my name," Day said in a release by the Clarion University sports information office.  "What an unbelievable feeling that all of that hard work and sacrifice has paid off like this. I want to thank my parents, especially my mom who has been there for me every step of the way, and my grandma too. She's been to every meet. I also want to thank my coach, Dave Hrovat, who prepared me in ways that I have never been before. I learned true sportsmanship and how to deal with both victory and defeat. It has prepared me well for my future."
Only the fourth NCAA Division II athlete to be honored as the NCAA Woman of the Year, Day is the first from any Pennsylvania – Division I, II or III – based university or college to garner the award.
A 2011 DuBois High School graduate, Day dove for the Lady Beavers as a sophomore and senior and participated in gymnastics as a junior while also being a member of the cheerleading squad her freshman and sophomore years. She finished 10th at the PIAA diving meet as a senior and set school records in diving.
At Clarion, she was a three-time NCAA Division II champion and the 2014-15 Capital One Division II Academic All-America of the Year – she was a two-time Capital One Division II Academic All-America of the Year At-Large division. She graduated from Clarion in May with a degree in Chemistry earning a perfect 4.0 GPA and is now enrolled at media school at Lake Erie College of Osteopathic Medicine (LECOM) on an NCAA Post-Graduate scholarship.
NOTES – Day was an eight-time All-American in diving. She won the 1-meter national title in 2014 and 2015 and the 3-meter title in 2014 when she recorded an NCAA Division II record 539.35 points. In 2014 she was named the CSCAA NCAA Division II Diver of the Year. She is the daughter of Dennis and Susan Day of Reynoldsville.