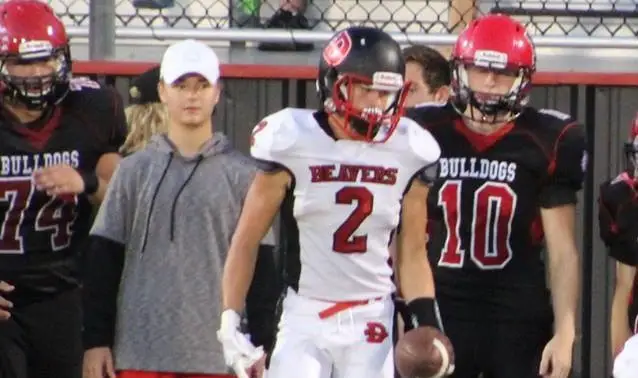 SHIPPENVILLE, Pa. – Putting up numbers more likely found in video games than on a football field, DuBois' Kyle Hopson is the Week 7 D9sports.com District 9 Football Player of the Week.
Hopson caught 16 passes for 199 yards and four touchdowns in the Beavers 56-40 win at Franklin Friday night.
Joining Hopson in the District 9 Honor Roll are 15 players including Hopson's teammates Brock Adams and Matt Miller.
The Player of the Week and Honor Roll honors will continue through the conclusion of the regular season.  
D9SPORTS.COM PLAYER OF THE WEEK
Kyle Hopson – DuBois: 16 catches, 199 yards, 4 touchdowns – DuBois 56, Franklin 40
D9SPORTS.COM HONOR ROLL  
Mark Latuska – Brockway: 7 carries, 153 yards, 2 touchdowns – Brockway 63, Bradford 21
Hunter Miller – Brockway: 12-for-16 passing, 174 yards, 3 touchdowns; Ran for 6 yards and a touchdown – Brockway 63, Bradford 21
Nick Keth – Brookville: 3 catches, 151 yards, 2 touchdowns – Brookville 41, Union/A-C Valley 22
Seth Ray – Brookville: 8-for-16 passing, 272 yards, 3 touchdowns, 1 interception – Brookville 41, Union/A-C Valley 22
Tristan Reed – Cameron County: 35 carries, 283 yards, 3 touchdowns – Cameron County 48, Port Allegany 28
Jared Whiting – Cameron County: 24 carries, 168 yards, 3 touchdowns – Cameron County 48, Port Allegany 28
Mike Macefe – Clarion-Limestone: 19 carries, 181 yards, 3 touchdowns; 1 catch, 20 yards; Intercepted a pass on defense; Helped C-L secure its first postseason berth since 2005 – Clarion-Limestone 45, Moniteau 7
Brendan Makray – Clarion-Limestone: 13-for-22 passing, 248 yards, 3 touchdowns; Helped C-L secure its first postseason berth since 2005 – Clarion-Limestone 45, Moniteau 7
Brock Adams – DuBois: 40 carries, 261 yards, 3 touchdowns – DuBois 56. Franklin 40
Matt Miller – DuBois: 26-for-36 passing, 314 yards, 4 touchdowns – DuBois 56, Franklin 40
Jared Braun – Elk County Catholic: 2 catches, 105 yards, 1 touchdown; 10 carries, 44 yards, 1 touchdown – Elk County Catholic 23, Curwensville 6
Gage Babcock – Otto-Eldred: Scored twice, once on a 15-yard rection and once on a 73-yard kickoff return, to help Otto-Eldred grab at least a share of the AML North title, the first time the Terrors have at least share a division/conference title since 1983. – Otto-Eldred 24, Coudersport 14
Trey Stiles – Port Allegany: 20 carries, 222 yards, 3 touchdowns; 4-for-12 passing, 1 touchdown, 2 interceptions – Cameron County 48, Port Allegany 28
Brock Barrett – Redbank Valley: 2 catches, 33 yards, 1 touchdown; 4 carries 28 yards; Intercepted 2 passes on defense – St. Marys 29, Redbank Valley 20
Matt Marconi – St. Marys: 25 carries, 133 yards; 2 catches, 39 yards, 1 touchdown; Returned a fumble 39 yards for a touchdown – St. Marys 29, Redbank Valley 20
2016 PLAYERS OF THE WEEK
Week Zero: Braden Paulinellie, DuBois
Week One: Nick Stewart, Curwensville
Week Two: Isaac Rumery, Clearfield
Week Three: Sam Leadbetter, Clarion-Limestone
Week Four: Hunter Miller, Brockway and Michael McCloskey, Clarion
Week Five: Erik DeLong, Kane
Week Six: Chandler Turner, Karns City and Kevin Evans – Sheffield
Week Seven: Kyle Hopson, DuBois
Week Eight:
Week Nine: