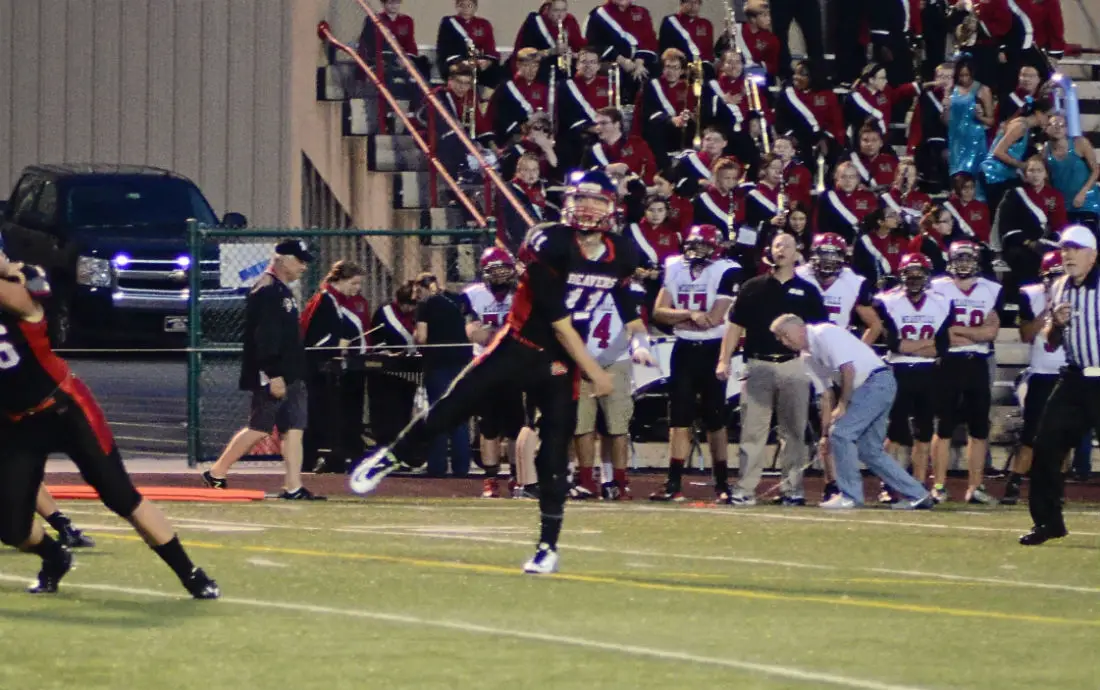 SHIPPENVILLE, Pa. – DuBois' Matt Miller did a little bit of everything for the Beavers in their 69-56 win over Franklin Friday night and is the Week Seven D9Sports.com District 9 Football Player of the Week because of it.  
(Cover photo by Mara Schall)
Miller was nearly perfect passing against the Knights going 23 of 28 for 443 yards and four touchdowns, added a pair of rushing scores and also intercepted a pass on defense.
Joining Miller in being honored are 16 players on the District 9 Honor Roll.
The Player of the Week and Honor Roll honors will continue through the conclusion of the regular season.  
D9SPORTS.COM PLAYER OF THE WEEK
Matt Miller – DuBois: 23 of 28 passing, 443 yards, 4 touchdowns; Ran for two touchdowns; Intercepted a pass on defense – DuBois 69, Franklin 56
D9SPORTS.COM HONOR ROLL
Andy Pantuso – Bradford: Returned an interception for a touchdown; Returned a punt 13 yards for a touchdown; Caused a fumble on defense, 1 catch, 50 yards; Made 14 tackles on defense – Bradford 40, Brockway 20
Jack Krug – Brookville: 13-for-21 passing, 164 yards, 3 touchdowns, 1 interception; 3 carries, 5 yards – Brookville 44, Union/A-C Valley 6
Logan Minich – Clarion: 25 carries, 156 yards, 2 touchdowns – Clarion 44, Karns City 17
Kyle Kerle – Clarion-Limestone: 3 catches, 72 yards, 1 touchdown; Intercepted 2 passes on defense – Clarion-Limestone 68, Moniteau 8
Brenden Makray – Clarion-Limestone: 12-for-15 passing, 261 yards, 3 touchdowns; Became C-L's all-time single-season passing leader with 2,046 yards – Clarion-Limestone 68, Moniteau 8
Isaac Rumery – Clearfield: 26 of 31 passing, 372 yards, 3 touchdowns, 1 interception – Bald Eagle Area 25, Clearfield 22
Nick Stewart – Curwensville: 14 carries, 111 yards, 3 touchdowns – Curwensville 43, Elk County Catholic 12
Dalton Kruzelak – DuBois: 20 carries, 150 yards, 3 touchdowns – DuBois 69, Franklin 56
Kyle Hopson – DuBois: 8 catches, 154 yards, 2 touchdowns – DuBois 69, Franklin 56
Ange Costanzo – Kane: 5 carries, 35 yards, 1 touchdown; 2 catches, 16 yards, 1 touchdown; Scored game-winning touchdown on an 8-yard run with 2:09 to play – Kane 19, Ridgway 14
Sawyer Drummond – Otto-Eldred: 14-for-25 passing, 268 yards, 2 touchdowns, 3 interceptions; 21 carries, 58 yards – Otto-Eldred 24, Coudersport 8
Trey Stiles – Port Allegany: 23 carries, 148 yards, 3 touchdowns; Scored the game-winning touchdown in overtime; 1 catch, 19 yards; 13 tackles, 1 interception on defense – Port Allegany 27, Cameron County 26, OT
Stone Smith: Punxsutawney: 9 carries, 180 yards, 3 touchdowns; 1 catch, 2 yards, 1 touchdown – Punxsutawney 49, Keystone 12
Clint Thurston – Redbank Valley: 12 carries, 191 yards, 3 touchdowns; Kicked a 36-yard field goal; Was 7-for-7 on extra points – Redbank Valley 52, St. Marys 7
Neil MacDonald – Ridgway: 19 carries, 108 yards, 2 touchdowns – Kane 19, Ridgway 14
Nate Hollowell – Smethport: 4 catches, 100 yards, 1 touchdown; 14 carries, 100 yards, 1 touchdown – Smethport 28, Sheffield 14
Grant Ognen – Smethport: 10-for-19 passing, 229 yards, 3 touchdowns, 1 interception – Smethport 28, Sheffield 14
2017 PLAYERS OF THE WEEK
Week Zero: Jack Krug, Brookville
Week One: Clint Thurston, Redbank Valley
Week Two: Sawyer Drummond, Otto-Eldred
Week Three: Nick Stewart, Curwensville
Week Four: Dalton Beham, Karns City
Week Five: Jack Krug, Brookville
Week Six: Erik DeLong, Kane and Clay Garing, Karns City
Week Seven: Matt Miller, DuBois
Week Eight:
Week Nine: