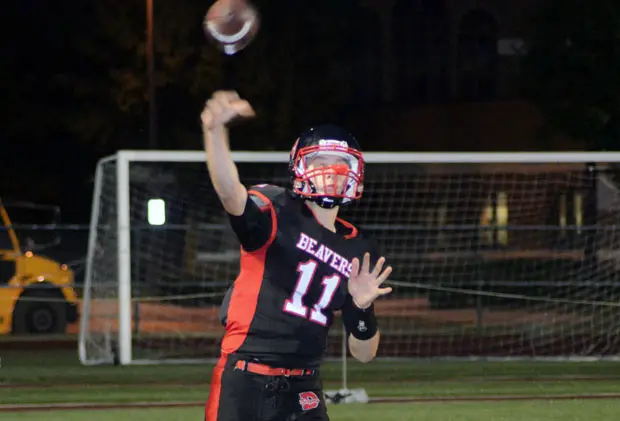 CLARION, Pa. – Where does DuBois sophomore quarterback Matt Miller go from here?
In his first varsity football game, Miller set the NFHS national record for passing yards and total yards in a game with 787 while tying the NFHS single-game record for touchdown passes with 10 in  107-90 loss at home to Meadville Friday night.
Miller added a rushing touchdown to account for 11 of the Beaver's 13 touchdowns, while going 31 of 55 passing, and in the process earning the D9Sports.com Football Player of the Week Award for Week Two of the 2015 season.
Almost overshadowed by Miller's unbelievable, video-game-like performance, was the effort of teammate Colin Read, who set the Pennsylvania single-game receiving yards mark with 355 on nine catches while hauling in three touchdowns.
For his efforts, Read is on the Week Two D9Sports.com Honor Roll along with 14 other outstanding performances from District 9 during the week.       
D9SPORTS.COM PLAYER OF THE WEEK
Matt Miller – DuBois: Set the NFHS national-high-school single-game passing record with 787 yards on 31 of 55 passing while also tying the NFHS single-game touchdown passing mark with 10. Added a 6-yard touchdown run accounting for 11 of DuBois' 13 touchdowns in the game, which was the first varsity game of the sophomore's career. His 787 total yards is also an NFHS single-game record – Meadville 107, DuBois 90

Miller highlight video from Week 2
D9SPORTS.COM HONOR ROLL  
Anthony Isabella – Brockway: 17 carries, 171 yards, 2 touchdowns – Brockway 50, Coudersport 14
Hunter Miller – Brockway: 13 of 17 passing, 171 yards, 4 touchdowns; 12 carries, 67 yards – Brockway 50, Coudersport 14
Colton Rapp – Clarion: 16 carries, 192 yards, 2 touchdowns – Clarion 60, Sheffield 20
Conner Keth – Clarion-Limestone: 6 catches, 116 yards, 1 touchdown; 3 carries, 81 yards – Clarion-Limestone 40, Moniteau 14
Anthony Louder – Clarion-Limestone: 12 of 25 passing, 293 yards, 3 touchdowns; Ran for 2 touchdowns – Clarion-Limestone 40, Moniteau 14
Seth Caldwell – Clearfield: 13 carries, 159 yards, 2 touchdowns – Clearfield 42, Penns Valley 18
Nick Stewart – Curwensville: 13 carries, 259 yards, 3 touchdowns – Curwensville 58, Otto-Eldred 20
Kyle Hopson – DuBois: 8 catches, 127 yards, 3 touchdowns – Meadville 107, DuBois 90  
Colin Read – DuBois: Set the Pennsylvania high-school single-game receiving yardage mark with 355 yards on nine carries while catching three touchdowns – Meadville 107, DuBois 90  
Zach Sloan – DuBois: 6 catches, 179 yards, 2 touchdowns – Meadville 107, DuBois 90
Nate Dacanal – Elk County Catholic: 10 carries, 41 yards, 2 touchdowns; 4 of 7 passing, 76 yards, 1 touchdown – Elk County Catholic 38, Port Allegany 0
Shane Rolick – Kane: 4 carries, 58 yards, 2 touchdowns; 1 catch, 36 yards, 1 touchdown; 4-for-6 passing, 66 yards, 1 touchdown – Kane 47, Smethport 16
Jake Weaver – Keystone: 27 carries, 210 yards, 2 touchdowns; 3 catches, 16 yards, 1
Myquandre Stevenson – Sheffield: Scored 3 touchdowns; 10 carries, 45 yards, 1 touchdown; 1 catch, 73 yards, 1 touchdown; Returned a kickoff 80 yards for touchdown; 1 interception on defense – Clarion 60, Sheffield 20
Dugan Gallagher – Union: 30 carries, 178 yards, 1 touchdown; 4 catches, 28 yards; 6 tackles, 1 TFL – Brookville 13, Union 6
2015 PLAYERS OF THE WEEK
Week One: Zach Sloan, DuBois and Jake Weaver, Keystone
Week Two: Matt Miller, DuBois