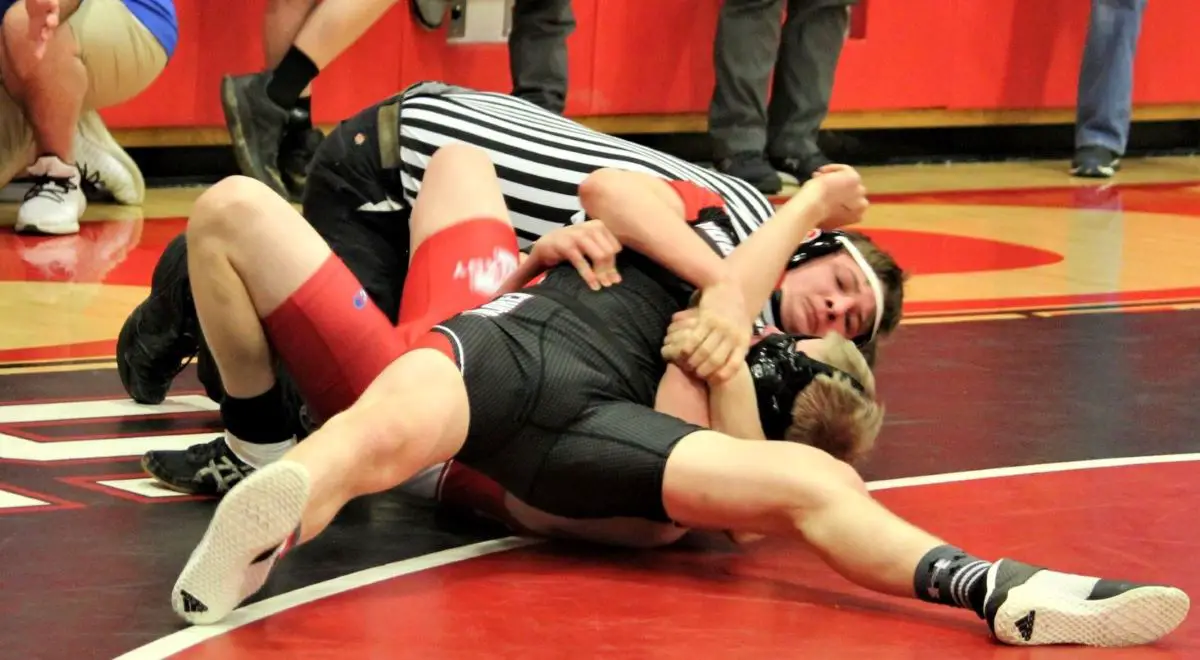 ALTOONA, Pa. – Ed Scott of DuBois was the lone District 9 wrestler to win a Northwest Class 3A Regional title Saturday in Altoona.
(Photo of Ed Scott. Photo by Kenn Staub)
Scott, a senior, added his fourth consecutive Northwest Regional title to his four consecutive district championships by pinning District 10 kingpin Marques McClorin of Cathedral Prep in the second period (3:16). He reached the finals with pins in the quarters and semis, sticking Holidaysburg's Aaron Sleeth (0:43) and Williamsport's Owen Mahon (1:28), respectively.
Undefeated since a pre-placement loss at the 2018 state championship, Scott will be visiting the Giant Center for the fourth year in a row. Last season he returned from Chocolatetown as the state champion. He placed third as a freshman.
Two of Scott's teammates finished as runner-ups with another pair taking third place giving the Beavers give wrestlers going to states.
Joining Scott at the state championship tournament will be Beaver teammates Trenton Donahue (132 pounds) and Chandler Ho (138 pounds), both of whom suffered their only losses at regionals in the finals, while Gauge Gulvas and Garrett Starr both finished in third place.

District 9 wrestling coverage on D9Sports.com is brought to you by Luton's Plumbing, Heating, and Air Conditioning.
After eking out consecutive one-point wins in the quarterfinals (1-0 over McDowell's Logan Carrick) and semifinals (3-2 against Owen Woolcott of State College), Donahue, the District 9 champ, fell by technical fall, 20-4 (4:53), to District 10 champion Matt Sarbo of host Altoona. A senior, Donahue is a three-time district champion and has now qualified for states three times, with his highest finish sixth last season.
Ho, who came in second at the district tournament last week, fell 1-0 to District 4/9 champion Riley Bower of Williamsport in the finals. After blowing out Central Mountain's Zach Miller (19-4 technical fall), Ho decisioned District 10 titlist, Hayden Butterfield of McDowell, 1-0, in the quarterfinals and District 6 champion Kyler Everly, 1-0, in the semifinals. A junior, Ho improved upon his third place at this tournament a year ago and has now qualified for states each of the last two seasons.
Starr's consolation victory came in a rematch of last weekend's District 4/9 final which pitted him against Bradford's Derek Sunafrank. A week ago Sunafrank took a 2-1 win over Starr to become district champion. This week Starr got his revenge, bettering Sunafrank, 6-2, to relegate the Owls' wrestler to fourth.
Clearfield heavyweight Oliver Billotte was the only other District 9 wrestler to reach the finals, finishing second after losing, 5-1, to District 10 champion Thomas Pollard of Meadville. The District 9 titlist, Billotte, decisioned Cathedral Prep's John Campbell in the quarterfinals, 8-2, and District 6 champion Blaine Davis in the semifinals, 6-3. A sophomore, this is Billotte's first time qualifying for states.
Also winning a consolation final bouts to take third place was Clearfield's Mark McGonigal (152 pounds).
McGonigal, who beat District 6 champion Anson Wagner of Mifflin County, 5-2, for third, qualified for states for the second consecutive year.
The only other District 9 grappler to qualify for the state tournament was Clearfield's Hayden Kovalick. District 10 champion Trent Tidball of Meadville pinned the District 9 champion in the consolation finals (4:14). Kovalick, a sophomore, is going to states for the first time.
Bellefonte (184.5 points) won the team title. Dubios (114.5 points) finished in fifth, while Clearfield (65 points) tied for 10th.
The 3A PIAA Individual State Wrestling Championships will take place in Hershey at the Giant Center Thursday, March 5, through Saturday, March 8.