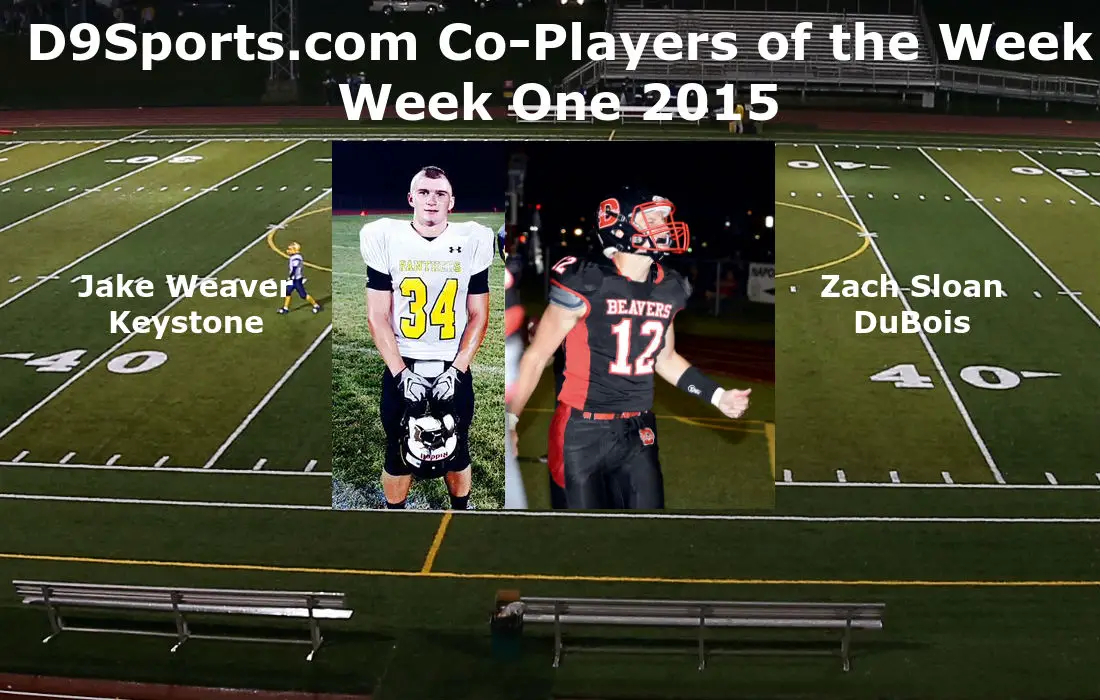 CLARION, Pa. – A pair of big-time opening-week performances highlight the Week One D9Sports.com Player of the Week honors in 2015.
DuBois' Zach Sloan and Keystone's Jake Weaver are co-Players of the Week after leading their respective team to victory.
Sloan, the backup quarterback forced into action after a preseason injury, had a phenomenal performance in the Beaver 51-41 win over Mifflin County completing 21 of 30 passes for 260 yards and three touchdowns and running the ball 13 times for 116 yards and three more scores.
Sloan highlights via Hudl
Weaver, meanwhile, put on a show in Keystone's 38-18 win at Union Saturday rushing for 343 yards and five touchdowns on 21 carries becoming the first Panther to rush for over 300 yards in 13 years.
Weaver highlights via YouTube
Joining Sloan and Weaver in being honored for their Week One performances are 13 athletes and the Ridgway defense.
D9SPORTS.COM PLAYER OF THE WEEK  
Zach Sloan – DuBois: 21-for-30 passing, 260 yards, 3 touchdowns, 2 interceptions; 13 carries, 116 yards, 3 touchdowns – DuBois 51, Mifflin County 41
Jake Weaver – Keystone: 21 carries, 343 yards, 5 touchdowns; First Keystone player to surpass 300 yards rushing in 13 years – Keystone 38, Union 18
D9SPORTS.COM HONOR ROLL
Kyle Kirk – Bradford: 8-for-15 passing, 134 yards, 2 touchdowns – St. Marys 24, Bradford 19
Hunter Miller – Brockway: 5-for-8 passing, 133 yards, 3 touchdowns; 8 carries, 49 yards – Brockway 56, Smethport 0
Quamone Newkirk – Curwensville: 4 catches, 115 yards, 3 touchdowns – Curwensville 55, Port Allegany 22
Nick Stewart – Curwensville: 16 carries, 165 yards, 2 touchdowns – Curwensville 55, Port Allegany 22
Jakob Terry – Curwensville: 10-for-13 passing, 213 yard, 4 touchdowns – Curwensville 55, Port Allegany 22
Nate Dacanal – Elk County Catholic: 8-for-13 passing, 143 yards, 1 touchdown, 1 interception; 6 carries, 39 yards, 1 touchdown – ECC 27, Coudersport 6
Dante Dawson – DuBois: 10 catches, 154 yards, 1 touchdown – DuBois 51, Mifflin County 41
Shane Rolick – Kane: 3 carries, 48 yards, 2 catches, 13 yards, 1 touchdown; 2 interceptions on defense – Kane 38, Cameron County 0
Tyler Rolick – Kane: 15 carries, 201 yards, 2 touchdowns – Kane 38, Cameron County 0
Maverick Kelsea – Karns City: 7 carries, 150 yards, 2 touchdowns – Karns City 47, Brookville 0
Devin Schimp – Redbank Valley: 7-for-10 passing, 122 yards, 3 touchdowns; 8 carries, 24 yards – Redbank Valley 49, Clarion-Limestone 19
Ridgway defense: Limited Sheffield to negative 1 yard of total offense and two first downs while creating four turnovers – Ridgway 12, Sheffield 0
Ryan Jones – Punxsutawney: 12 carries, 188 yards, 1 touchdown; 3-for-7 passing, 55 yards, 1 touchdown – Punxsutawney 41, Moniteau 10
Matt Marconi – St. Marys: 17 carries, 152 yards rushing, 2 touchdowns – St. Marys 24, Bradford 19  
2015 PLAYERS OF THE WEEK
Week One: Zach Sloan, DuBois and Jake Weaver, Keystone