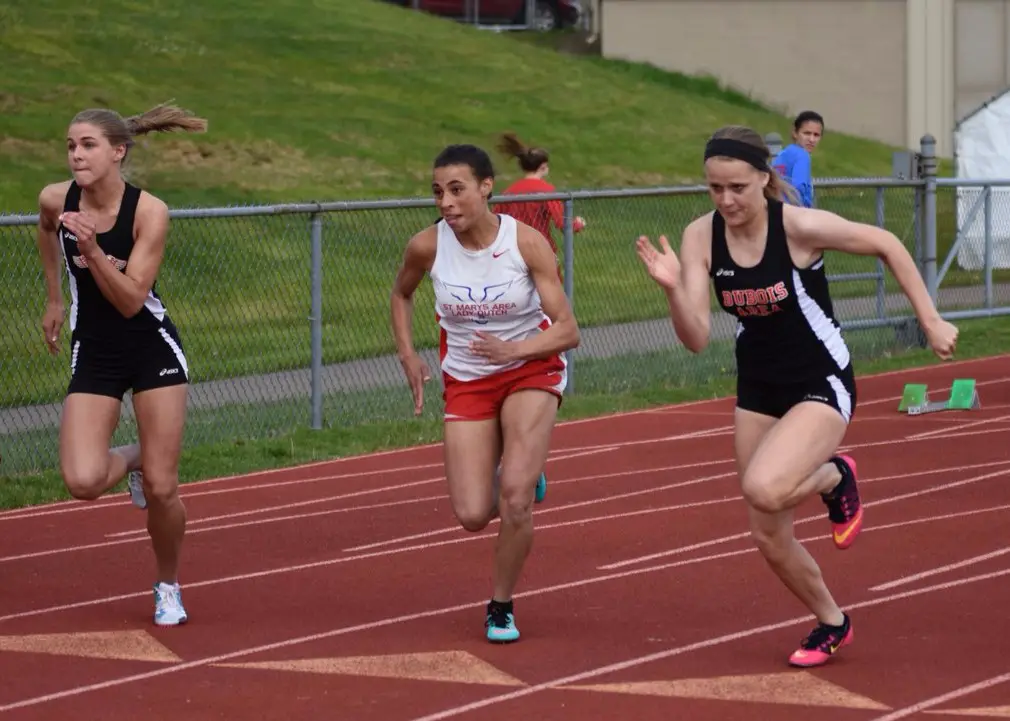 KANE, Pa. – Led by Dayna DeSalve taking both the long jump and the triple jump title, DuBois had five champions on its way to winning the 2016 District 9 Class AAA girls' track and field title Wednesday at Kane High School.
DuBois, which has won eight of the past nine titles, scored 119 points easily ahead of Bradford and St. Marys, who tied for second in the five-team meet with 82 points.
DeSalve won the long jump with a leap of 16 feet, 5 ¾ inches while taking the triple jump with a distance of 34 feet, 1 inch. She also ran the second leg on the winning 4×100-meter relay team (51.54) that also consisted of Chelsea DeSalve, Brooke Leithner and Reese Sayers.
Also winning titles for the Lady Beavers were Jessica Smith in the 800-meter run (2:26.27) and Ashley McCluskey in the javelin with a throw of 111 feet, 6 inches. In fact, DuBois took the first three spots in the javelin with Brandi Johnson finishing second (110-07) and Nicole Schalk third (105-3).
St. Marys also won five champions, four individual and a relay, but didn't have the depth scoring displayed by DuBois.
Michelle Bauer and Amanda Foster were both members of the winning 4×800-meter relay team (10:05.95), while Bauer won the 3,200-meter run (11:38.61) and Foster the 1,600-meter run (5:19.08). They were joined on the relay by Jenna Cherry and Kaitlyn Barackman.
Arianna Kleppinger took home the 100-meter dash in a time of 12.78, and Rachel Bauer won the pole vault going over the bar at an even nine feet.
Bradford had four champions including Ashton McGriff, who won the 200-meter dash (26.67) and the 400-meter dash (1:00.16), while Rachel Borland won the 300-meter hurdles (46.88) and Brooke McGriff the 100-meter hurdles in the only PIAA qualifying time of the day (15.65).
Punxsutawney had a strong day in the field winning titles in the high jump, shot put and discuss.
Two of those titles came from Sam Dyson, who won the shot put (34 feet, 3 inches) and the discuss (113 feet, 11 inches) while also taking fourth in the javelin (103-0).
The Lady Chucks also had a clean sweep in the high jumps taking first, second and third.
Leah Miller won with a leap of 4 feet, 11 inches, which was matched by teammate Midori Bridges, who needed more jumps than Miller and thus finished second. Cassidy Reed tied DuBois' Jerica Fischer for third with a leap of 4 feet, 9 inches, which was also accomplished by Borland, who needed more jumps and finished fifth.
Clearfield's lone title came in the 4×400-meter relay where the team of Macy Forrest, Rachel Glenny, Katrina Spencer and Madison Jones ran a time of 4:14.01.