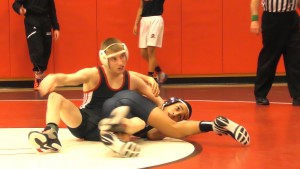 ALTOONA, Pa. — Punxsutawney's Kaleb Young and DuBois Area's Dalton Woodrow each claimed Class AAA Northwest Regional Tournament titles Saturday evening at Altoona Area High School.
Young had a fight on his hands in the 160-pound finals as he had to edge Mifflin County's Trent Hidlay, 2-1. Young won a semifinals match with Cathedral Prep's Luigi Yates, posting a technical fall, 20-3, in 3:05.
For Woodrow, the Beavers freshman, won his first regional championship by beating State College's Adam Stover, 3-2. Woodrow reached the finals with a 5-3 win over Bellefonte's Shafiq Blake.
The Clearfield Bison will send two wrestlers to the PIAA Championships as 195-pounder Travis Ogden was second and 170-pounder Luke McGonigal was third.
Ogden dropped a 6-2 decision to Mifflin County's Trey Hartsock in the finals.
McGonigal was third after edging McDowell's Ryan Dailey, 3-2, in the consolation finals.
Wrestling in Hershey begins at 4 p.m. Thursday.