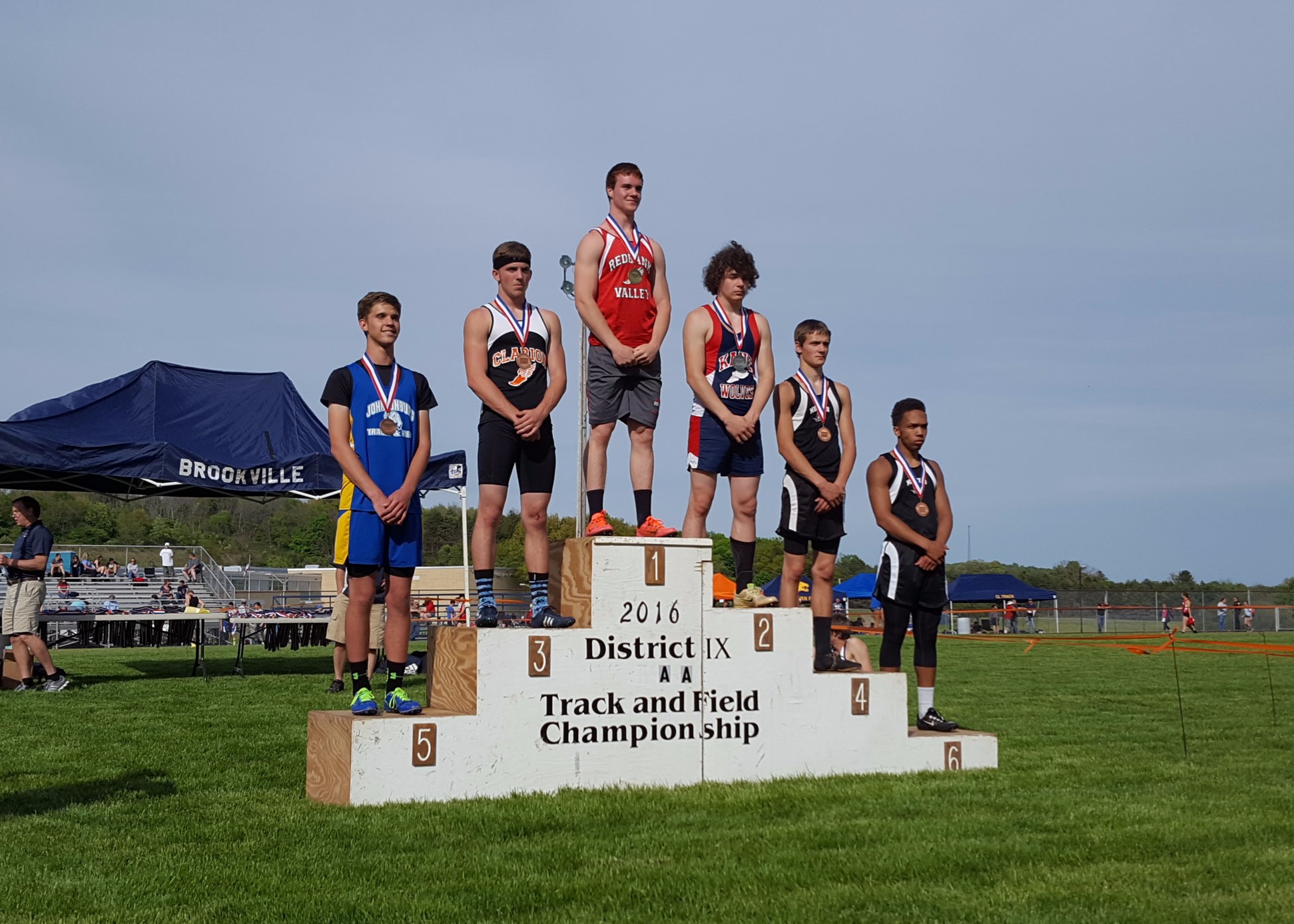 BROOKVILLE, Pa. – Collin Dunmyre and Evan Stitt helped lead Karns City to the 2016 District 9 Class AA boys' track and field championship Friday at Brookville High School, while hometown boy Ryan Thrush won the James Manners Award as the highest scoring male athlete at the event.
Dunmyre and Stitt paced the way in the sprints and were key members of the winning 4×100-meter relay team for the Gremlins, who edged out second-place Kane by a single point, 84-83.
The duo finished one-two in both the 100-meter dash and the 200-meter dash with Dunmyre taking home top honors in the 100 in a time of 11.46, 0.02 second faster than Stitt (11.48), while Stitt was 0.09 seconds faster than Dunmyre in the 200 winning in a time of 23.21 compared to 23.30 for his teammate.
Watch Dunmyre win the 100.
Karns City actually took the top three places in the 200 with Seth Silverio finishing third in a time of 23.82.
Dunmyre talks about winnig the 100.
Thrush, meanwhile, won both the 400-meter dash (50.23) and the 800-meter run (2:00.01) and ran a leg of the champion 4×400-meter relay team (3:28.07) that also featured John Matney, Josh Keesecker and Cole Aaron.
Behind Thrush's efforts, Brookville took third with a score of 66 points.
But the main competition came down to Karns City vs. four-time defending champion Karns City.
The Gremlins, who won their first title since 1985, won on the strength of four first-place finishes vs. one Kane.
In addition to Dunmyre and Stitt, Chandler Turner won the Triple Jump with a leap of 42-feet, 7 ½ inches, while the 4×100-meter relay team of Dunmyre, Stitt, Turner and Spenser Myers won in a time of 44.24.
Karns City got additional Top 3 finishes from Conrad Snyder in the 800-meter run (2nd place – 2:01.13), Myers in the Triple Jump (41-4) and from its 4×400-meter relay team of Dunmyre, Snyder, Turner and Jimmy Thompson, which took third in a time of 3:28.58, which is a state-qualifying time.
Kane only had one champion but grabbed eight second-place finishes.
Shane Rolick won the pole vault with a vault of 14-feet even. His twin brother, Tyler Rolick, was second at 13-6.
Joseph Newton grabbed a pair of second-place endings for the Wolves in both hurdles running a 15.15 in the 110-meter hurdles and a 41.38 in the 300-meter hurdles.
Ray Maze was second in the 400-meter dash in a time of 51.78, Frank Truden tied for second in the high jump (5-8) and Austin Labesky was second in the javelin (164-2).
A pair of Kane relays also had second-place endings.
The 4×800-meter team of Colton Barr, Ryan Harris, Ryan Hunt and Chris Udovich ran a time of 8:26.95, while the 4×400 group of Barr, Maze, Newton and Truden ran a time of 3:28.16.
Kane added one third-place finisher with Hunter Yasurek racing to a third-place ending in the 800-meter run in a time of 2:01.13.
Cranberry and DuBois Central Catholic both had multiple champions.
For Cranberry, Sam Lander won the 1,600-meter run in a time of 4:32.67, while Paul Zacherl won the 300-meter hurdles in a time of 40.36. Jared Dailey took third in the 1,600 for the Berries in a time of 4:43.47.
Lander talks about winning his title.
DCC's two champs came in field events with Noah Vokes winning the long jump with a leap of 20 feet, 9 inches and Joey Varischetti taking home the shot put with a toss of 48-feet, 11 ¾ inches.
North Clarion's Isaac Wilson won the 3,200-meter race in a time of 9:48.55 and Redbank Valley's Wyatt Hetrick took home a very competitive 110-meter field in a time of 15.11.
Watch Hetrick take home the 110-meter hurdle title and then talk about his win.
The Elk County Catholic 4×800-meter relay team of Logan Hoffman, Jacob Carnovale, Zach Wortman and Matt Dippold took the race in a time of 8:24.38.
In the field, Moniteau's Dalton Anderson won the high jump with a leap of 5-10, Johnsonburg's Ryan Kilhoffer took the discus with a throw of 148 and Cameron County's Trae Smith won the javelin with a toss of 178-8.
Here is Smith's winning toss.
Additional second-place finishers, who all got automatic state berths were Luke Guyer of Johnsonburg in the 1,600 (4:41.85), ECC Wortman in the 3,200 (9:55.05), Brookville's Bryan Dworek in the long jump (20-7 ½) and Brookville's Seth Ray, who tied Truden in the high jump at 5-8 – North Clarion's Seth Berlin, a Forest Area student, also went 5-8 in the high jump but needed more attempts and took fourth. Ray was also second in the triple jump (41-7 ½), Moniteau's Roman Davidson was second in the shot put (47-2 ¾) and Redbank Valley's Dalton Dougherty was second in the discus (137-0).
The Brookville 4×100 relay of Dworek, Will Buckley, Brandon McGranor and Tyler Park finished second in a time of 44.24.