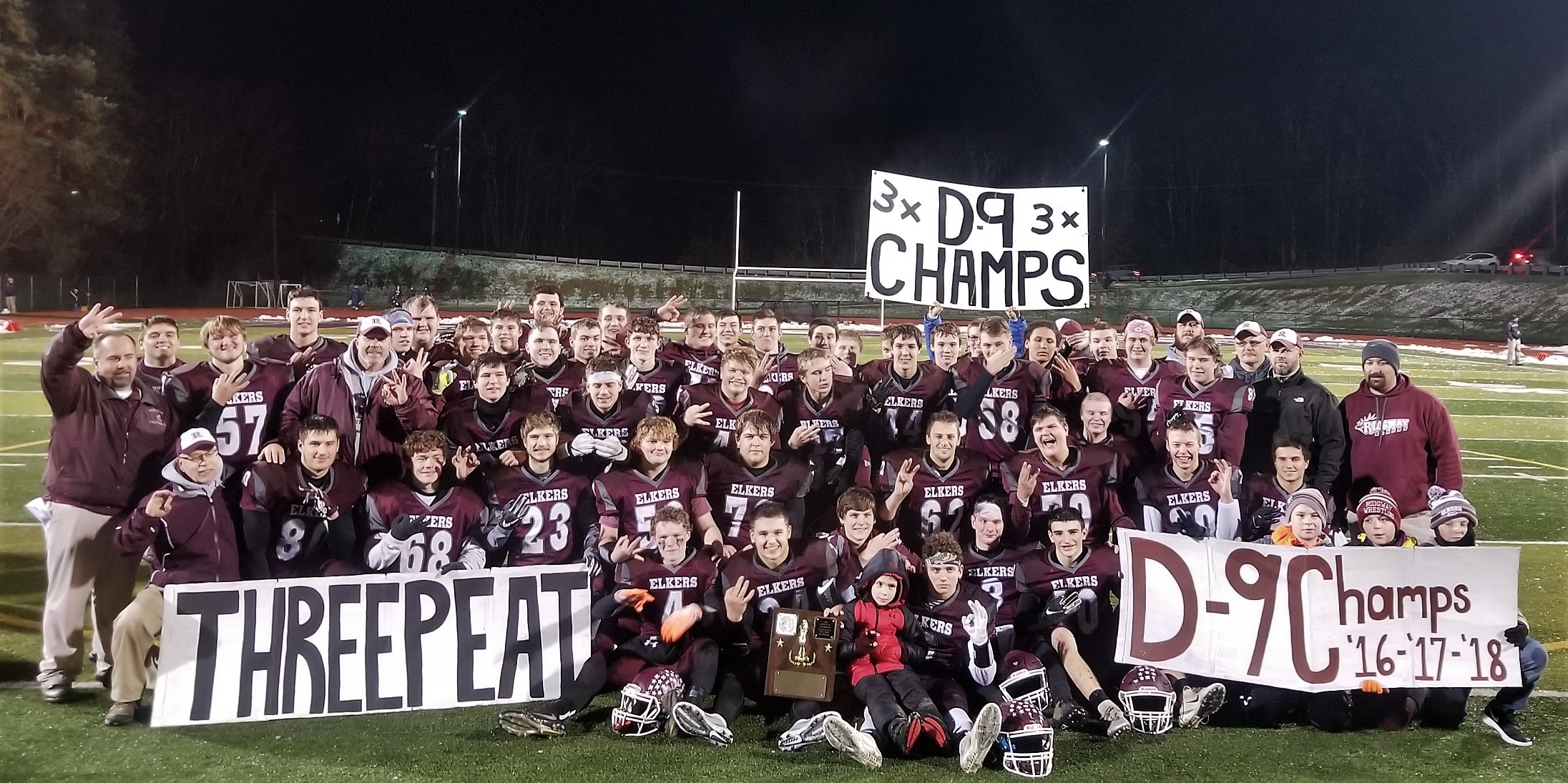 KARNS CITY, Pa. – Ridgway doing what Ridgway does.
Matt Dush's 6-yard touchdown run with 25 seconds left lifted the top-seeded Elkers to their third straight District 9 title and their first in Class 2A – they won in 1A in 2016 and 2017 – with a 14-7 win over second-seeded Brockway in the title game Monday night at Karns City's Diehl Stadium.
"It means everything," Dush, who spun at around the 8-yard line and found a hole to the end zone, said. "That is what we worked for. Coming in, that (the title) was our goal, and we accomplished it. This means everything."
In what was deja vu from last week when the Elkers (11-1) trailed Moniteau 7-0 going to the fourth quarter only to win 15-7 in the semifinals, Ridgway again found itself down seven going to the final 12 minutes before rallying for two scores and the victory.
The winning drive was set up by a failed fourth-down conversion by Brockway which went for it on fourth-and-4 from the Ridgway 49 with just under three minutes to play and the game tied at seven.
But Peter Downer's pass to Josh Solnosky along the sideline was incomplete giving Ridgway prime field position with 2:49 to play 51 yards from the end zone.
"I should have just punted the freaking ball," Brockway head coach Tom Weaver fumed after the game. "We get it (the first down), maybe we get inside and kick a field goal. It just didn't work out. But if you punt it and hold them, then you are in overtime and it is just extending the game. We are short of people anyway. They made the decision, and I said 'ok, let's stick with it. We will look like heroes if we make it but we are goats. But I don't care. Call me whatever you want."
Dush said he was surprised Brockway went for it in that situation but was happy things worked out for his team.
"I was very surprised," Dush said. "It was risky."
Ridgway, milking the clock, easily moved the ball into short field goal range thanks in part to a 16-yard Paul Gresco to Gabe Watts screen pass to the Brockway 29 on a first-and-15 after Ridgway had been called for an illegal man downfield penalty on a completed pass inside the 20-yard line. It was the Elkers eight penalty of the night for 101 yards, most of them very costly infractions.
"It shows the character of our kids," Ridgway head coach Mark Heindl said about his team's ability to overcome. "We bend but don't break. There were numerous times today they could have broke."
From the 29, Grecso, who misfired on 10 of his first 14 passes but completed his final six to finish 10 of 20 for 85 yards, found Daunte Allegretto to the 9-yard line and then hit Allegretto again this time to the six.
From there, Dush, who had carried the ball just once for four yards up to that point, had his name called. And the hero of the 2-point conversion run last week against Moniteau, again made magic happen using the spin move to elude a Brockway defender on the way to the end zone.
"I knew it was open to the outside," Dush said. "The blocking had been great all game. The line was unbelievable. I had Evan (Furlong there). Evan coming back was huge for us. I just knew it was open."
Until late in the third quarter, Ridgway had managed almost next to nothing offensively being held to under 100 yards, and Brockway looked in control of the game when Ridgway took over at its own 14-yard line.
But all of a sudden the Elkers offensive line took over opening holes for Jake Wickett and Gabe Watts.
Wickett, who ran for a game-high 80 yards, broke free on runs of 18 and 11 yards, and Watts, who added 76 yards on the ground and 27 through the air, added totes of 11 and 12 yards before Wickett tied the game 16-yard run with 10:28 to play.
"We just hate losing," Dush said of Ridgway's ability to surge late. "We are not here to lose. We are here to win. We know in the fourth quarter time is running out. We just have to get it in there."
Watch all of Dush's thoughts on the victory.
The momentum seemed to have completely swung to the Elkers when they recovered a pop-up onside kick at the Brockway 39-yard line following the touchdown – something they did twice in the fourth quarter against Moniteau a week ago.
But a costly and possibly questions blindside block penalty on Scholder negated a 39-yard touchdown run – although there was also a hold on the play against the Elkers – and seemed to settle things down for Brockway.
Another costly penalty, this time a 15-yard infraction for interfering with a fair catch – set Brockway up in golden position at its 45 with 4:50 to play.
A 4-yard run by Jon Wood, who was bottled up all night long being held to negative nine yards rushing and 46 yards receiving, gave Brockway the ball at its 49-yard line. But two more plays netted just two yards setting up the crucial fourth-down play that changed the game.
"I just think we ran out of gas," Weaver said. "I'm proud of our guys. (Ridgway) was tough. It was a good defensive struggle."
Brockway took advantage of a bad Ridgway punt late in the first half to take a 7-0 halftime lead.
A punt traveled just four yards and set the Rovers (9-3) up at the Ridgway 40-yard line. That led to a 6-yard Peter Downer to Connor Ford touchdown pass with just 29 seconds left in the half.
"We told the kids going into halftime it was the same thing as Moniteau last week," Heindl said. "We are only down 7-0. Be patient, play our game. It is a game of field position. Our kids held tough.
"At the end of the day, to be three-time champs (after) going into the Large School Division says a lot about our kids and our program."
Watch more of Heindl's thoughts on the win.
Ridgway had the game's first chance to score, but after having second-and-goal at the 1-yard line, the Elkers had to settle for a 22-yard field goal attempt by Allegretto who wasn't able to get any height on the kick.
The Elkers also had prime field position inside the Brockway 40-yard line following a punt return called back because of a roughing the punter penalty in the first half.
But the Ridgway defense gave up little in the way of yardage allowing Brockway just 120 yards on 51 plays including just 52 rushing on 34 carries.
"It's championship football," Heindl said. "When you get to this time a year, you are going to see the best out of both teams. Push comes to shove, we are champs again, and we will take it."
Ridgway will face District 10 champion Wilmington in the PIAA quarterfinals at 1 p.m. Saturday, Nov. 24, at Karns City.
RIDGWAY 14, BROCKWAY 7
Score by Quarters
Brockway 0 7 0 0 – 7
Ridgway 0 0 0 14 – 14
Scoring Summary
Second Quarter
B – Connor Ford 6 pass from Peter Downer (Zane Puhala kick), 0:29
Fourth Quarter
R – Jake Wickett 16 run (Daunte Allegretto kick), 10:28
R – Matt Dush 6 run (Allegretto kick), 0:25
TEAM STATS
Brockway-Stat-Ridgway
10 First Downs 12
34-52 Rushes-Yards 36-148
68 Passing Yards 85
7-17-2 Passing: Compt-Att-Int 10-21-0
51-120 Total Plays-Yards 57-233
6-32 Penalties-Yards 8-101
2-1 Fumbles-Lost 1-0
INDIVIDUAL STATS
Rushing: Brockway – Tyler Serafini 14-73, Jon Wood 7-negative 9, Peter Downer 11-15, Team 1-negative 20, Connor Ford 1-negative 7. Ridgway – Cole Secco 3-8, Jake Wickett 13-80, Gabe Watts 14-76, Paul Gresco 2-negative 8, Team 2-negative 18, Matt Dush 2-10.
Passing: Brockway – Peter Downer 7-for-17, 68 yards, 1 touchdown, 2 interceptions. Paul Gresco 10-for-20, 85 yards. Jake Wickett 0-for-1.
Receiving: Brockway – Tyler Serafini 2-16, Jon Wood 4-46, Connor Ford 1-6. Ridgway – Cole Secco 2-12, Gabe Watts 2-27, Jake Wickett 2-15, Matt Dush 1-3, Daunte Allegretto 3-28.
Interceptions: Ridgway – Issac Schloder, Austin Green