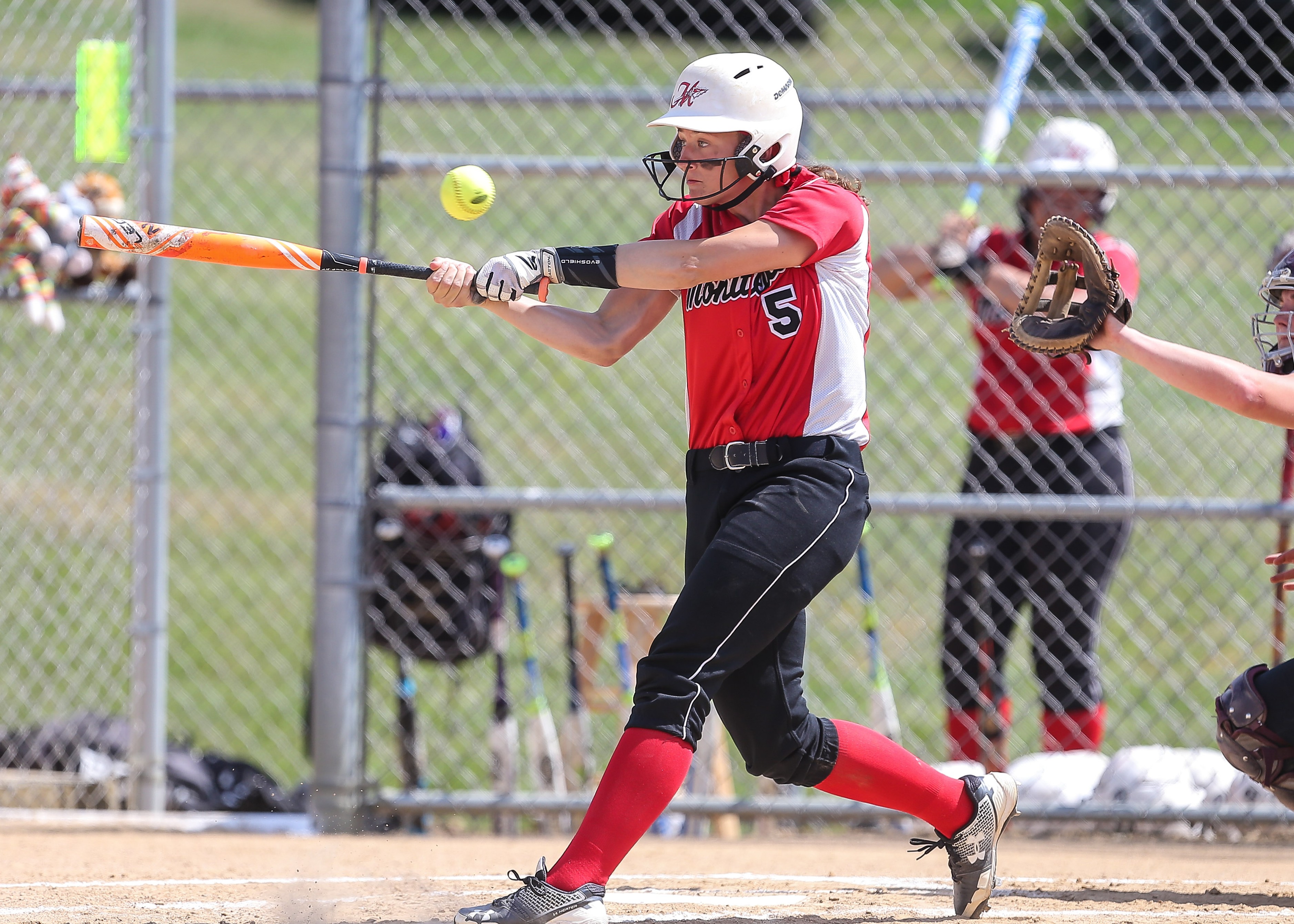 SLIPPERY ROCK, Pa. – Earning its stripes.
(Cover photo of Kristina DeMatteis by Mike Schnelle. For more of Schnelle's work click here)
That's what the Moniteau softball team believes it did Thursday when it took the WPIAL champion, Ellwood City, behind the woodshed and gave it a beating to the tune of 11-0 in six innings in the PIAA Class AA quarterfinals at Slippery Rock University.
"Kennedy (Moniteau pitcher Kennedy DeMatteis) and our team have earned their stripes, I believe," Moniteau manager Dan Beebe said. "A little District 9 team playing the WPIAL. Probably, not many people gave us credit to win this game let alone 11-0. But when you've got pitching and you've got defense, you're going to compete. Today we brought the bats. I would like to see a team that could beat us right now, because that would be a special team."
Moniteau pretty much had its complete game going Thursday.
The Lady Warriors knocked out 17 hits, including home runs by twins Kennedy and Kristina DeMatteis, while Kennedy DeMatteis allowed just one hit and three baserunners and the defense was flawless.
"We've been motivated and ready to play since our last playoff game vs. Everett (Monday)," Beebe said. "We got that monkey off our back getting the first PIAA win in the bracket. Our girls knew these girls from growing up and playing rec ball and travel ball. Our girls were more familiar with this team than I was. But anyone who comes through the WPIAL and is the champs, you know they are a real tam. It was just our day."
Ellwood City (21-1) had pretty much had its way with teams before Thursday and was coming off back-to-back 10-0 wins in the WPIAL title game (vs. South Park) and in the PIAA first round (vs. Bald Eagle Area).
But Moniteau (23-1) made a statement right out of the gate when Kristina DeMatteis blasted a two-run home run in the top of the first inning to give the Lady Warriors a 2-0 lead.
"It just set the tone," Beebe said. "Cortney Claypoole hit one there, and it went foul. Then Kristina hits one that really brought belief to the team in the dugouts."
A two-out double by Sara Hull in the third pushed the lead to 3-0.
Here is Hull's take on the victory.
Moniteau then opened the game up with a six-run fourth that included a three-run home run by Kennedy DeMatteis and a two-run double by Gabby Stewart.
Two more runs in the sixth on run-producing singles by Kennedy DeMatteis and Megan Hepler then gave the Lady Warriors the 10-run cushion for the Mercy Rule that held up when Kennedy DeMatteis shutdown Ellwood City in the bottom of the sixth.
The DeMatteis twins had themselves a day.
Kennedy was 3-for-4 with the home runs, two runs scored and four RBIs, and Kristina was 2-for-4 with the home runs, a double, two runs scored and two RBIs prompting Beebe to dub them the "terrorizing twins".
"The terrorizing twins do it again," Beebe said.
Kennedy, who were No. 2, was also nearly perfect in the circle allowing one hit and two walks while striking out nine.
"I think No. 2 has earned her stripes now in terms of being an all-state pitcher," Beebe said. "She hasn't been named one her first two years. Now, I think she should get recognized for her effort this season and especially today."
Moniteau will play WPIAL runner-up South Park, who won a crazy 16-12 game over Philipsburg-Osceola, in the semifinals Monday at a site and time to be determined.
MONITEAU 11, ELLWOOD CITY 0, 6 INNINGS
Score by Innings
Moniteau 201 602 – 11
Ellwood City 000 000 – 0
Moniteau – 11
Player, Pos, AB, R, H, RBIs
Gabby Stewart rf 3222, Cortney Claypoole ss 4220, Kennedy DeMatteis p 4234, Kristina DeMatteis c 4222, Sara Hull 3b 4011, Megan Hepler 1b 4021, Amanda Dailey pr 0000, Alyssa Dailey 2b 3110, Courtney Sowinski lf 4130, Alazia Greaves cf 3111. Totals 33-11-17-11.
Ellwood City – 0
Anna Ferrucci lf 2000, Kayla Murin ph 1000, Eisabela Miller cf 2010, Megan Siegfried ph 1000, Ariana Garroway c 2000, Mallory Swogger ss 1000, Camille Maine 1b 1000, Reagan Mittler dp 2000, Skyla Grecco p 0000, Natalia Grecco 3b 2000, Zoe Kalantzis 2b 1000, Breonna Streit 2b 1000, Brooklyn Magill rf 2000. Totals 18-0-1-0.
Player, Pos, AB, R, H, RBIs
LOB – Moniteau 6. Ellwood City 2. 2B – Claypoole (2), Kr. DeMatteis, Hull. HR – Ke. DeMatteis, Kr. DeMatteis. CS – Miller.
Pitching
Moniteau
Kennedy DeMatteis – 6 IP, 1 H, 0 R, 0 ER, 2 BB, 9 Ks
Ellwood City
Skyla Grecco – 6 IP, 17 H, 11 R, 11 ER, 3 BB, 6 Ks
Winning pitcher – Kennedy DeMatteis
Losing pitcher – Skyla Grecco