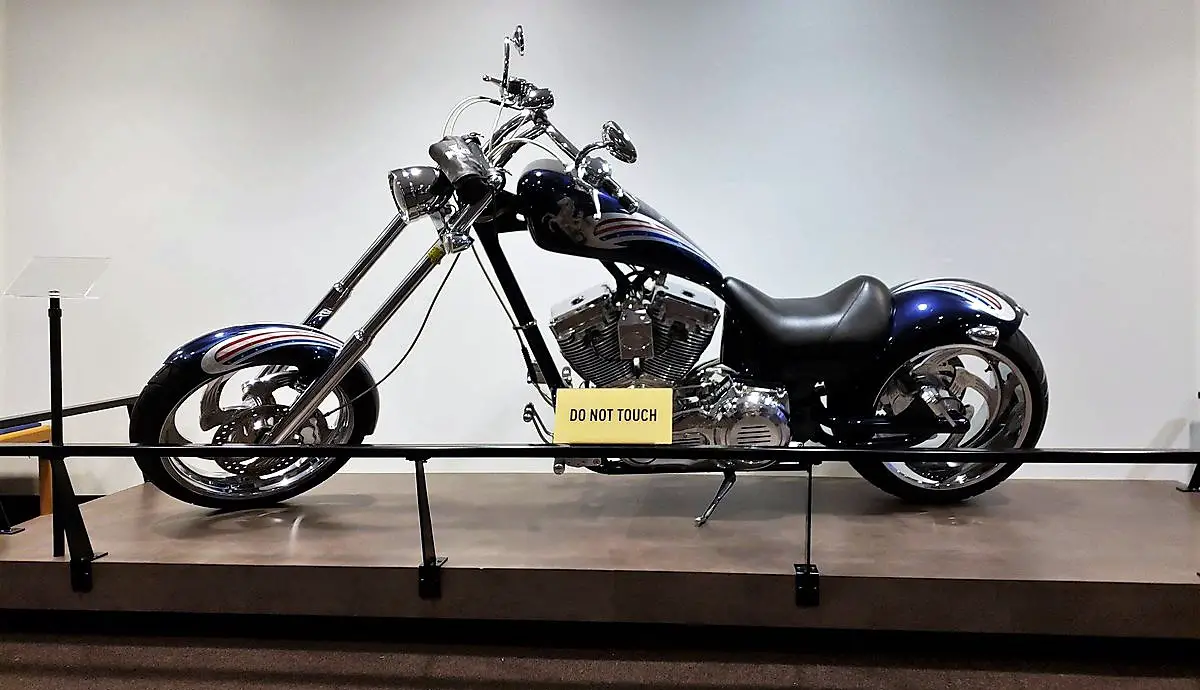 CANTON, OHIO – The Pro Football Hall of Fame is home to the world's largest and most significant collection related to the game. Among the thousands of artifacts are many personal mementos from football's greatest legends.
(Photo courtesy of Pro Football Hall of Fame)
A unique addition to the Hall's vast collection was received as the custom-made motorcycle owned by Hall of Fame quarterback Jim Kelly, am East Brady native, arrived at the museum on Monday afternoon,, July 23, and placed on exhibit as featured on the Hall's Instagram.
Kelly had approached the Hall of Fame in recent months to inquire about the Museum's interest in receiving the 2008 custom chopper. The one-of-a-kind motorcycle was created and designed by Knievel Custom Cycles. The motorcycle includes a special Jim Kelly Hall of Fame logo and autographs from legendary daredevil and stunt performers Evel Knievel and his son Robbie Knievel.
The chopper was delivered to Kelly in 2008 at that year's annual Jim Kelly Celebrity Golf Classic, an annual benefit for Kelly for Kids (www.kellyforkids.com/) and Hunter's Hope Foundation (www.huntershope.org/). Prior to its arrival in Canton yesterday, Kelly was often seen riding the 710-pound motorcycle alongside fellow Bills' teammates at rallies.
"This is a donation unlike anything the Hall of Fame has ever received. It is fitting considering that Jim Kelly is one-of-a-kind," Hall of Fame President David Baker shared. "There is nothing ordinary about Jim from the way he played the game to the manner in which he has battled his bouts with cancer. We hope fans are inspired by seeing the motorcycle and knowing it reflects the character of one of the greatest Hall of Famers ever, Jim Kelly."
The chopper is not the first artifact from the career and life of Kelly that has found its way to Canton. The following items from Kelly are either exhibited or preserved in the Hall of Fame's Ralph Wilson, Jr. Pro Football Research & Preservation Center and archives:
Buffalo Bills jersey worn by Kelly during the 1993 season when the Bills won the AFC East Championship.
Kelly's Buffalo Bills game worn helmet, circa 1994.
Game ball awarded to Jim Kelly after the 1990 AFC Championship Game victory that earned the Bills' their first Super Bowl berth. Also in the Hall's collection is Kelly's game plan and playbook from the game.
United States Football League (USFL) game ball football that was awarded to Kelly of the Houston Gamblers for his performance in the 1984 season.
Kelly's Buffalo Bills game plan and itinerary for Super Bowl XXVIII.
Kelly's Houston Gamblers (USFL) jersey from 1984.
Kelly's Houston Gamblers (USFL) helmet.
Kelly's East Brady High School jersey
Timmie Award by Touchdown Club of Washington D.C. given to him for being the 1990 NFL Player of the Year in the AFC
USFL game-used football awarded to Jim Kelly for a 574-yard passing performance with the Gamblers on Feb. 24, 1985 versus the Los Angeles Express