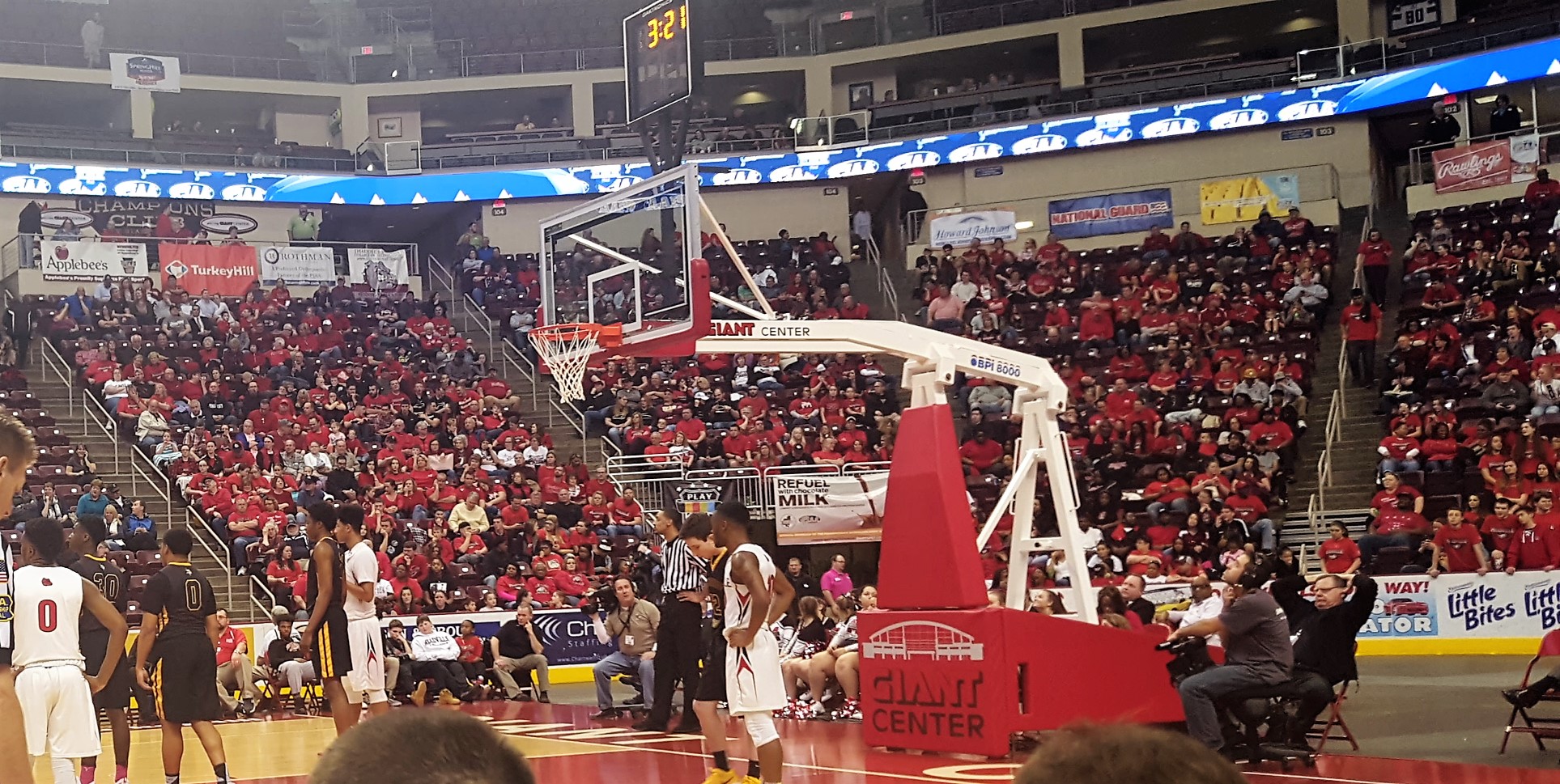 HERSHEY, Pa. – It was another strong day for the eastern half of Pennsylvania at the PIAA basketball championships Friday with only Sewickley Academy coming out of the west as a champion.
The Panthers knocked off Constitution, 68-63, in overtime to win the boys' Class 2A title.
In the other games, Lebanon Catholic beat Juniata Valley, 55-43, to become the Class 1A girls' champs, Boyertown knocked off North Allegheny,46-35, to take home the girls' Class 6A title and Archbishop Wood rolled past Meadville, 73-40, to grab the boys' Class 5A title.
Here are brief summaries on each game:
Class 1A Girls: Lebanon Catholic 55, Juniata Valley 43
Lebanon Catholic held Juniata Valley to 23 percent (14 of 61) from the field including 3 of 27 in the first half on its way to the title.
With the Hornets unable to find the basket in the first 16 minutes, the Beavers were able to build a 20-7 lead that was 20-10 at halftime.
Alexis Hill paced Lebanon Catholic with 20 points and 14 rebounds with Celine Mars adding 14 points and seven boards.
Maddie Mattas led Juniata Valley with 11 points and eight rebounds. Halee Smith added nine points and 10 boards and Sydney Reed also had nine points.
Class 2A Boys: Sewickley Academy 68, Constitution 63, overtime
Sewickley Academy overcame a slow start and a six-point deficit with 2:25 left to beat Constitution in overtime.
The Panthers were down 59-53 following a layup by the Generals Tamir Green, which came on the heels of back-to-back threes by Green that broke a 51-all tie.
But Nate Ridgeway connected on an old-school three with 2:14 left and David Groetsch nailed an newer version of the triple with 1:22 to play to tie the game at 59.
Green had a chance to win the game at the end of regulation but missed a 3-pointers.
Then in overtime, Sewickley Academy never trailed although the game was tied two more times, the latest at 63 with 1:58 to go after another jumper by Green.
But Justin Pryor hit three of four free throws over the next 16 seconds to push the Panthers lead to 66-63, and, following a missed layup by Green with 18 seconds left, Ridgeway scored on a breakaway with nine seconds left to seal the title.
Pryor had 21 points on 8 of 12 shooting and added eight rebounds, while Ridgeway chipped in 16 points.
Green tied Pryor for game-high honors with 21 points but was 9 of 21 from the floor. Maurice Waters added 19 points and 11 rebounds and shot 9 of 10 from the floor but scored just seven second-half points after netting 12 in the first half to go with seven rebounds.
It was all Constitution early with the Generals grabbing a 16-4 lead with 45 seconds left in the first quarter, but Sewickley Academy went on an 18-5 run to take a 22-21 lead on a Pryor layup with 3:18 left in the first half.
Constitution ended the half on an 8-0 run to take a 31-23 lead at the half
Sewickley Academy responded with an 11-2 run to start the second half to retake the lead, and it was game on from there.
Class 6A Girls: Boyertown 46, North Allegheny 35
From sixth place in District 1 to PIAA champions. The Boyertown Bears completed a great run through the PIAA playoffs by knocking off WPIAL champion North Allegheny 46-35.
Boyertown trailed 19-14 at halftime but outscored North Allegheny 12-2 in the third quarter and 32-16 in the second half.
Abby Kapp had a monster game for Boyertown with 17 points and 13 rebounds while also blocking three shots, stealing three balls and dishing out three assists. She was the lone Bears player in double digits. Victoria Boalton and Kylie Webb each chipped in with nine points.
Piper Morningstar had 10 points to pace North Allegheny. Rachel Martindale added nine points and Hailey Zeise eight points and 12 rebounds.
Class 5A Boys: Archbishop Wood 73, Meadville 40
Villanova recruit Collin Gillespie nearly netted a triple-double, as District 12 and Philadelphia Catholic League champion Archbishop Wood raced out to a 17-2 lead and never looked back in getting a 73-40 win over District 10 champion Meadville.
Gillespie finished with 15 points, 10 rebounds and eight assists, while Tyree Pickron had 18 points and Seth Pinkney added 11 points and 11 rebounds and Andrew Funk 10 points.
Armoni Foster led Meadville with 17 points, Simeal Wofford added 14 and Lashon Lindsey had nine. They were the only three Bulldogs to score.