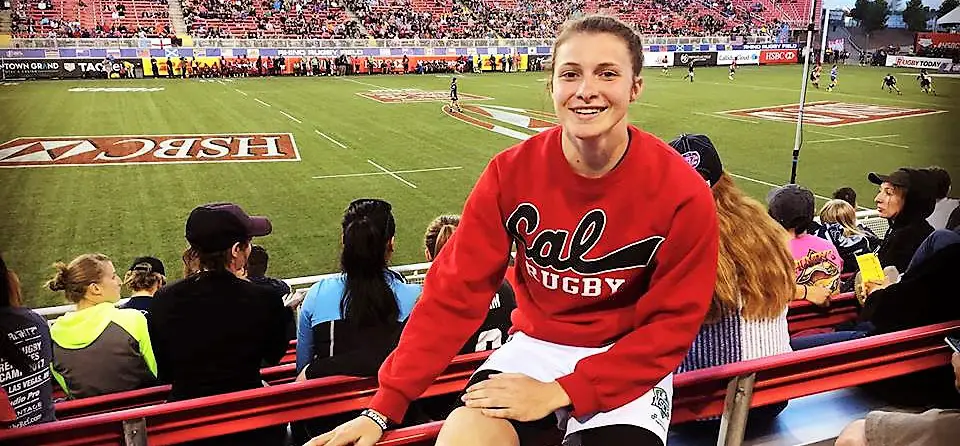 CALIFORNIA, Pa. – Growing up in the tiny town of Marienville, Pa., Erica Long was a three-sport high school star.
The fifth all-time leading basketball scorer in East Forest history with 1,170 career points, Long, a 2012 graduate of the school, also played soccer and track at a high level before taking her talents to Pitt-Titusville, where she played a year of basketball before walking onto the basketball team at Slippery Rock and making the squad in the Fall of 2013.
That's when her world was turned upside down.
Suffering a concussion during the preseason at Slippery Rock, Long was forced to take a medical withdrawal from the school, and it took her nearly a year to recover from the injury.
Little did she know at the time that injury was going to set her down a path she never imagined.
When she was feeling well enough to go back to school, she decided to transfer to California University of Pennsylvania and enrolled in the school for the Spring 2015 semester.
"When I transferred, I didn't know anyone at all," Long said. "I thought about playing basketball, but I didn't want to do it anymore. So, I e-mailed the captain of the rugby team, went to a practice and didn't leave."
Long, who admitted that she didn't know anything about rugby, quickly found herself enjoying the sport even if she had to forget almost everything she had ever learned about sports.
"I played soccer, basketball and track in high school, and rugby was different from all of those," Long said. "It was cool even though it was completely foreign to me. I had no expectations. It's not a very well known sport in the United States. I liked the aspect of it being so different to everything else I had played. You have to throw everything you learned about sports out the window. It's not conventional by any means."
Long's first rugby season was the Fall of 2015 when the Cal club team – rugby isn't a sanctioned NCAA sport so most schools that participate in it do so at the club level – played a "15s" season meaning it was 15 per side and two 40-minute, non-stop halves.
"I liken it to 5-on-5 basketball," Long said. "It's slow, and I was horrible. I was absolutely terrible. But the funny thing was, I liked it even though I was bad at it. It gave me room to learn. It positively challenged me."
In the Spring of 2016, Cal's club team played 7s, which was a variation of 15s where teams have seven players aside and play two non-stop seven-minute halves.
Playing 7s is where Long's athletic talent shone bright.
"I knew I was fast," Long said. "It's always been my strong suit. But it wasn't until 7s season, which wasn't until spring 2016, when my coach realized I was quick at it. There is a lot more room for me to run. From basketball and soccer, I was good at juking."
Cal's 7s team made the national tournament in North Clarion. At the tournament, which featured some of the top small college teams in the country, were scouts from the National Small College Rugby Organization (NSCRO), who were scouting players to make up a select-side team, which would be made up of the best small-school rugby players in the nation and get to compete against larger schools at the national championship in Philadelphia that summer.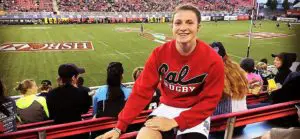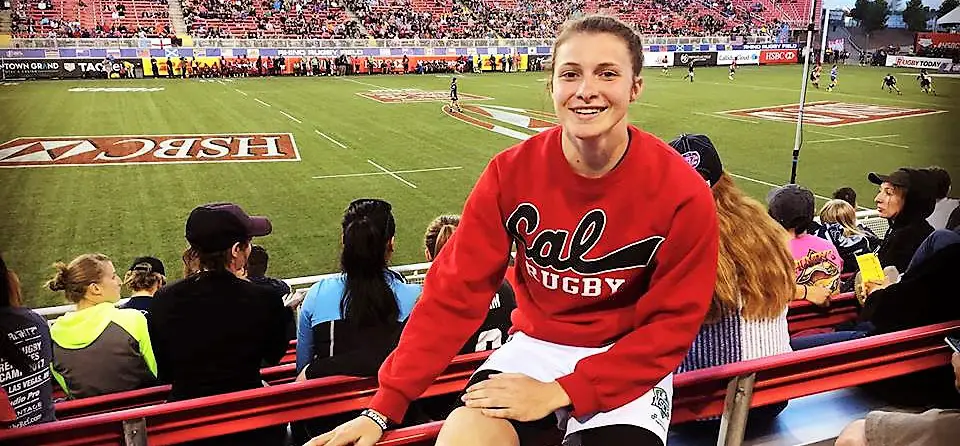 "It's kind of like the NCAA of rugby," Long said. "There are around 300 men's and women's teams from small colleges, and they were picking 14 girls to go to the Penn Mutual Rugby Championships in June 2016. I was recommended for that, and about a month later I got an e-mail asking me to play on the select team."
Being that the Penn Mutual Rugby Championships consisted of all teams from schools that are Division 1 in other sport, the small college select team was seeded 16th in the tournament.
"We finished fifth," Long said. "Which kind of shocked everybody considering we only met on Wednesday and played on Friday."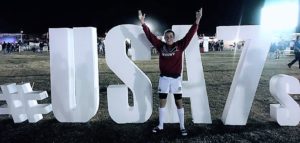 Because the small college team did so well at the championships, it was decided that a NSCRO team would participate at the Las Vegas Invitational 7's tournament March 3-5, 2017.
That meant another tryout process for Long.
"It was a recommendation process," Long said. "They timed us in the 300 shuttle, the 40 dash. My coach had to recommend me again, and I was picked from 12 girls from small colleges."
The NSCRO team was seeded fifth at the tournament and finished third.
"It's been a surreal experience," Long said. "I'm from the absolute middle of nowhere, and these things I'm getting chosen for are paid for. I get to represent the national small colleges, which is cool. I'm from Marienville, Pa., and I'm in Las Vegas. People are like where in the world is Marienville, Pa.? I'm like it's the only county in Pennsylvania without a stoplight. It's been surreal. The Las Vegas Invite is the largest in the Western Hemisphere. To say I played in it alongside Olympic-caliber players, I say it now, and it still doesn't sound like I did it."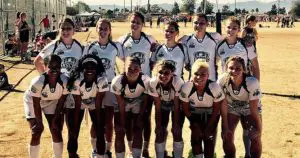 It was obvious throughout the interview with Long that her humble beginnings in Marienville have made this experience all that more special.
"When my friends here I was playing rugby, they were like 'yeah, ok, 110-pound Erica playing rugby isn't happening.' But I weigh 150 pounds now. I was able to put on weight, which is cool because now I'm not the scrawny shooting guard from East Forest. It's been super positive, everyone's reaction, everyone has been super supportive. It's not what anyone would think I would have done. I think that's why I like it so much. No one else (from high school) plays anything anymore."
According to Long, it surprised her to learn people in Marienville were following what she is doing.
"It means a lot," Long said. "My family is from Marienville, and I post stuff on Facebook. But I've been gone five years. I didn't think my name would still be mentioned. It didn't seem like anything because rugby is not crazy popular. But, that could be one of the reasons (why people care)."
Long said while it's a club sport at Cal, the school has been "super supportive" of her because she is representing the school.
"After the tournament in Philadelphia, they wrote a story about me in the alumni magazine," Long said. "And they are doing another one from the Vegas tournament. Whenever I go to these things, it says California University of Pennsylvania next to my name. They've been more supportive than anyone, honestly. They even gave me a small grant for side stuff that wasn't being paid for. They have been much more supportive than I anticipated. They've been great."
Long is majoring in Criminal Justice with the hopes of being a DCNR agent, a park ranger or going to the state police academy after she graduates in the fall.
"I'm also trying to feel our what rugby will do for me," Long said. "I'm on a good wave and would like to follow that as a long as I can."
According to Long, she has been contacted by some bigger teams including a pro team in the Women's Premier League.
"I've been in contact with one out of Colorado, the Glendale Raptors out of Denver," Long said. "They have been super receptive. It's an avenue I would like to explore. It's been weird because I grew up with such a humble attitude, any type of contact I get is unbelievable."
Long said her dad has been hounding her to pick a career path, but she sees an opportunity to do both a career and play rugby at the same time.
"There would be plenty of opportunities to do something in whatever field I choose in Colorado, especially outside," Long said.
And being outside is something Long believes she really wants to do.
"Going to Las Vegas was cool, but if it wasn't for rugby, I don't think I would have any desire to go to Vegas," Long said. "Not having any grass, and it being loud all the time isn't something I could do."
Long was recently invited to play in the Canada 7s in Vancouver but declined the invitation to concentrate on school.
"I have too much going on," Long said. "I really, really wanted to go though."
Long said she understands why some people would find her playing rugby coming off a bad concussion a little concerning. Heck, it even concerns her at times.
"It concerned me when I started," Long said. "It still does. But I don't play a position where I get contacted by some of the bigger girls. I'm a wing, which is more like a wide receiver in football. A lot of the head-to-head contact you do see, I'm not a part of it. But I do get bruised. We had a game this past weekend, and I got bruised everywhere. But I don't get hit as much as other positions. Still, it doesn't concern me."
According to Long, most rugby clubs aren't very big, but that doesn't bother her coming from a school where team sizes were always small.
"If I hadn't come from a smaller school, I wouldn't have thought of club sports the same way," Long said. "But because we didn't have large numbers in high school, it doesn't bother me that our teams are small. I would rather have 15 players that really care. If I hadn't come from East Forest, I wouldn't view it as I have."