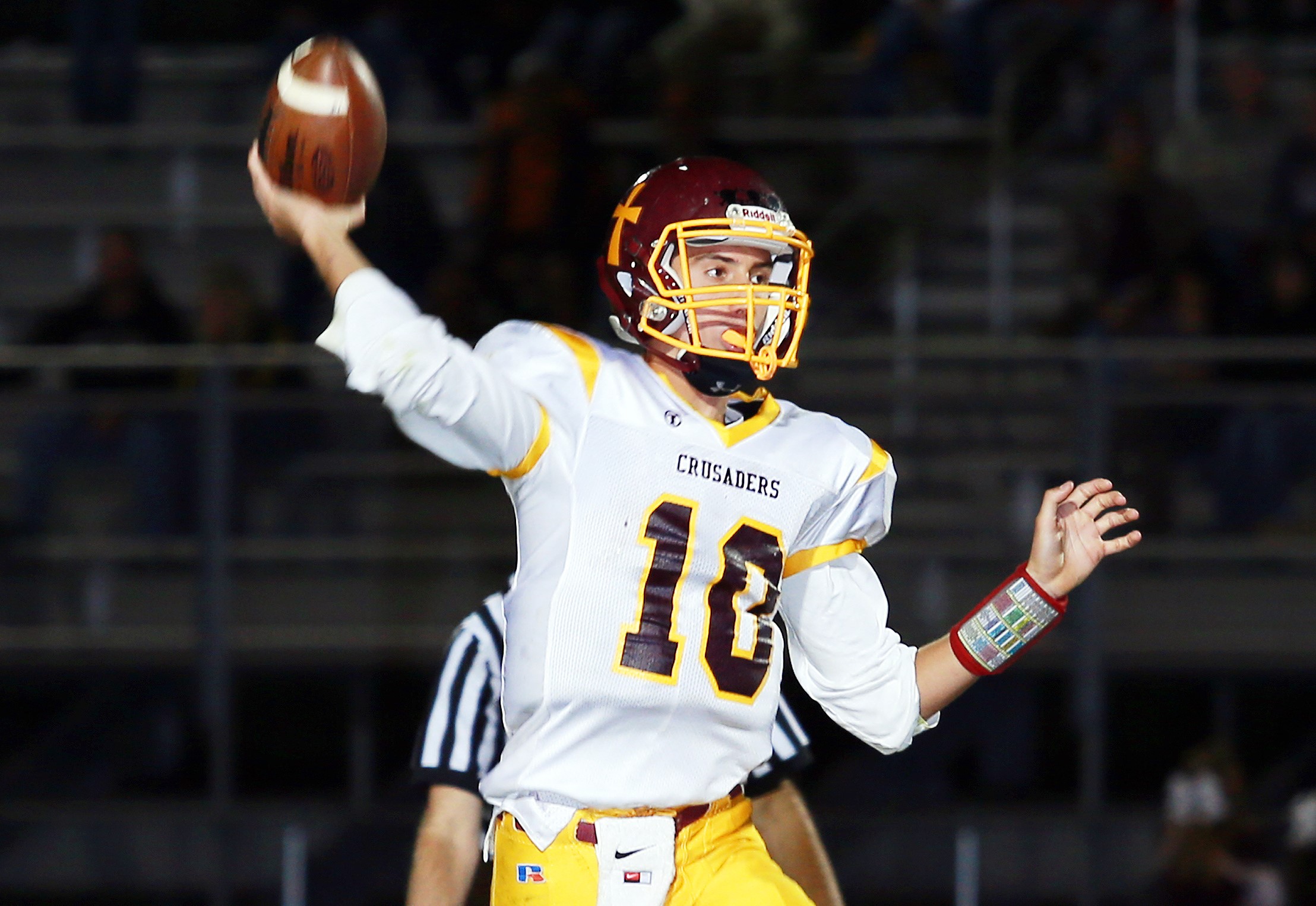 By Chris Rossetti
DuBOIS, Pa. – Elk County Catholic dominated on both sides of the football to move into the District 9 Class 1A title game with a 39-14 win over Clarion-Limestone Saturday afternoon at DuBois' Mansell Stadium.
(Cover photo of Nate DaCanal. Photo by Paul Burdick. Check out more of Burdick's work here)
The third-seeded Crusaders (8-3), who are in a District 9 title contest for the first time since losing 9-8 to Smethport in Class 1A in 1995 and for just the second time in school history, outgained the second-seeded Lions (8-3) 366 to 205.
"We are doing it for all the guys who put our uniform on, who wore our colors who maybe didn't get to this spot," ECC head coach Tony Gerg said. "I am one of them. I've been coaching for 20 years. This is the farthest that I've got. To be in this position is for all those guys and all those coaches who maybe didn't get to this spot. We are doing it for you guys. We are doing it for them."
The statistics weren't even as close as the 366 to 205, as 73 of C-L yards came on a game-closing drive against the ECC backups with the C-L starters still in the game. That included 54 of Mike Macefe's 86 yards rushing, which helped the senior break the 1,700-yard mark on the season (1,706) with 22 TDs).
"We knew we were bigger than them," Gerg said. "We ran so many plays in the first half, we just physically wore them down."
Watch all of Gerg's comments here.
ECC ran 44 first-half offensive plays to 17 by C-L and outgained the Lions 288-75 in the half while building a 29-8 halftime lead.
"We thought we were going to be in for a good fight," ECC senior quarterback Nate DaCanal said. "We came prepared. We had a pregame speech that got us all going."
Watch all of DaCanal's thoughts on the game.
DaCanal was a big part of ECC's success going 11 of 21 passing for 214 yards and two touchdowns while running for 55 yards and a score on nine carries.
"We thought we had to stop the run." C-L head coach Dave Eggleton said. "I thought we did a good job (ECC ran for 152 yards). I guess we were a little too focused on that, and that quarterback hurt us."
Mistakes also hampered C-L all afternoon.
The Lions turned the ball over five times (3 interceptions and two fumbles) leading to 23 ECC points.
In addition, ECC's first seven points came after a roughing the kicker penalty on C-L kept the Crusaders' drive alive.
"We just made too many mistakes," Eggleton said. "Just looking at the penalties, the turnovers. It was all on one side. We couldn't get out of the way of it.
The opening drive was an epic drive for ECC that ended up being 16-play, 95-yard drive that was aided considerably by the 15-yard roughing the punter penalty against the Lions after they had stopped ECC at its 23-yard line, But the Crusaders ran 11 plays after the penalty and overcame three 5-yard penalties of their own to go up 7-0 with 3:44 left in the first quarter.
It took C-L all of 14 seconds to answer when Sam Leadbetter broke a couple of tackles and went 75 yards for a touchdown on the ensuing kickoff. And the Lions had the lead when Brenden Makray hit Colby Himes with the 2-point conversion making it 8-7.
But the 2-point pass may have been the highlight of the game for Makray, who was 8 of 17 for 85 yards and three interceptions.
The first of those interceptions came on C-L's third offensive play of the game, which was also the Lions third offensive play of the second quarter – yes C-L didn't run a play in the first quarter. Dan Stauffer had the pick setting ECC up at the C-L 44-yard line.
Eight plays later, DaCanal scampered in from five yards out to give ECC the lead for good, 15-8, with 7:21 left in the first half.
C-L looked like it was going to answer right back marching to the ECC 18-yard line where it faced a third-and-6. Makray threw a 4-yard pass to Riley Hummell, but Hummell was hit hard by Bryce Gabler fumbling the ball, which was recovered in mid-air by ECC's Joe Kucenski at the 18.
It took the Crusaders all but two plays to make it 23-8.
A 24-yard pass from DaCanal to Eric Gerber moved the ball to the ECC 42, and then DaCanal found Stauffer behind the C-L defense for a 58-yard touchdown pass with 2:14 to go in the half.
ECC wasn't done scoring in the half.
After forcing a three-and-out, the Crusaders took over at their 38 with 1:22 to play.
On the first-down play, DaCanal hit Ryan Heary in the flat, and Heary went 22 yards to the C-L 40 that quickly turned into 37 yards to the C-L 25 when the Lions were hit for a personal foul after the play.
Six plays later, Stauffer scored his third touchdown of the game on another 1-yard run with 27.9 seconds left in the half to make it 29-8.
ECC added to its lead late in the third quarter after Stauffer forced a fumble that was recovered by Gerber at the ECC 40. Four plays were all it took for the score to move to 36-8 when DaCanal hit Brad Dippold from three yards out.
A 32-yard Tyler Dilley field goal early in the fourth quarter made it 39-8 before C-L went 73 yards on nine plays against the ECC JV with Macefe scoring on the game's final play.
"Those seniors were freshmen my first season here," Eggleton, who led the Lions to their first postseason berth since 2005, said. "We've been through alot together. What they've done, what they've become, the men they've become, they are going to be great, no doubt in my mind. It's tough.
"I'm just focused on what we accomplished this year as a team. This takes nothing away at all from what we've done this year as a team. I'm just so proud of these guys."
ELK COUNTY CATHOLIC 39, CLARION-LIMESTONE 14
Score by Quarters
ECC 7 22 7 3 – 39
C-L 8 0 0 6 – 14
Scoring Summary
First Quarter
ECC – Dan Stauffer 1 run (Tyler Dilley kick), 3:44
C-L – Sam Leadbetter 75 kickoff return (Colby Himes pass from Brenden Makray), 3:30
Second Quarter
ECC – Nate DaCanal 5 run (Ryan Heary pass from DaCanal), 7:22
ECC – Stauffer 58 pass from DaCanal (Heary pass from DaCanal), 2:14
ECC – Stauffer 1 run (Dilley kick missed), 27.9
Third Quarter
ECC – Brad Dippold 3 pass from DaCanal (Dilly kick), 4:46
Fourth Quarter
ECC – Dilley 32 field goal, 10:32
C-L – Mike Macefe 3 run (No attempt tried), 0:00
TEAM STATISTICS
ECC-STAT-C-L
21 First Downs 11
47-152 Rushes-Yards 24-120
214 Passing Yards 85
11-21-0 Comp-Att-Int 8-17-3
68-366 Plays-Yards 41-205
2-0 Fumbles-Lost 2-2
5-25 Penalties-Yards 9-78
2-34.5 Punts-Avg. 2-25
INDIVIDUAL STATISTICS
RUSHING – ECC: Nate DaCanal 9-55, Dan Stauffer 17-64, Jared Braun 8-27, Bryce Gabler 8-27, Alex Bittler 4-13, Tyler Dilly 3-negative 10, Ryan Heary 1-2, Jacob Raffeinner 2-negative 1, Team 1-negative 1. C-L: Mike Macefe 17-86, Brenden Makray 1-negative 3, Chris Peace 4-23, Riley Hummell 2-14.
PASSING – ECC: Nate DaCanal 11-for-21, 214 yards, 2 touchdowns. C-L: Brenden Makray 8-for-17, 85 yards, 3 interceptions.
RECEIVING – ECC: Jared Braun 3-42, Eric Gerber 2-44, Ryan Heary 3-39, Dan Stauffer 1-58, Brad Dippold 2-31. C-L: Riley Hummell 2-33, Sam Leadbetter 2-7, Mike Macefe 3-27, Dan Callen 1-18.
INTERCEPTIONS – ECC: Jared Braun, Hunter Cashmer, Brad Dippold.