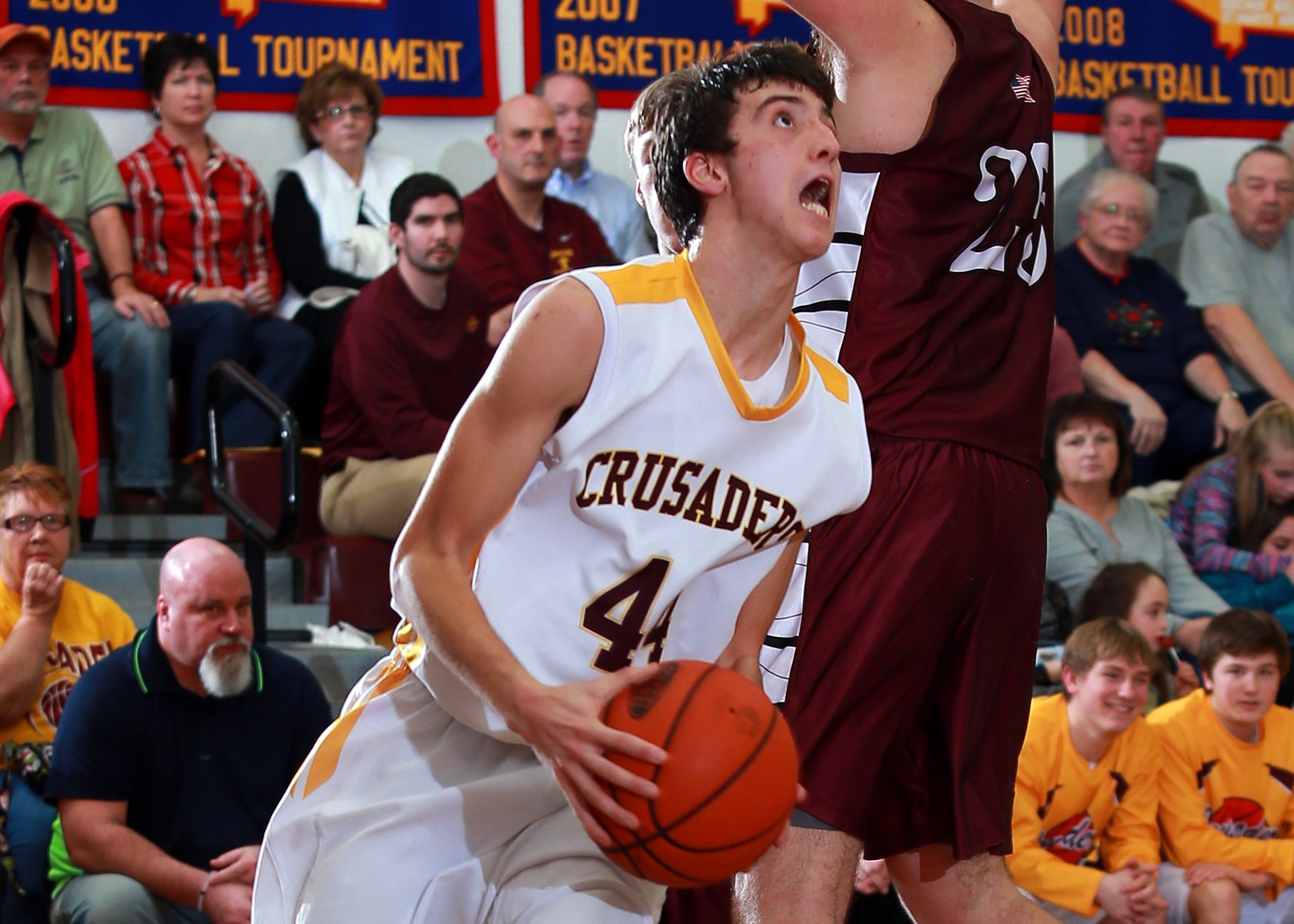 By Chris Rossetti
CLARION, Pa. – Elk County Catholic will try to make it past the second round of the PIAA playoffs for the first time since 2009 when it meets Farrell in a second-round boys' Class A game at 7:30 p.m. Tuesday at Clarion University's Tippin Gym.
The District 9 champion Crusaders (28-0), ranked third in the state in Class A by PennLive.com, will have their hands full against the District 10 runner-up Steelers (20-6), the second-ranked team in the state by PennLive.com.
Farrell may have six more losses than ECC, but the Steelers have played a much tougher schedule than the Crusaders with five of their six losses to state-ranked teams including four to teams ranked No. 1 (three losses to Class A No. 1 Kennedy Catholic and one to Class AA No. Aliquippa). Farrell also lost to No. 9 Class AAA New Castle and to IDEA Charter School out of Washington, D.C.
The state runner up in Class A from a year ago, Farrell is loaded.
Offensively, the Steelers average 71.6 ppg, while on defense they give up just 47.8 ppg. That defense was at its best in a 44-37 first-round win over Monessen, a team that entered the game scoring over 90 points per game.
Malik Miller and Terrance Holloway, two key contributors to last year's PIAA runner-up squad, lead the offense.
Miller, a 6-foot-3 senior guard who went over the 1,000-point mark late in his junior season, averages 19.5 ppg, while Holloway, a 5-11 senior guard, adds 14.3 ppg. Leon Lewis (10.4 ppg) gives Farrell three players averaging in double digits, while Kyi Wright adds 7.8 ppg.
This year's ECC team, the first to be unbeaten through this point in the season since the 2006 PIAA Class A title team, relies more on a team-approach than the star concept.
Junior guard Nate DaCanal leads the Crusaders averaging 13.8 ppg.
But DaCanal is one of five different ECC players to lead the team in scoring in a game this year.
Fellow junior guard Gabe Kraus adds 11.6 ppg and is a deadly 3-point shooter when he is on his game, and forward Kyle Huff chips in 10.8 ppg. Benji Hoffman (6.7 ppg), another guard, is also a player to watch.
NOTES – The teams also met in the second round last year with Farrell grabbing a 79-49 win at Tippin Gym thanks to a 30-point effort from Miller, who was 11 of 15 from the floor, including 4 of 8 from 3-point range. The Steelers outscored the Crusaders 28-8 in the third quarter to break the game wide open … Last year's game was the first time the traditional state powers had ever met … The winner will take on the winner of the second-round game between District 6 champion Homer-Center and WPIAL runner-up Sewickley Academy Friday at a site and time to be determined.