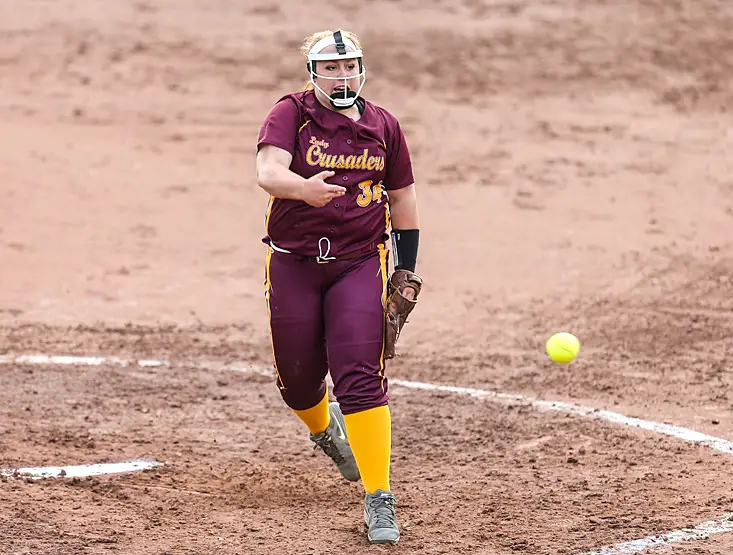 UNIVERSITY PARK — It's the fifth time that District 9 softball team will try to win a state championship when the Elk County Catholic Lady Crusaders meet Conemaugh Valley in Friday's Class A final.
The first pitch at Beard Field is set for 3 p.m.
The 24-2 Lady Crusaders, coming off their 2-1 win over Cochranton Tuesday, will try to become just the second D9 school to win a softball title. Curwensville won the first two also in Class A with a 7-3 win over Upper Dauphin in 2007 and a 1-0 win over Old Forge in 2009.
Punxsutawney lost in the Class AAA final in 2006, 3-0 to Donegal. Clarion lost in the Class A final in 2011, 6-1 to Minersville.
Conemaugh Valley (21-1) was the District 6 runner-up after losing to the same West Branch squad that ECC beat in last week's quarterfinals, 3-2. It's the only loss of the year for the Blue Jays who beat Meyersdale (6-2), Bloomsburg (2-1) and Millersville (2-1).
The Blue Jays' top players are Melanie and Mikayla Lint, Kaitlyn Stiffler, Brooke McCleester and Kara Pisczek. Mikayla Lint and Stiffer are seniors and the others are sophomores.
Melanie Lint is 14-1 with a 0.88 earned run average with 130 strikeouts and 19 walks in 88 innings. At the plate, she's hitting .441.
Mikayla Lint is 6-0 on the mound, but is also batting .493.
Stiffler (.444), McCleester (.431) and Pisczek (.471) are other big sticks in the Conemaugh lineup.
For the Lady Crusaders, they'll look to senior Abbey Bauer to lead the way. As per the Courier-Express, Bauer is 19-2 on the mound with 128 strikeouts and just 22 walks in 141 innings. She's also leading the team in hitting at .522 with a team-best 24 runs batted in.
Senior Marissa Heary (.520) and Sophie Yanak (.436) are also swinging hot bats going into the last game of the season.
The rest of Friday's softball schedule:
— Class AA: Holy Reedemer (District 2) vs. Deer Lakes (WPIAL), 10 a.m.
— Class AAAA: Parkland (District 11) vs. Cumberland Valley (District 3), 12:30 p.m.
— Class AAA: Bethlehem Catholic (District 11) vs. Trinity (WPIAL), 5:30 p.m.