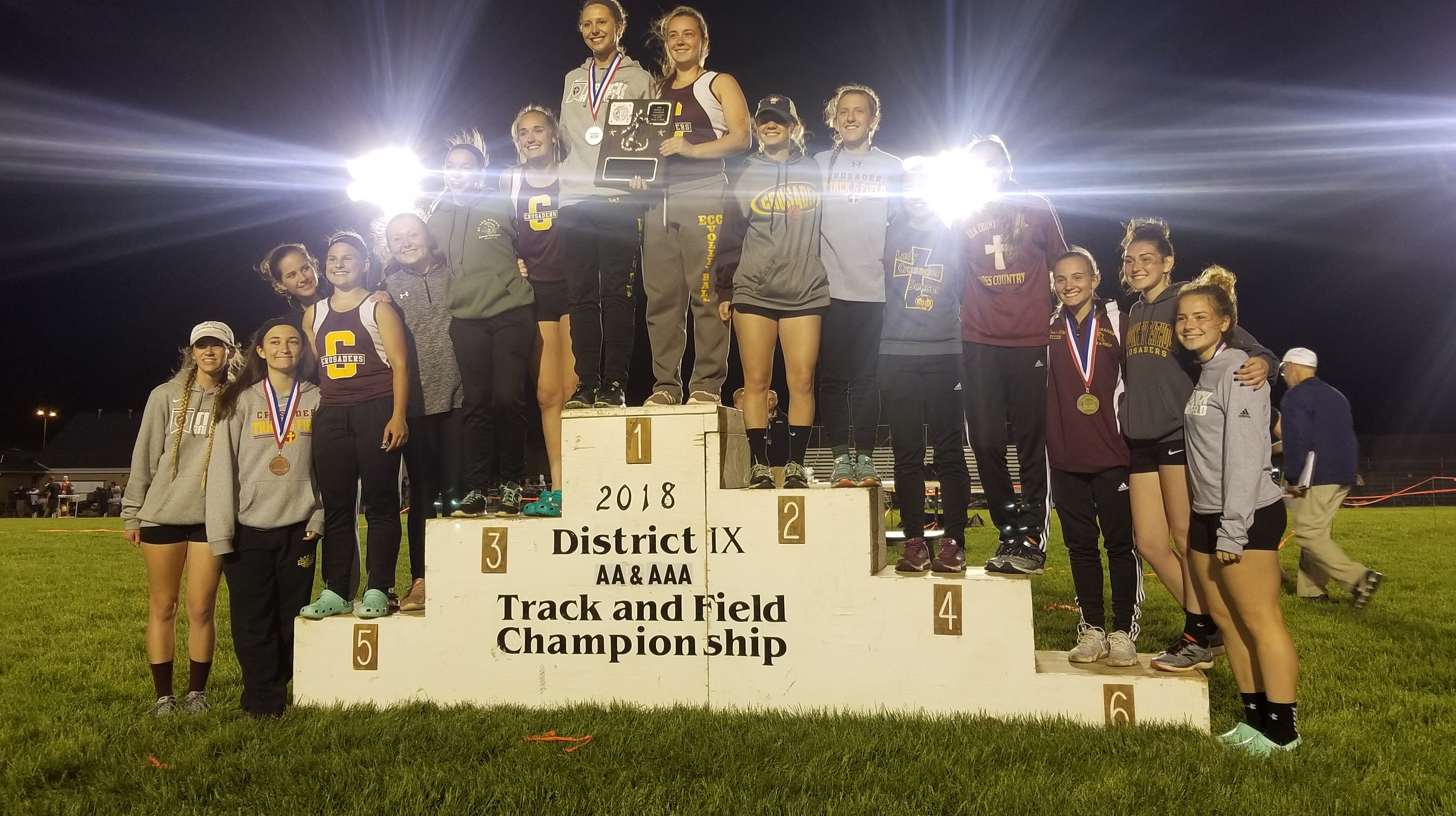 BROOKVILLE, Pa. – Elk County Catholic used depth scoring to win the 2018 District 9 Class 2A girls' track and field title Friday at Brookville High School.
Full Results • See the meet photo gallery 
The Lady Crusaders, who won three of the last five titles and 13 titles since 2001, scored 72 points to take home the title despite having just two individual champions and a relay champion. Johnsonburg was second with 64.50 points, Punxsutawney third with 52.50 points and Brookville fourth with 49 points.
Olivia Sorg of ECC was crowned as the fastest girls in D9 2A winning the 100-meter dash in a time of 13.06 while also finishing second in the 200-meter dash in a time of 27.14.
Sorg talked about winning the 100.
Taylor Newton took home ECC's other individual title winning the high jump with a leap of 5-feet, 6-inches, which tied the District 9 2A championship meet record set by ECC's Laura Lynch way back in 1978.
Newton talked about the win.
Meanwhile, ECC's 4×800-meter relay team won the D9 title in a time of 10:07.84. The team consisted of Hannah Lenze, Abby Bonfardin, Maddie Kear and Chelsea Hunt.
While ECC was winning the team title, Oswayo Valley's Sara McKean took home the James Manner Award as the meet's MVP after winning three events.
McKean took home championships in the 200 (26.80), the long jump (17 feet, 7 ¼ inches) and the triple jump (36-5 ½). She was also a member of the second-place 4×100-meter relay team that qualified for the PIAA meet in a time of 50.79 joined on that squad by Shayla Bickel, Faith Coole and McKenzie Gross).
She talked about winning the long jump title for the second consecutive year.
A-C Valley's Emma Fox and Karns City's Rebecca Pennington also each took home a pair of District 9 titles with Fox winning both the 100-meter hurdles (16.46 seconds) and the 300-meter hurdles (48.05) with the 100 championship her second in a row and Pennington bringing home titles in the 1,600-meter run (5:23.98) and the 3,200-meter run (11:29.84).
Fox, who was also third in the 100 dash (13.32) and fourth in the 200 dash (27.75) discussed winning the 100 hurdles.
Moniteau's Kendall Grossman also set a meet record in the pole vault with a winning leap of 11 feet, 4 inches) breaking the previous mark of 11-1 set in 2014 by Brookville's Brandi Cooper.
Grossman talked about getting the record.
Additional winners on the track included Kate Horner of Punxsutawney in the 400-meter dash (1:01.84) and Amanda Williams of Johnsonburg in the 800-meter run (2:27.32).
Also winning field events were North Clarion's Tori Obenrader in the shot put (41-6 ¾), Adrian Page of Coudersport in the discus (137-6) and Trinity Clark of Kane in the javelin (150-8).
Obenrader and Clark both qualified for the state meet in all three throwing events.
Clark was second in the shot put (37-8 ½) and third in the discus (126-4) to go with her javelin title, an event she was heavily favored in. She talked about her javelin victory.
Obenrader, meanwhile, was fifth in both the discus (115-11) and the javelin (126-6) to go with her second straight championship in the shot put. She talked about her meet.
Williams picked up a title in a relay as well running a leg on Johnsonburg's 4×100-meter championship team that also consisted of Madeline Cowan, Cassidy King and Evelyn Cobaugh. They won in a time of 50.62.
Brookville's 4×400-meter relay team of Rylee Stancliffe, Madison Johnson, Morgan Johnson and Dani MacBeth also took home a District title in a time of 4:10.35.
District 9 had especially strong days in the field events were more than the automatic top-two qualifiers found their way to the PIAA meet.
In addition to Obenrader and Clark in the shot put, Punxsutawney's Sam Dyson (3rd; 37-1 ½) and Coudersport's Lanie Cobb (4th; 36-11 ½) also qualified for Shippensburg.
The discus saw six PIAA qualifiers. Dyson was second with a throw of 130-4, Clark third, Shaney Cheesman of Karns City fourth (117-8), Obenrader fifth and Cambrie Campbell of Moniteau sixth (113-2).
There were five PIAA qualifiers in the javelin with Campbell finishing second with a throw of 145-5, Johnsonburg's Skylar Sherry third (133-5), ECC's Alicia Fritz fourth (129-3) and Obenrader fifth.
In the high jump, there were four PIAA qualifiers with Punxsutawney's Leah Miller finishing second behind Newton with a leap of 5-4. Audri Marconi of Kane was third (5-2) and Clarion's Lexi Lauer was fourth (5-2).
Grossman was joined by three additional PIAA qualifiers in the pole vault with Clarion's Laken Lewis taking second going over the bar at 11-feet even to finish second, Brookville's Mattisen Drake third (10-6) and Port Allegany's Mauley Fox fourth (10-6).
All second-place finishers also qualified for the PIAA meet.
Those not already mentioned included Oswayo Valley's Coole in the 100 (13.22), Coudersport's Dane Dubots in the 400 (1:01.88), Clarion's Phylicia Hockman in the 800 (2:27.60), ECC's Lenze in the 1,600 (5:38.84), Northern Potter's Amanda Ford in the 3,200 (12:05.58), Brookville's Brooke Quairiere in the 100 hurdles (16.65), Brookville's MacBeth in the 300 hurdles (48.58), Johnsonburg's King in the long jump (17-2) – King also finished third in the triple jump missing states by 3 ½ feet with a jump of 34-6 1/2) – and Cameron County's Kamme Guisto in the triple jump (35-0).
Additional PIAA qualifying relay squads included ECC in the 4×400 (Kear, Mandy Geci, Newton and McKayla Wilson) in a time of 4:13.12 and Punxsutawney's 4×800 squad (Horner, Elyse White, Alyse Whitman, Olivia Roberts) in a time of 10:17.27.