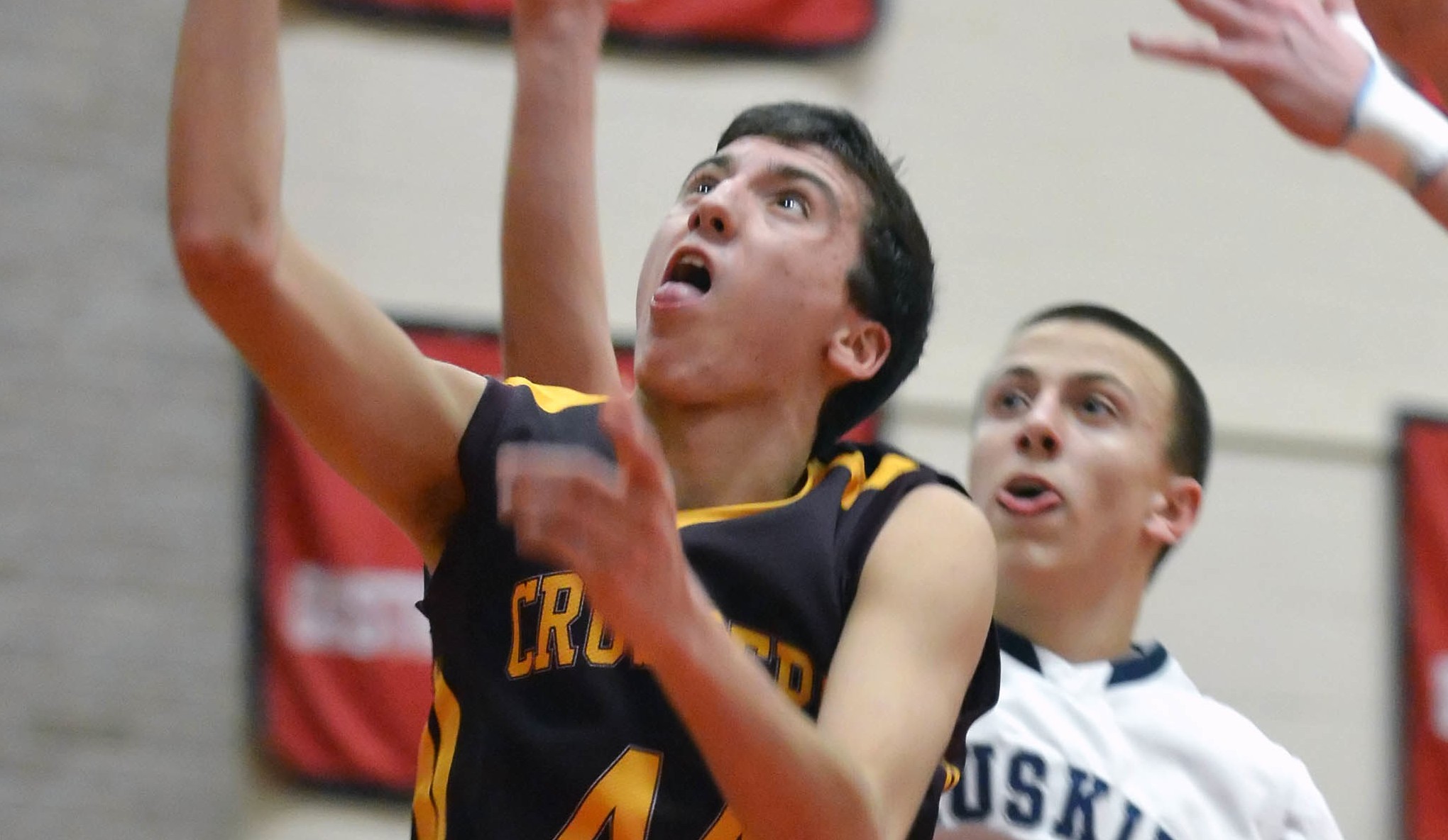 Some of the information for this game is courtesy of the Bradford Era
EBENSBURG, Pa. – Nate DaCanal and Ryan Seelye combined to score seven of Elk County Catholic's eight overtime points to lead the Crusaders to a 56-50 upset of District 6 champion Bishop Carroll in the opening round of the PIAA Class A playoffs Friday night.
Played at Central Cambria High School, just across the street from Bishop Carroll High School, the all-but home team Huskies looked like they were well on their way to victory when they took a 38-24 lead late in the third quarter.
But the Crusaders (24-2), the third-place team out of District 9, rallied using a strong defense to go on a  24-10 over the next 11 minutes finally tying the score on a Jeff Wehler layup with 16 seconds left. Mitchell Smith then ensured overtime by getting a steal at the horn.
In the extra session, the run and the momentum continued with ECC scoring the first five points thanks to a Seelye layup, a Seelye free throw and two DaCanal charity shots to go ahead 53-48 with 1:28 to play.
Bishop Carroll finally got its lone basket in overtime, a Brandon Martinazzi hoop, with 35 seconds to play in the extra session to get back within three, but DaCanal hit two free throws and Smith one to seal the victory, the 22nd time in 28 tries under head coach Aaron Straub that the Crusaders have won a first-round PIAA playoff game.
"I was proud of the way the kids battled after getting down 14," Straub said in a text to D9Sports.com after the game. "You saw some real genuine team chemistry and heart down the stretch in the fourth quarter and overtime."
For the most part, ECC held Martinazzi in check limiting the senior, who was averaging 22.6 ppg, to 17 points, his fourth-lowest output of the year and his fewest since scoring scoring 12 in Forest Hills Jan. 16. Martinazzi was held to only four points in the first time.
"He is a really great player," Straub said.
Mitch Struble led the Crusaders with 21 points, while DaCanal had a double-double with 12 points and 11 rebounds. Seeyle added 11 tallies.
ECC outrebounded Bishop Carroll (24-2), which was a PIAA semifinalist a year ago, 43-30.
The Crusaders will take on District 10 runner-up Farrell in the second round Tuesday at a site and time to be determined.
NOTES – At the end of the game, the ECC student section chanted "walk home safely" to the BC crowd … Bishop Carroll led 20-14 at halftime and 38-27 at the end of three before being outscored 29-12 in the fourth quarter and overtime … It was the first PIAA playoff win for ECC since 2011.
ELK COUNTY CATHOLIC 56, BISHOP CARROLL 50, OVERTIME
Score by Quarters
ECC 7 7 13 21 8 – 56
BC 10 10 18 10 2 – 50
Elk County Catholic – 56
Benji Hoffman 1 0-2 2, Mitchell Struble 8 1-2 21, Jeff Wehler 2 0-0 5, Mitchell Smith 0 1-3 1, Dan Singer 2 0-2 4, Ryan Seelye 5 1-2 11, Nate DaCanal 2 8-9 12, Ian Herzing 0 0-0 0, Kyle Huff 0 0-0 0. Totals 20 11-20 56.
Bishop Carroll – 50
Watt 3 0-0 7, Lucas 5 0-0 12, Suckinos 2 0-0 5, Martinazzi 8 0-3 17, Swatsworth 2 5-8 9. Totals 20-5-11-50.
Three-pointers – ECC 5 (Struble 4, Wehler). Bishop Carroll 5 (Lucas 2, Watt, Martinazzi, Suckinos)