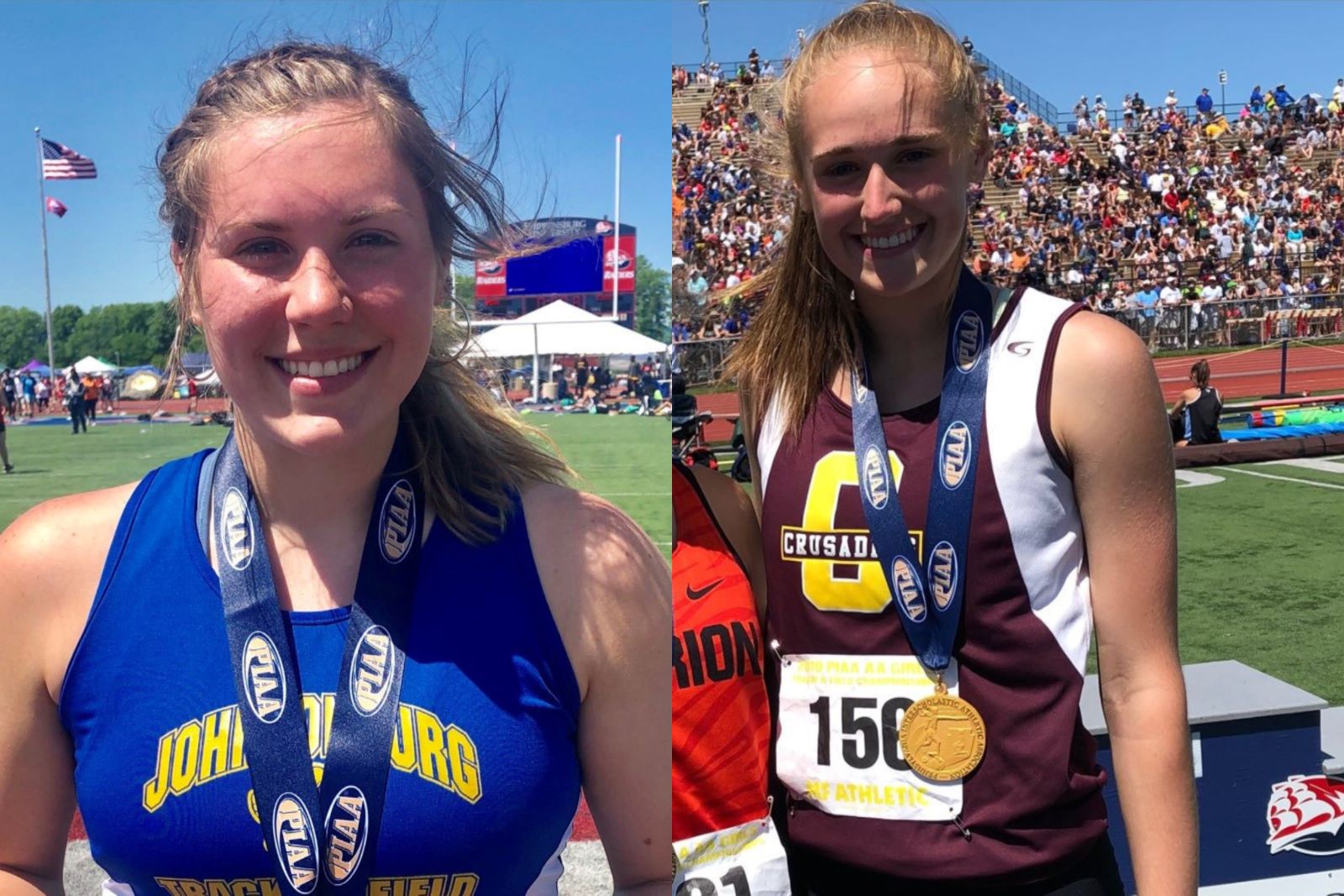 SHIPPENSBURG, Pa. – Taylor Newton and Skylar Sherry took home PIAA gold medals Friday at the girls' Class 2A championships at Shippensburg.
(Photo of Elk County Catholic's Taylor Newton (right) and Johnsonburg's Skylar Sherr (left), who won state titles in track and field Friday)
Full results available at PIAA website (scroll to the bottom of the page for results)
Elk County Catholic's Newton won the high jump title with a leap of 5-foot, 7-inches on a tiebreaker over Beaver Area's Emma Pavalek while Johnsonburg's Sherry took home the javelin with a throw of 137-3. It marked the second year in a row and the third time in five years a District 9 athlete has won the javelin. Trinity Clark of Kane won the javelin in 2018, and Redbank Valley's Brooke Hinderliter won in 2015.
For Sherry, it was an opportunity to finally be the bride after being the bridesmaid in the event the last two years finishing second in 2017 and 2018.
District 9 took home six additional medals on Friday, including two more in the girls' 2A meet and four in the boys' 2A meet.
Laken Lewis of Clarion joined Newton on the medal stand in the high jump going over the bar at 5-feet even for fifth place, while A-C Valley's Baylee Blauser took eighth in the long jump with a personal best and school-record tying leap of 17-1.
James Parenti of Moniteau was the top finisher in the boys' 2A meet out of District 9 finishing fourth in the discus with a throw of 162-7 while Kane's Bailey Blint was fifth in the discus with a toss of 155-8.
Also medaling on the boys' side, Bryan Dworek of Brookville was fifth in the long jump with a leap of 21-feet, ¼ of an inch, while Smethport's Brandon Peterson shared eighth place in the high jump with a jump of 6-2. Eleven jumpers all cleared 6-2 with one finishing seventh and three more eighth. Redbank Valley's Sam Hetrick also cleared 6-2 but missed a medal on a tiebreaker and finished 11th.
Another near miss came in the javelin where Clarion-Limestone's Ian Callen threw 167-8 to finish in 10th just over four feet off a medal.
A number of District 9 track athletes did well in preliminary heats and have either secured a spot on the medal stand Saturday or will get a shot to secure a spot Saturday.
The best performance was put in my Brookville's 4×100-meter boys' 2A relay team of Dworek, Ian Thrush, Jack Krug and Cabe Park, which won its heat in a time of 42.54, which was the fastest time in the prelims ahead of Motivation (42.86) and Hickory (42.94). The Raiders can finish no worse than eighth.
Those four Brookville sprinters will be plenty busy Saturday.
Thrush (10.96), Dworek (11.04) and Park (11.10) all moved into the semifinals of the 100-meter dash, while Thrush (22.49), Dworek (22.49) and Krug (22.63) are in the semifinals in the 200-meter dash.
Thrush and Krug will also run in the 4×400-meter relay final being joined on the team by Kyle MacBeth and Dillon Olson. They set the school record in the event with a run of 3:24.51 and will be seeded third in the eight-team final guaranteed a medal.
Olson also qualified for the semifinals in the 110-meter hurdles in a time of 15.12 and will be joined in the semifinals by Johnsonburg's Ethan Kemmer (15.16), Keystone's Brody Coleman (15.46) and Brookville's Addison Singleton (15.50).
Coleman and Olson also secured medal finishes by advancing to the finals of the 300-meter hurdles. Coleman ran a heat-winning time of 39.66, the fourth-fastest in the prelims, while Olson ran 39.16, the second-fastest in his heat and the second-fastest in the prelims.
Karns City's Hunter Jones put behind him last year's disappointing ninth-place finish in the 400-meter dash qualifying for Saturday's finals and securing a medal in the process with a prelim time of 50.21, the fourth-fastest time in the prelims.
Both the Smethport and Elk County Catholic 4×800-meter relay teams qualified for Saturday's 12-team final with Smethport's squad of Darion Gregory, Ethan Nannen, Jordan Pavlock and Eric Szarowicz putting in the third-best prelim time of 8:15.40 and the ECC team of Ben Hoffman, Jacob Carnovale, Joe Wolfe and John Wittman also secured spot in Saturday's final with a run of 8:16.97, which is seeded eighth in the 12-team field with the top eight Saturday earning a medal.
In girls' track action, St. Marys' 3A 4×800-meter relay teams of Tesa Grotzinger, Samantha Hayes, Kyla Johnson and Megan Quesenberry also qualified for Saturday's 12-team final with the ninth-best time of 9:32.44.
In the girls' 2A 100-meter hurdles, Brookville's Brooke Quairiere advanced to Saturday's semifinals with a run of 15.74, while in the girls' 300-meter hurdles Johnsonburg's Chloe Trumbull also advanced to Saturday with a run of 46.65.
Clarion's Phylicia Hockman qualified for Saturday's 800-meter final running in a time of 2:21.0, the 10th-fastest mark.