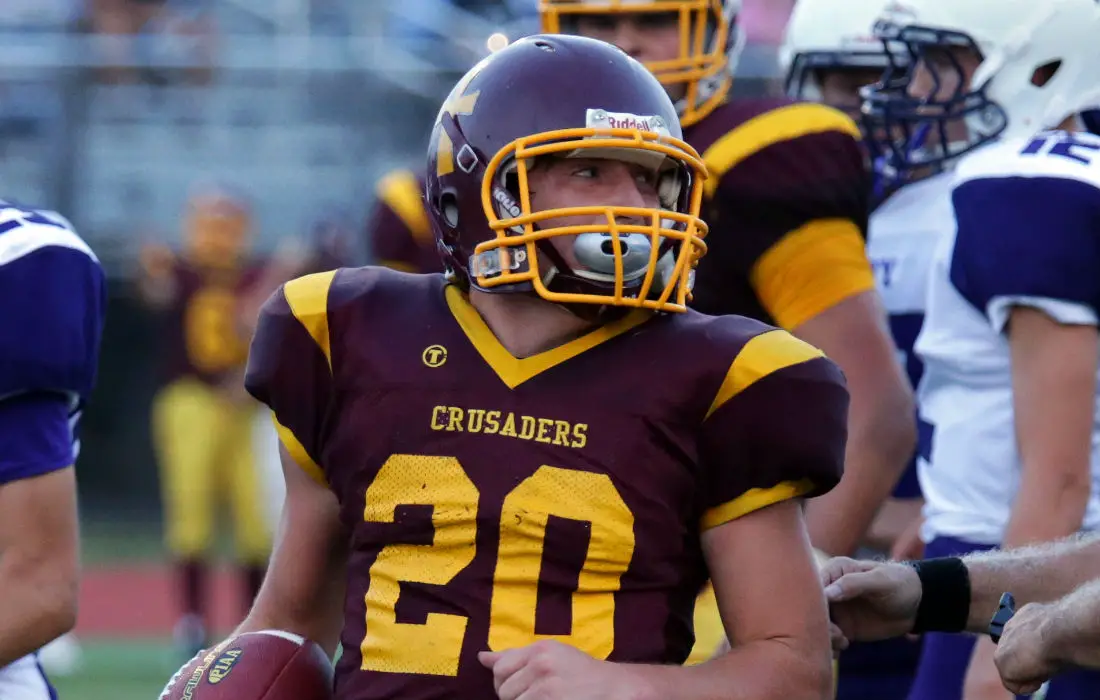 CLARION, Pa. – No less an authority than Elk County Catholic head coach Tony Gerg said his senior running back Noah Werner put his team on his back in Friday night's 21-14 win at Ridgway.
And the numbers would back that up. Werner ran 36 times for 175 yards and three touchdowns including picking up 54 yards on 10 carries with a 12-yard, game-winning touchdown with just under six minutes left that completed an incredible 18-play, 95-yard game-winning drive for the unbeaten Crusaders. Those numbers coupled with him being on top of his game when it mattered most earns Werner the D9Sports.com District 9 Player of the Week honor for Week Six of the 2015 season.   
Joining Werner in being honored this week for outstanding performances are 15 additional players on the D9Sports.com Week Four Honor Roll.
D9SPORTS.COM PLAYER OF THE WEEK
Noah Werner – Elk County Catholic: 36 carries, 175 yards, 3 touchdowns including 10 carries, 54 yards and the touchdown on ECC's game-winning 18-play, 95-yard drive in the fourth quarter; 1 catch, 7 yards – Elk County Catholic 21, Ridgway 14
D9SPORTS.COM HONOR ROLL  
Hunter Miller – Brockway: 15-for-18 passing, 197 yards, 1 touchdown; 17 carries, 24 yards – Kane 21, Brockway 14
Caleb Burnside – Cameron County: 14 carries, 226 yards, 2 touchdowns; Returned an interception for a touchdown – Cameron County 44, Sheffield 8
Anthony Louder – Clarion-Limestone: 21 of 33 passing, 339 yards, 3 touchdowns, 1 interception – St. Marys 28, Clarion-Limestone 20
Seth Caldwell – Clearfield: 17 carries, 154 yards, 3 touchdowns – Clearfield 42, Bellefonte 7
Nick Stewart – Curwensville: 19 carries, 144 yards, 3 touchdowns; 3 catches, 26 yards – Curwensville 44, Redbank Valley 30
Jakob Terry – Curwensville: 16-for-26 passing, 197 yards, 2 touchdowns, 1 interception – Curwensville 44, Redbank Valley 30
Dante Dawson – DuBois: 6 catches, 157 yards, 2 touchdowns – DuBois 44, Oil City 34
Matt Miller – DuBois: 18-for-29 passing, 329 yards, 2 touchdowns, 1 interception – DuBois 44, Oil City 34
Braden Paulinellie – DuBois: 32 carries, 189 yards, 4 touchdowns; 2 catches, 26 yards – DuBois 44, Oil City 34
Shane Rolick – Kane: 13 carries, 126 yards, 2 touchdowns; 3 of 7 passing, 20 yards, 2 interceptions – Kane 21, Brockway 14
Derek Boben – Moniteau: 26 carries, 121 yards rushing, 1 touchdown; 5 of 12 passing, 60 yards – Moniteau 10, Clarion 0
Mac Tanner – Port Allegany: 24 carries, 142 yards, 3 touchdowns – Port Allegany 26, Coudersport 12
Ryan Jones – Punxsutawney: 10-for-20 passing, 149 yards, 2 touchdowns; 1 interception; 7 carries, 57 yards – Punxsutawney 23, A-C Valley 6
Connor Shoemaker – Redbank Valley: 16-for-24 passing, 299 yards, 2 touchdowns, 1 interception; 19 carries, 11 yards, 1 touchdown – Curwensville 44, Redbank Valley 30
Adam Shunk – Smethport: 28 carries, 287 yards, 1 touchdown – Smethport 20, Otto-Eldred 0
2015 PLAYERS OF THE WEEK
Week One: Zach Sloan, DuBois and Jake Weaver, Keystone
Week Two: Matt Miller, DuBois
Week Three: Anthony Isabella, Brockway
Week Four: Anthony Louder, Clarion-Limestone and Nick Stewart, Curwensville
Week Five: Adam Shunk, Smethport
Week Six: Noah Werner, Elk County Catholic