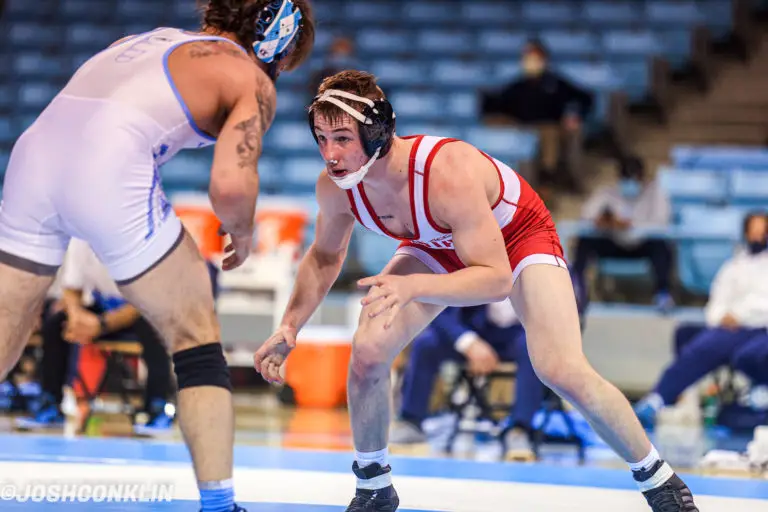 RALEIGH, N.C. (D9/EYT) – Ed Scott is one of the best wrestlers District 9 — and possibly the entire state of Pennsylvania — has ever seen, but the beauty of Scott's journey is he is just getting started.
(Photos courtesy of N.C. State Athletics)
After a strange true-freshman year that saw Scott wrestle 12 total matches, the DuBois native was in fact able to keep his eligibility for four years and enters the 2021-22 school year as a redshirt freshman.
He wasted little time coming in and securing a starting position for the North Carolina State wrestling program, which finished the 2020-21 season with a 6-1 dual-meet record and was ranked No. 7 in the nation to end the season.
Scott, in the 149-pound weight class, finished with a 6-6 record and did not have the opportunity to check the box of heading to the NCAA Division I Wrestling Championships.
"I am really glad we had the opportunity to compete," said the former Beaver wrestling star.
"I wish I would have made it to NCAA's, but it was a very good experience for me, and this season I can have a better plan of attack than the previous one."
Scott should keep his head high because looking at his days as a wrestler to date, few have accomplished what he has overall.
To put it into perspective just how solid and dependable he was in the DuBois lineup and at tournaments, just look at his win and pin totals from his high school career.
In 157 high school matches, he won 151 of those and pinned his opponent in 105 times. His 151 wins at DuBois are the most in the history of the program and his 105 pins are the most in District 9 history.
He also won his final 79 high school matches and was a three-time state medalist with a third-place finish as a freshman and individual state titles in 2019 and 2020.
He also finished his high school career with four D9 titles, four regional titles, was tabbed as a 2020 Wrestling USA Scholastic All-American, was selected as a Dave Schultz High School Excellence Award winner in 2020, and was named an Amateur Wrestling News' High School All-American Second-Team selection as a high school senior.
Scott was also a two-time Powerade champion and placed in the tournament three years in a row, was a Journeymen Fall Classic champion in his senior year of high school, was a Fargo Greco runner-up, and took fourth place at Super 32. He was also listed as the No. 19 overall recruit and No. 2 recruit at 152 pounds by FloWrestling, was named the 29th overall recruit and the No. 2 recruit at 152 pounds by TheOpenMat, and was also selected as the 39th overall recruit and No. 3 at 152 pounds by InterMat.
Scott has already accomplished more in wrestling than many accomplish across their entire careers, but that does not mean he is satisfied with where he is at present or all he has done to this point.
"What I am really trying to do is work to become a college wrestler who can reach a really high level," Scott said. "I never really thought about all the accolades in high school. I was just trying to make a name for myself and contribute to the team and program success in any way I could."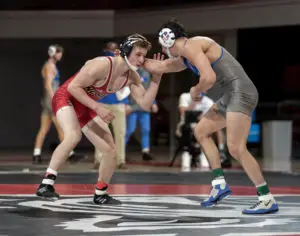 To be able to achieve at such a high level, wrestling started at such a young age for Scott, like many of his peers in the sport. At the age of five was his first introduction to the sport and he has his father, Edward, to thank for introducing him to the sport and remaining his biggest influence in the sport to this day. When talking about his father, he said
"My dad and I have a great connection in large part because of our love for wrestling," Scott said. "We still talk about how practice went, he is trying to teach me new techniques, and he keeps up with the sport to show me things he finds on FloWrestling. He is and will always be the biggest influence in the sport for me."
Another one of his bigger influences is his sister, Jocelyn, a former acrobatics and tumbling student-athlete at Division II Gannon University. Scott said she set a terrific example of how hard someone has to work to be a student-athlete in college. She is currently studying to become a doctor and made sure her younger brother has understood the importance of taking advantage of earning a top-notch education during his five years at N.C. State.
Going to N.C. State was certainly in large part because of the wrestling tradition and strong team culture the Wolfpack provides to their wrestlers, but the university also has a strong academic reputation in a variety of degrees both at the undergraduate and graduate level.
Scott intends to major in sports management and plans to pursue a master's degree during his days as a Wolfpack student-athlete.
Looking back, his favorite memories from wrestling to date are winning his two state titles and looking over to find his family members after the match, and also having the chance to wrestle Brookville native and former Clarion wrestling star Brock Zacherl at the Clarion Open in November of 2020.
Though he was unable to come out on top in this match in a narrow 7-6 defeat, it pushed him to become a better wrestler and gave him the opportunity to wrestle one of his closest friends in the sport.
Another unique aspect of being such a highly touted wrestler is the wrestling community really gets to know who their competitors and peers are, and Scott said traveling the country and meeting so many different great people and wrestlers is also one of his favorite aspects of the sport.
With a clear vision of his goals and a great program to support and guide him, Ed Scott is set to make some noise in his second college season. He has some quality experience under his belt and his knowledge and passion for the sport only grow as he spends more time in the culture that is N.C. State wrestling. We could just have a future NCAA individual champion that hails from District 9 in the near future.