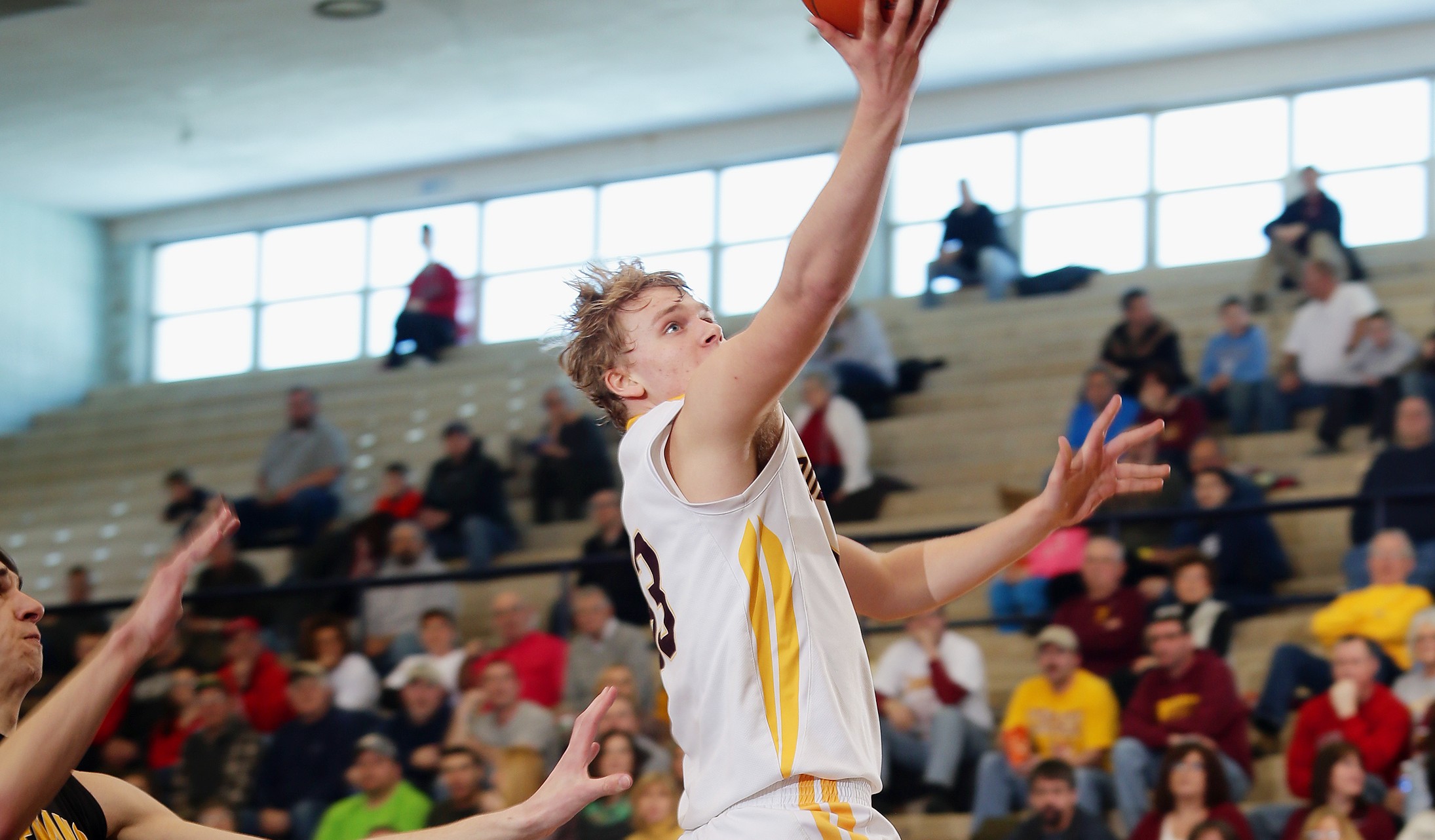 CLARION, Pa. — Behind  a season-high 20 points from Ryan Seelye, Elk Coutny Catholic beat Venango Catholic 56-48 in the Class A consolation game Saturday afternoon at Tippin Gym.
Seelye connected on 9-of-14 shots from the floor and also had five rebounds.
The Crusaders (25-2) led throughout, but Venango Catholic got as close as three in the fourth quarter, led by Devin Zagar's 15 points, 10 rebounds and five blocks.
Scott Toy also posted a double-double for Venango (16-9) with 13 points and 12 rebounds.
ECC took advantage of 26 Venango turnovers, helping offset getting out-rebounded 40-24 and shooting just 38 percent from the floor.
Elk County Catholic will play District 6 champion Bishop Carroll in the first round of the state playoffs, while Venango Catholic draws WPIAL champion Monessen.
Elk County Catholic 56, Venango Catholic 48
By Quarters
Venango Catholic        12   10   9    17 — 48
Elk County Catholic    12   11   15   18 — 56
VENANGO CATHOLIC (48)
Scott Toy 6-18 0-0 13, Luke Plumer 0-2 2-2 2, Nathan Dudzic 0-2 0-0 0, Brady Kingston 6-13 2-2- 14, Devin Zagar 7-12 1-4 15, Josh Puleo 1-1 0-0 2, Jacob Hargenrader 1-2 0-0 2, August Galey 0-0 0-0 0, Totals 21-50 5-8 48
ELK COUNTY CATHOLIC (56)
Benji Hoffman 2-7 3-4 7, Mitch Struble 1-7 0-0 2, Ian Herzing 0-0 0-0 0, Ryan Seelye 9-14 0-2 20, Nate DaCanal 2-9 0-0 4, Jeff Wehler 2-4 2-2 8, Mitchell Smith 1-1 3-4 5, Dan Singer 0-1 2-2 2, Kyle Huff 2-7 4-4 8, Totals 19-50 14-18 56
Three-point FGs: Venango Catholic (1) — Toy; Elk County Catholic (4) — Seelye 2, Wehler 2