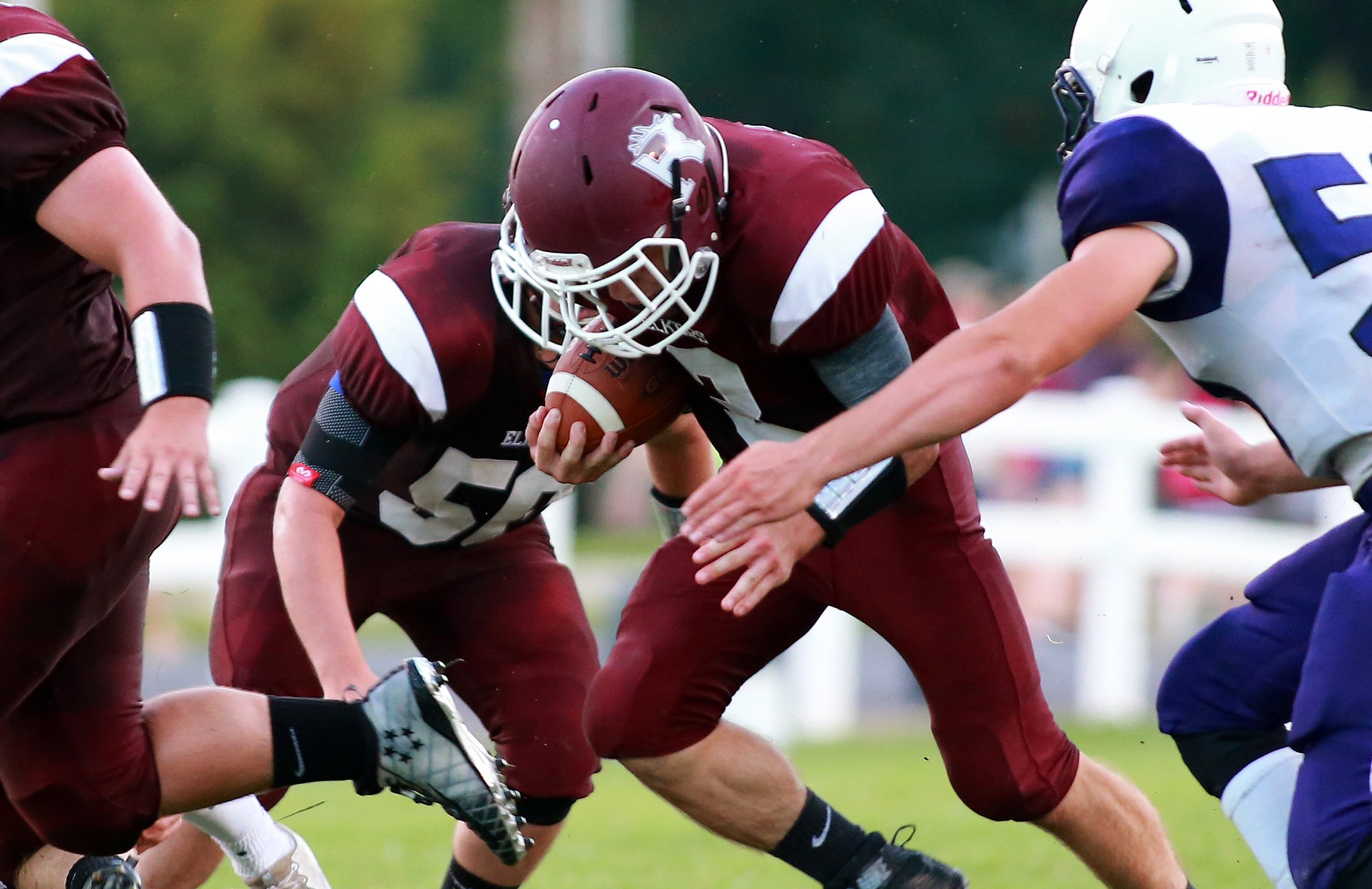 RIDGWAY, Pa. (D9Sports) — It's unfamiliar territory for the Ridgway Elkers and that means a very meaningful football workout on Thanksgiving morning.
(Cover Photo of Neil MacDonald. Photo by Paul Burdick. Check out more of Burdick's work here)
It's not the so-called "Turkey Bowl" backyard matchup sort of football workout, this one matters much more as the District 9 Class 1A champion Elkers (10-2) prepare for Friday's PIAA quarterfinal game against D10 champion Farrell. Kickoff at Slippery Rock University is 7 p.m.
"We're enjoying every bit of it," said Elkers head coach Mark Heindl, whose team won its first D9 title since 1989 with a 42-13 win over Elk County Catholic last week. "Practicing on Thanksgiving has been on our bucket list."
So cross that one off. Most likely even more important for Heindl's crew is notching a win in its first-ever state game. Even with the district title in 1989, the Elkers didn't play in the still very new state playoff system.
Keystone, even though it won the D9 Class 2A title that year, earned the 1A berth through a PIAA point system setup, beat Clairton 15-14 to earn a trip to the finals and then lost to Dunmore, 57-18. Back in those days, if you can follow this one, districts had different classification standards than the PIAA when it came to the football postseason.
Farrell's playoff history is much deeper than the Elkers. The Steelers, state Class 1A champs way back in 1995 and 1996, reached last year's 1A final and lost to Bishop Guilfoyle, 35-0. Lifetime against D9 schools in the state playoffs, the Steelers are 6-0, including last year's 27-6 win over Kane in the quarterfinals.
"They're a good football team, the film doesn't lie," Heindl said. "They're fast and physical and to counter that, we have to play our game and our style. We're in the final eight for a reason, not by luck."
Farrell (9-3) beat West Middlesex, 22-12, two weeks ago to win the D10 title and avenge an earlier 21-14 loss to the Big Red. In last week's state opener, the Steelers blanked D5 champion Conemaugh Township, 30-0, in Somerset.
The Steelers led 28-0 by halftime and limited Conemaugh Township to 162 yards of offense. Sophomore quarterback Kyi Wright led the Steelers, completing 6 of 8 passes for 145 yards, throwing a TD pass while rushing for 40 yards on five carries with two more touchdowns.
Their big blow last week came late in the second quarter when senior running back Braxton Chapman injured his knee trying to make a turn near the end of a 40-yard run. Chapman, Farrell's all-time leading rusher at just over 3,000 yards, is likely finished for the year with what appeared to be a serious injury. He wound up with 1,437 yards and 16 TDs this year.
But Wright is a 6-foot-3, 220-pound playmaker who also mans the middle linebacker spot, so the Steelers' offense might not look a whole lot different that it did against Conemaugh Township where it tried to get to the edges and assert its speed advantage.
Wright (67-for-107, 1,227 yards, 17 TDs, 5 Ints.), who had an interception on defense in last year's win over Kane, has been effective throwing the ball this year and with Chapman getting the bulk of the big carries, he hasn't been needed to run much. However, he's still third on the team with 354 yards on 44 carries with eight touchdowns.
Especially with Chapman out, look for sophomore Christian Lewis (56-407, 5 TDs) and junior Brandon Chambers (44-288, 1 TD) to get carries as well.
"Last week they tried to get to the edge with jet sweeps, but against West Middlesex they ran a lot inside the tackles," Heindl said. "We assume they'll try both against us and whatever back they have running, we need to play gap responsible and win the line of scrimmage. They also ran a lot of trips and cluster formations along with the swinging gate (line spread out), especially on conversion plays, so we'll have to prepare for that."
The Elkers have been remarkably stingy when it comes to their defensive performance this year, giving up just 148 yards per game. Opponents have managed just 583 rushing yards on 318 attempts for a microscopic 1.8 yards per carry average.
And throw in the unit's ability to create turnovers and you'll find a huge reason why they're playing on Black Friday. The Elkers have caused 29 turnovers compared to just 10 giveaways for a gaudy plus-19 turnover ratio.
All of those numbers lead to the Elkers' 8.1 points allowed per game ranking 12th in the state.
"That was a big push this year," Heindl said. "We were 4-6 last year and we lost games in the fourth quarter where turnovers cost us. That was a big push and the kids bought into that big-time, ball-control and forcing turnovers on defense and the plus-19 doesn't lie."
The Elkers have two 100-tackle defenders in junior linebacker Joey Elinski and junior safety Neil MacDonald at 108 and 101 stops respectively. Against Elk County Catholic, MacDonald had 10 tackles for the third straight game and his two interceptions raised his team-high total to four. Sophomore linebacker Evan Furlong had a season-high 14 stops against the Crusaders.
Farrell averages 317 yards per game offensively, 215 on the ground and 102 passing. Wright's top receivers are Chambers (27-569, 7 TDs) and sophomore Jourdan Townsend (24-410, 6 TDs).
Ridgway, comparatively, weigh in at 276 yards per game offensively, 216 of that coming on the ground led by 1,000-yarder MacDonald (166-1,080, 12 TDs), junior quarterback Johnny Mitchell (116-488, 9 TDs), junior Jacob Zimmerman (73-294, 3 TDs) and Elinski (54-278, 3 TDs).
MacDonald has surged at the end of the season, averaging just over 100 yards per game over the past six contests. And so has Mitchell (43-for-84, 696 yards, 10 TDs, 8 Ints.) throwing the ball, completing 15 of 22 passes for 344 yards and six TDs against just one interception over the past three games.
Heindl feels that Mitchell's progress has been vital to the team's offensive success considering that defenses must keep an eye on the passing game much more lately.
"(Johnny) struggled early with some passing, but his confidence has grown with how well the offensive line has protected him," Heindl said.
Mitchell's top receivers are MacDonald (12-145, 1 TD), senior Josh Raubenstrauch (10-159, 4 TDs) and senior Ryan Kilhoffer (8-114, 1 TD).
While Wright will be a focus of Farrell's offense, he just might be as much of a force leading the Steelers defense from his middle linebacker spot where he's second on the team with 92 tackles while leading the unit with four interceptions. Sophomore linebacker Tymir Green leads the team with 105 tackles while defensive end Josh Nix has a team-high six sacks.
As important as anything for the Elkers in their first trip to the state playoffs is their ability to handle the moment, right out of the gate. More than once over the years, D9 teams unfamiliar with state playoff experience start slow and it almost always costs them any chance at winning.
"They're big and physical and our guys have to be patient and go into it with the same mentality as they did against ECC last week," Heindl said. "It'll be tough to get a feel for it, but if we go in intimidated, it could be a long night.
"We tell them that you can't control anything but what's in front of you. Farrell is a spectacular program. They were in the state finals last year, but we've earned it too. Don't be intimidated, play your game and let the cards fall as they are."