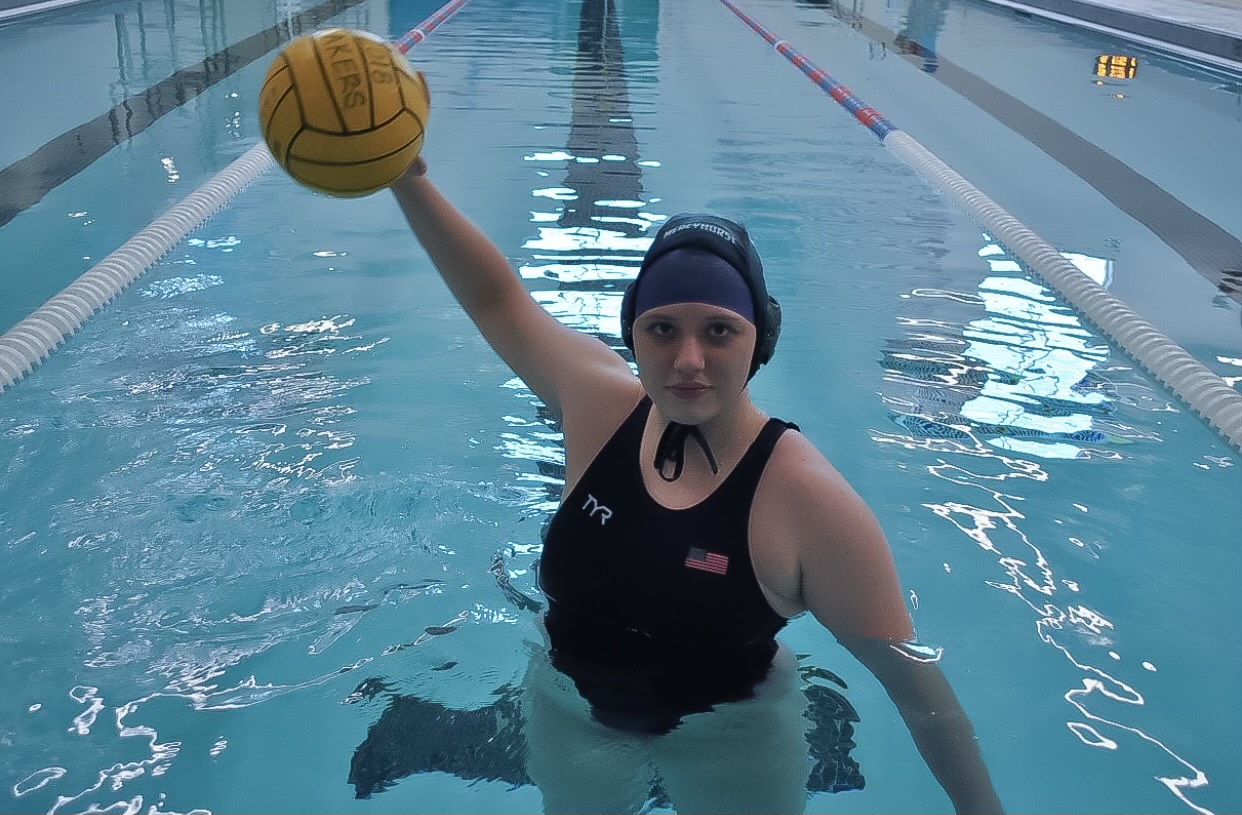 ERIE, Pa. (D9/EYT) – District 9 may not feature a single PIAA sanctioned water polo program, but that did not stop DuBois native Emma Ruttinger from finding the college ranks in the sport.
(Photo courtesy of Mercyhurst University Athletics)
A former swimmer for DuBois, Ruttinger forwent college swimming to head to Mercyhurst University to study Hospitality Management. Along the way, she was encouraged by a Mercyhurst Hospitality Management professor to sit down and talk with late Mercyhurst heads water polo coach Curtis Robinette about the opportunity to play college water polo.
"Sometimes in high school, we would play water polo for fun at practice," Ruttinger explained. "But this was nothing like the actual sport. Coach Robinette allowed me to be a part of the team and he and a lot of my teammates have spent hours catching me up to speed and helping me prepare to be a better water polo player."
Ruttinger was a four-year letter winner for the Beavers in swimming and primarily focused on middle-distance swims for DuBois. However, she carried a willingness in high school to be a utility swimmer and help the team with any event they needed. Now, she is doing the same as a utility player for the Lakers.
"I was put on the roster by Coach Robinette last season and spent a lot of time during the summer going into college watching videos and reading how I could improve and trying to learn the rules," Ruttinger said. "Before this research, I knew nothing except that you could not touch the bottom of the pool."
Now, Ruttinger is entering her second season with the Lakers. The 2022 team is coming off a 9-7 season and three victories in the Western Water Polo Association (WWPA) Tournament.
"I think we are still going to be pretty good," Ruttinger said. "We lost a really talented group of seniors who did so much for me in helping me learn the game, but we have some strong returners and some good freshmen coming in.
We will definitely have to keep working hard and work really hard on defense, but this team is motivated to play hard for Coach Anna (Batcheller) and to honor Coach Curtis."
Robinette coached men's and women's water polo for two decades at Mercyhurst and lost his life in August after a battle with brain cancer. When talking about the man who gave her a chance to become a college athlete, Ruttinger said: "He was an amazing person who was so dedicated to both programs. Without him, I am not sure I would still be here at Mercyhurst. I was really homesick my first semester, and he and my teammates gave me that sense of belongingness that I needed. He was such a strong person, and I wish I could have had the chance to play more for him. He means more to me than I ever knew, and I cannot thank him enough for all that he taught me about water polo and what he did for me."
While water polo is a big part of her college experience, she has also excelled in her studies and in her business career so far. Her grades her freshman year helped her to be selected as a WWPA Women's Water Polo All-Academic performer for the 2020-21 school year.
"That award meant a lot to me because it cemented that what I am doing is worth it and that my hard work both to the team and in the classroom is not going unnoticed," Ruttinger said. "My teammates have all been so happy for me that I received that award."
She also secured her first internship in the recreation department at Omni Amelia Island Resort in Florida for the summer of 2021. As for the summer of 2022, she is hoping to head to Nashville and remain with Omni Resorts to work in the Omni Nashville Hotel.
"I love the industry and all that it represents and stands for," she said. "I have a few different dreams to work on superyachts as a stewardess, to continue working with Omni in front desk, recreation, and event roles, and then eventually move further north after earning some experience in the industry to open up my own bed-and-breakfast. I really like Montana, Maine, and Alaska."
To help achieve all she has, Ruttinger credits her high school swimming coaches, Mike Gressler and Leanne Fuller, for always striving to get the most out of her as a swimmer in her high school days. These coaches and her father, Tim Ruttinger, have been some of the biggest supporters in her athletic career and encouraged her to pursue the opportunity to play water polo at Mercyhurst.
So far, Ruttinger has played in 13 matches and dished out three assists in her college career, but no matter what statistics or accolades she or her other teammates rack up, she believes the best part of the program is that they are friends first and teammates second.
"We are known as one of the closest programs and teams on campus," she said. "I think that remaining friends before being teammates and also us living with each other makes a difference for our success in the water."
Mercyhurst women's water polo will begin their 2022 campaign in February.