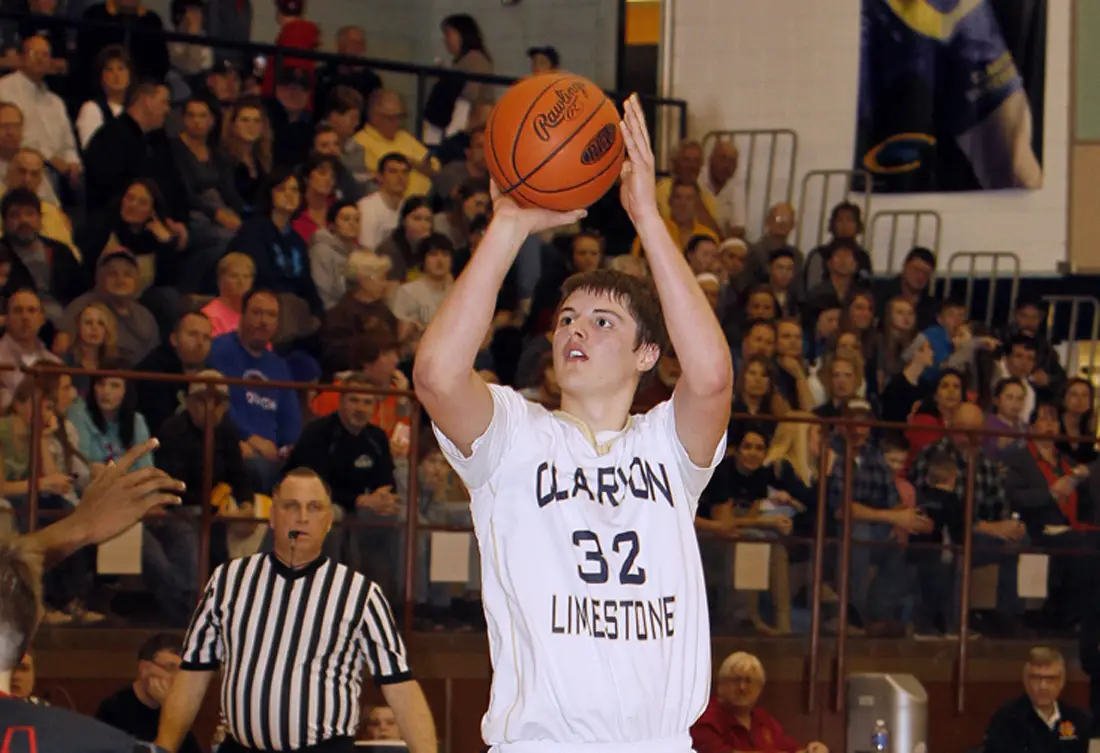 By Rich Rhoades
CLARION — For the second straight game, the Clarion-Limestone Lions gave up 90 points. This time around, the Lions didn't have enough ammunition to pull out a win.
Friday night at Clarion University, the Lions were outgunned this time, losing to 90-73 District 10 runner-up Farrell in the PIAA Class A quarterfinals.
Farrell, a Class AAA quarterfinalist last year, heads to Tuesday's semifinals against District 10 rival Kennedy Catholic. Kennedy beat WPIAL champion Monessen, 81-63, Friday night.
After beating Kennedy Catholic twice during the regular season, Farrell lost 48-46 in the D10 finals on Feb. 27.
While the Lions were beating Vincentian 97-90 in a track meet at Sharon Tuesday night, the Steelers were shooting the lights out at the same Tippin Gymnasium in a 30-point win over Elk County Catholic.
In their second game at Tippin this week, the Steelers shot it even better than they did against ECC, making 32 of 52 shots (61.5 percent). Against the Crusaders, the Steelers shot 61.1 percent.
"We felt we had to slow them down and defend. If we could keep them under 60, 70 points we felt we had a good chance at winning," Farrell head coach Roland Shannonhouse said. "We really came in thinking defense as opposed to offense. The one thing I was happy with was when they hit us on the chin, our guys came back and hit them right back. I was proud of our guys about that.
"We wanted to defend, but they were too much to handle. (C-L) shoots the ball well."
But Farrell shot it better and never trailed. Five Steelers reached double-figure scoring as Leon Lewis led the way with 21 points and eight rebounds. Thomas Ripley and Jamel Brown each scored 18 points on a combined 12-of-18 shooting. Ripley made it a double-double with 11 rebounds. Malik Miller and Terrance Holloway scored 15 and 14 points respectively.
The Lions' winningest season ended at 25-4. Kolton Stiglitz led the Lions with 23 points and seven rebounds on 11-of-19 shooting. Dan Callen hit three 3-pointers in the first quarter and finished with 16 points on 6-of-9 shooting, and R.J. Laugand stuffed the stat sheet again with 15 points, 12 assists and seven assists.
Even with a good night shooting at 46.3 percent (31-for-67), it wasn't enough as the Lions trailed 12-5 by the 5:19 mark of the first quarter and got it under that margin just twice at six points the rest of the game.
"Probably my biggest disappointment on our end were the second-chance points, but also not getting back in transition, which is something we've done pretty well this year," Lions head coach Joe Ferguson said.
"Again, this is a team similar to Vincentian where they get up and down the court. We can do that but we were just playing I felt like we were playing tight early on and not playing with the physicality," he added. "Against Vincentian it took us a quarter or two to get into the physicality of the game. When you get to this level, it changes. For whatever reason, we weren't playing physical enough early on and we were allowing them to get transition hoops and second chance points. I felt the second chance points and transition hoops were the biggest difference in the game."
Farrell outscored C-L, 44-40, in the paint and 17-9 in second-chance points.
"When you give up that kind of scoring that easy, their percentage had to be 60-70 percent," Ferguson said. "Scoring in the paint, one of my keys coming in was do not allow points in the paint and that's pretty much what we gave up."
Ripley scored 14 of his points in the first half as Farrell led 23-14 by the end of the first quarter. Lewis and Miller also found double figures with 12 and 11 points respectively as the Steelers led by as many as 18 points before holding a 50-33 lead by halftime.
Farrell made 13 of its 15 shots from the field in the second half, making it impossible for the Lions to get back in the game. The Steelers led by as many as 24 points late in the third quarter and the closest the Lions got was within 14 points at 85-71 with two minutes left in the game.
"What I feel bad about is that we're a better team than what showed up tonight," Ferguson said. "We didn't give the fans a good game. But you're going to have that. Some nights you're not going to be on top of your game. Things weren't going our way tonight.
"More than anything, I want to thank everyone for the support we got. Obviously, when you're winning, it's always fun and everyone jumps on board but I felt more so this season. That was such a community effort."
FARRELL 90, C-L 73
Score By Quarters
C-L                         14            19            19            21            –            73
Farrell                        23            27            25            15            –            90
C-L – 73
R.J. Laugand 5-14 4-5 15, Josh Kahle 4-9 0-3 8, Jesse Pezzuti 1-7 0-0 3, Kolton Stiglitz 11-19 0-0 23, Dan Callen 6-9 1-1 16, Noah Rankin 4-7 0-1 8, Cesar Lopez 0-2 0-0 0. Totals: 31-67 5-10 73.
Farrell – 90
Thomas Ripley 7-11 3-6 18, Jamel Brown 5-7 8-9 18, Terrance Holloway 4-5 5-8 14, Malik Miller 6-8 2-3 15, Leon Lewis 8-15 2-4 21, Malik Thomas 2-5 0-1 2, Marcus Mcoy 0-0 0-0 0, Curtis Seay 0-1 0-0 0. Totals: 32-52 20-31 90.
3-pointers: C-L 6-16 (Callen 3-4, Laugand 1-4, Pezzuti 1-3, Stiglitz 1-2, Kahle 0-2, Rankin 0-1), Farrell 6-11 (Lewis 3-5, Ripley 1-2, Holloway 1-1, Miller 1-1, Thomas 0-2). Rebounds: Farrell 38 (Ripley 11), C-L 30 (Laugand 7, Stiglitz 7). Turnovers: Farrell 19, C-L 13.