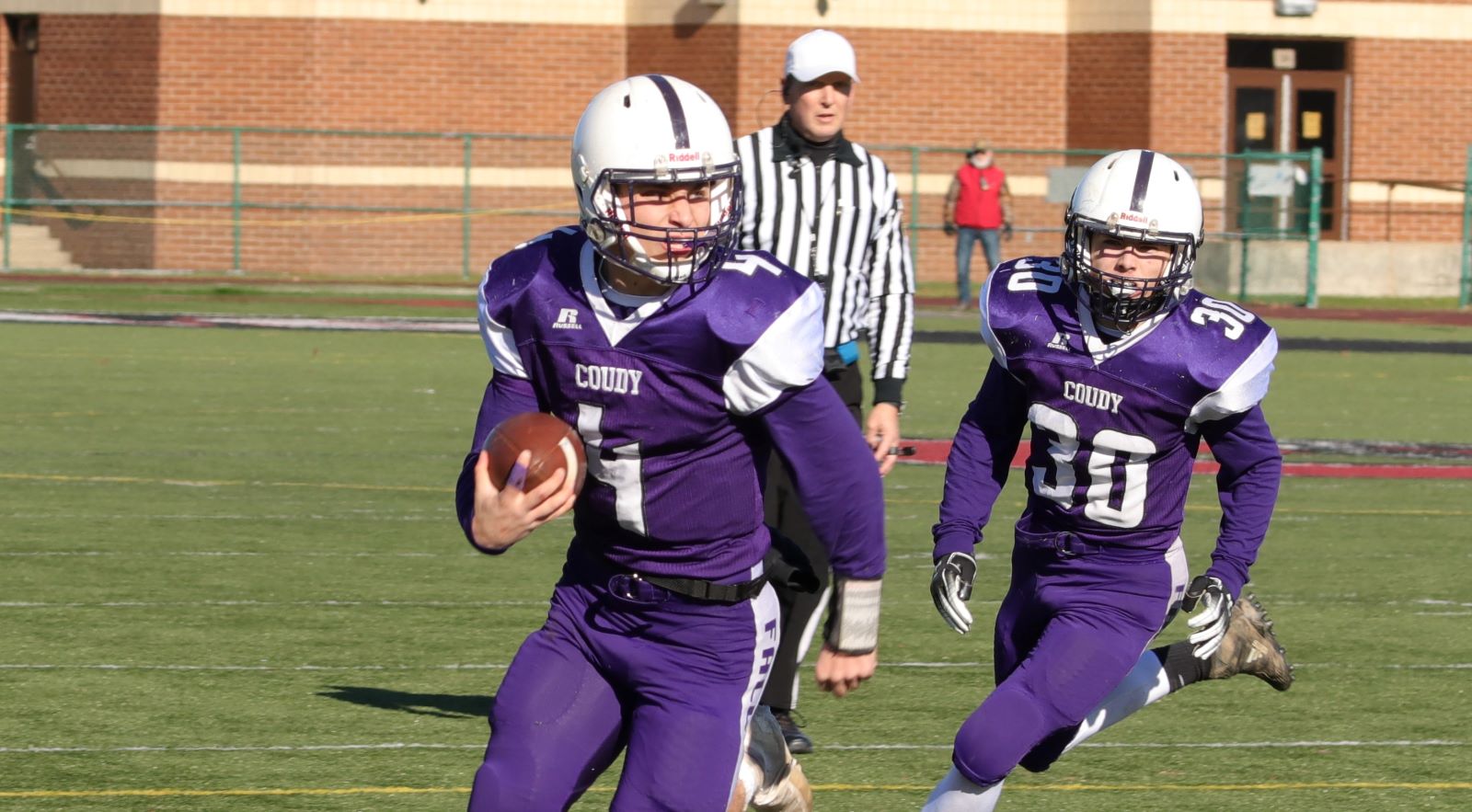 DUBOIS, Pa. – Defending PIAA Class 1A champion Farrell used a stout defense and just enough offense to move into the PIAA Class 1A semifinals with a 28-0 win over Coudersport Friday night at DuBois' E.J. Mansell Stadium.
(Photo: Hayden Keck accounted for 68 of Coudersport's 87 yards of offense Friday night. Photo by Jared Bakaysa of JB Graphics. See more of Bakaysa's workhere)
"It's hard," Coudersport head coach Tom Storey, whose team finished 11-1 with its second straight District 9 title sadi. "They have some bigger guys, some bigger athletes. We're still building a program. We still have a lot of things we need to do through offseason and stuff like that. It's hard. They're a dang good team so it makes for a rough night."
Coudersport played well enough on defense holding Farrell well below its average of 41.4 points per game – in fact, the 28 points was the third-lowest total for the Steelers this season, their lowest against a Class 1A school and the fewest points they scored since losing 40-0 to Wilmington Aug. 30.
Farrell was also held to 309 total yards, including 198 on the ground on 49 carries (4.0 yards per carry). The Steelers came into the game averaging 302.1 yards per game on the ground while averaging 9.7 yards per rush. It was the second-fewest rushing yards and second-fewest total yards by Farrell this season with only Wilmington holding the Steelers to fewer yards (82) and fewer rushing yards (29).
"The defense, that is what we lived on all year," Storey said.
While Coudersport's defense, which was missing a couple of starters including one of its top players in Travis Gleason, played well enough to win, the Coudersport defense struggled to find any room the entire night.
Farrell, which came into the game allowing just 94.2 yards per game on the ground, limited the Falcons to 87 yards on 38 carries with 83 of that coming in the second half. Coudersport completed just one pass all night for zero yards. The Falcons had just four first downs, two on the game's final drive, and no first downs in the first half.
"They were just dominating the front line," Storey said. "It's hard to (run) the ball. Then, you try loosening them up a little bit by throwing some passes, and we're getting sacked."
Without Gleason, a 1,000-yard rusher, the Falcons were left to rely on scrambles from Hayden Keck, who finished the night with a team-best 68 yards on 19 carries, many of them scrambles, to generate offense.
"I think I've told you guys this a lot this year, but you only have about 14 of 15 guys that can play the varsity game," Storey said. "When guys start to drop and you lose two or three, we're pushing guys around, moving them around. That, in a sense, is what a small school is. I don't want to take anything away from Farrell. They are a dang good team. Football is their life. They are Farrell."
The game was actually scoreless through the first quarter before Farrell scored twice in the second quarter to take a 14-0 halftime lead.
Jaden Harrison broke the ice on a 10-yard touchdown run 1:07 into the second quarter ending a quick four-play, 52-yard drive that took just 1:08 off the clock and featured runs of 13 yards by Raymond Raver after he fumbled the snap and 19 yards by Anthony Stallworth.
A 2-yard run by Raver made it 14-0 with 1:59 to play before halftime capping a 12-play, 53-yard drive that saw the Steelers convert a pair of fourth downs.
On fourth-and-8 from the Coudersport 38, Raver hit Stallworth with a 25-yard pass to the 13-yard line, really the only downfield pass Raver completed all night.
Then, on fourth-and-1 from the 4-yard line, Raver dove forward two yards to the two one play before his touchdown.
The Steelers made a slight change in the backfield in the second quarter lining both Stallworth and Harrison up in the backfield with Raver in the shotgun sandwiched between the two backs.
"It's nothing we haven't seen," Storey said. "That's more of an Elk County offense with that spinner back there. We kind of knew where the plays were going and everything. It's just that they have some big boys up from that can do some pushing around. Unfortunately, they pushed us around a little more than we're used to."
Up two touchdowns to start the second half, Farrell used a 25-yard punt return from Brice Butler to extend the lead.
Butler's return set the Steelers up at the Coudersport 25-yard line, and three runs by Stallworth, who ran 22 times for 163 yards, was all it took with the sophomore scoring on a 2-yard run after scampers of 10 and 13 yards.
Coudersport had its best chance to score on its ensuing drive after a 37-yard kickoff return from Jacob Pitcher gave the Falcons their best starting position at the Farrell 41-yard line.
On third-and-3 from the 34, Keck got loose for a 31-yard run to the Farrell 3-yard line, and a 1-yard run by Pitcher moved the ball to the 2-yard line.
But, on second down, Keck was dropped for a 1-yard run. The Falcons then tried to get tricky with Kolby VanWhy in the wild cat while putting a receiver in motion across the formation at the snap. But the snap either hit the receiver or VanWhy's handoff hit the receiver's hip.
Either way, the ball was loose on the ground, and Farrell's Juwon Samuels recovered at the 1-yard line to end the Coudersport threat.
The Falcons had another golden opportunity when, after Farrell moved the ball midfield, a bad snap on a punt gave Coudersport the ball at the Steelers 35-yard line.
Two runs gained four yards, but on third down Keck was sacked back at the 40-yard line. Then on fourth down a Keck scramble got the ball to the 26-yard line, a yard short. It wouldn't have mattered, as Coudersport was called for a hold on the ball that was declined because the ball was turned over on downs.
It took Farrell two plays to put the game away, as Harrison took a flip pass from Raver and raced 74 yards down the visitor's sideline to put the Steelers up 28-0 with 9:29 to play.
While the final score wasn't what Coudersport wanted, it was a much more competitive game than a year ago when the Falcons fell to Farrell, 48-6.
"That the whole idea (to get more competitive)," Storey said. "We have to do the offseason stuff if you want to come up to their level. That's building that culture and everything like that. That's the program you want to build. It's discussions we've had as coaches, the administration at the school and everything like that. I really want to be at this stage and playing with these guys and stuff like that. These guys (Farrell) Have been here many times. They're used to it. They've got that attitude. We need to find that a little bit in our guys. Stuff like that, as coaches, it's trying to drag that out of the guys."
Farrell will match up with WPIAL champion Clairton, who had a bye this week, in the PIAA semifinals next week at a site and time to be announced.
FARRELL 28, COUDERSPORT 0
Score by Quarters
Farrell 0 14 6 8 – 28
Coudy 0 0 0 0 – 0
Score by Quarters
Second Quarter
F – Jaden Harrison 10 run (Brian Hilton Jr. kick), 10:53
F – Raymond Raver 2 run (Hilton Jr. kick), 1:59
THIRD QUARTER
F – Anthony Stallworth 2 run (Kick failed), 9:14
FOURTH QUARTER
F – Harrison 74 pass from Raver (Omar Stewart pass from Raver), 9:29
TEAM STATS
FARRELL – STATS – COUDERSPORT
17 First Downs 4
49-198 Rushes-Yards 38-87
4-9-0 Comp-Att-Int 1-4-0
111 Passing Yards 0
58-310 Plays-Yards 42-87
4-1 Fumbles-Lost 3-2
10-65 Penalties-Yards 3-35
INDIVIDUAL STATS
RUSHING: Farrell – Anthony Stallworth 22-163, Jaden Harrison 14-47, Sayvion Thomas 1-5, Anthony Jackson 1-4, Raymond Raver 10-negative 7, Team 1-negative 14. Coudersport – Hayden Keck 19-68, Dylan Kelly 4-15, Brandt Kightlinger 5-12, Jacob Pitcher 2-4, Thomas Wilson 5-4, Kolby VanWhy 1-0, Team 2-negative 16.
PASSING: Farrell – Raymond Raver 4-for-9, 111 yards, 1 touchdown. Coudersport – Hayden Keck 1-for-4, 0 yards.
RECEIVING: Farrell – Jaden Harrison 1-74, Anthony Stallworth 2-29, Brian Hilton Jr. 1-8. Coudersport – Thomas Wilson 1-0.