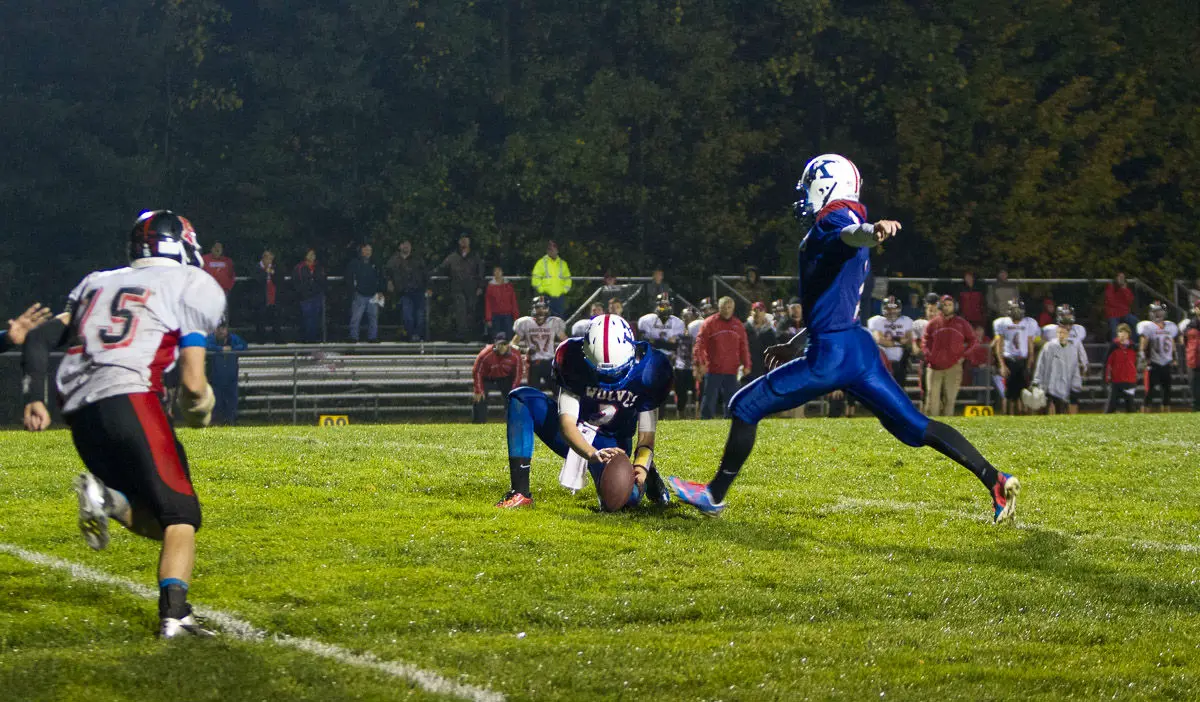 Cover photo of Kane kicker Dillon Mattis, who kicked the game-winning field goal with 8 seconds to play – Photo by Shawn Murray – www.shawnmurrayphotography.com
[Best_Wordpress_Gallery id="3″ gal_title="Kane 9, Brockway 7″]
By Pete Sirianni
KANE – It isn't how you start. It's how you finish.
The age-old saying was the perfect definition of Kane Friday night in a back-and-forth matchup with Brockway that saw the Wolves on the brink of defeat, only to make a few plays down the stretch to secure a 9-7 Homecoming victory at Paul R. Miller Stadium.
After missing kicks in both halves, senior kicker Dillon Mattis boomed a 19-yard field goal with eight seconds remaining to keep Kane in the hunt for a second-consecutive Allegany Mountain League South title.
"That's a big kick for Dillon Mattis," Wolves head coach Todd Silfies said. "He's dedicated his time and energy to getting stronger and becoming a better kicker.
"He certainly deserves the opportunity to make that one, and a lot of mental toughness coming back after missing one earlier in the game."
Mattis, in his third year as the Wolves' kicker and in his first season playing football exclusively after lettering three times in soccer, had his extra point on the Wolves' first-half touchdown blocked and then missed short on a 34-yard attempt with 9:59 left in the fourth quarter.
After turning the ball over on downs late in the fourth quarter down by one point, Brockway seemed destined to run out the clock on the Wolves.
Instead, the Kane's defense came up with its biggest play of the night when junior lineman Jake Shrubb came up with a fumble recovery at the 50-yard line with 1:17 remaining in the game.
"I was thinking we had to get something – a takeaway of some sort – or get a stop before we run out of timeouts," Silfies said. "It's kind of a desperate situation there. We were able to take the ball away from them."
First-year starting quarterback Jack Kocjancic led the resurgent Wolves down to the 2-yard line after some quick passing. Kane was without senior running back John English for most of the second half with a shoulder injury, forcing Tyler Rolick to step into the backfield.
After using the team's final timeout, Silfies elected to try for the field goal on third down. Mattis then cooley booted the ball through the uprights, securing Kane's 14th-straight home victory and avoiding a one-point loss in consecutive weeks.
"You play two close games and obviously we all know they're going to be close now that we're in the AML South [division play]," Silfies said. "So it's important to get a win just so they feel that feeling and they keep hope.
"They never gave up. This one was fading fast, obviously, but they never gave up, and that's a credit to their mental toughness and the leadership of this football team and to the assistant coaches."
Kane got on the scoreboard first when Kocjancic hit Shane Rolick on a 10-yard pass with six seconds remaining in the first half to go ahead 6-0. Kocjancic finished the day unofficially 8-17 for 76 yards and one touchdown and one interception.
The Rovers answered late in the third quarter when Anthony Isabella picked off Kocjancic to give Brockway the ball deep in enemy territory. Anthony Benson's 5-yard run and the extra point gave Brockway a 7-6 lead that looked like it would hold, until the Kane defense came up big.
"Jake Shrubb made a great play getting on that fumble," Silfies said, "and we were able to keep one timeout, which we needed for that last drive."
With the loss, Brockway falls to 4-2 overall and 0-1 in the AML South. Kane, now 5-1 overall and 1-1 in the AML South, have a week to prepare for an away date at Curwensville Friday.
"Next week, we have Curwensville and they're a very good football team," Silfies said. "We'll enjoy this one for a couple hours, then we'll go back to work and try to figure out how the heck we're going to try to beat Curwensville."
NOTES – Kane's last home loss was Sept. 21, 2012 to Brockway, 50-42… With the win, third-year head coach Silfies has guided the Wolves to a 15-1 record in home games, including a 2-0 mark in playoff games and an Allegany Mountain League championship last year…Hannah Ross was named 2014 Homecoming queen during halftime festivities
KANE 9, BROCKWAY 7
Score by Quarters
Brockway 0-0-7-0
Kane          0-6-0-3
Scoring summary
Second Quarter
KANE: Shane Rolick 10-yard pass from Kocjancic (kick blocked), :15
Third Quarter
BROCKWAY: Benson 5-yard run (Esposito kick)
Fourth Quarter
KANE: Mattis 19-yard field goal
Some statistics courtesy of Kane Area Radio 101.7 WXZY-FM