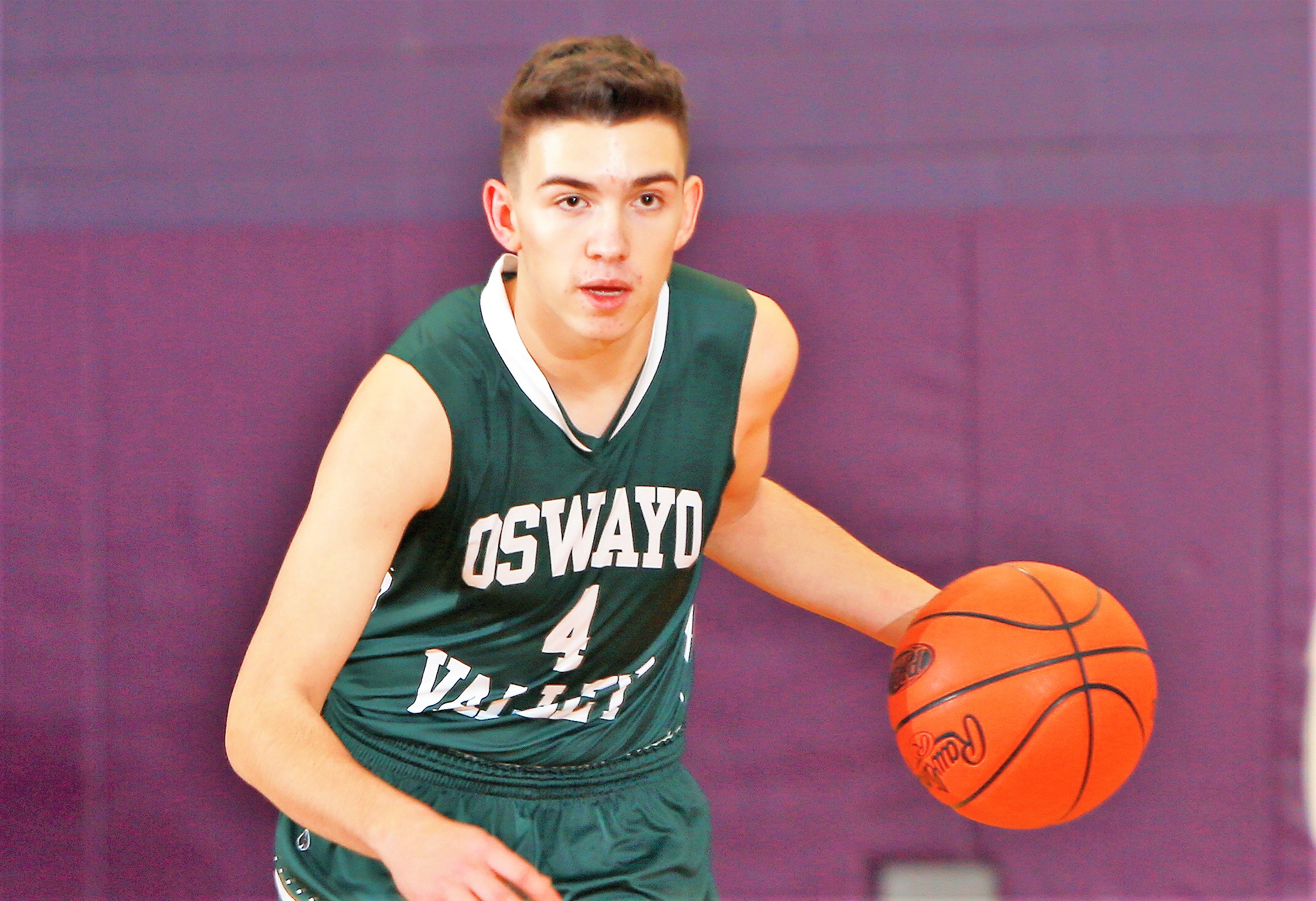 Feb. 1 recaps
(Photo by Paul Burdick. Check out more of Burdick's work here)
OSWAYO VALLEY 71, GALETON 67, OVERTIME
SHINGLEHOUSE, Pa. – Oswayo Valley rallied from an 18-point second-half deficit to knock off visiting Galeton, 71-67, in overtime.
The Green Wave trailed 35-20 at halftime and then quickly got down 18 at the start of the third quarter before whittling the deficit to 13, 50-37, after three.
But in the fourth quarter, Oswayo Valley exploded for 28 points behind 13 from Theo Henry and eight from Jacob Karr to take a 65-63 lead.
Evan Brooks, though, drove to the hoop, made the shot and was fouled with five seconds left. Brooks, however, missed the free throw keeping the game tied at 65, and Gavin Babcock's desperation heave from around 28 to 30 feet was off the mark sending the game to overtime.
In the extra session, the Green Wave grabbed the lead and then hit 3 of 5 free throws to outscore the Tigers 6-2 to get the win.
Babcock led Oswayo Valley with 28 points and 10 rebounds. Henry added 19 tallies and Karr 14 points and 14 rebounds.
Brooks scored 28 points to pace Galeton with Isaiah Shuemaker adding 18 points and Ty Stover and Joel Griffen eight each.
CAMERON COUNTY 46, AUSTIN 43
EMPORIUM, Pa. – Adam Shaffer scored five points late to help Cameron County rally past upset-minded Austin for a 46-43 home North Tier League win.
The Red Raiders were down two before Shaffer hit a three and then followed with a layup to give Cameron County the lead in the game's final minute.
Shaffer led Cameron with 18 points with Ty Baier adding 10 and Dino Brown and Caden Beldin seven each.
Mason Valenti paced Austin with 14 points with Blake Burgett adding 12 and Jackson Glover nine.
BROOKVILLE 40, CLEARFIELD 38
HYDE, Pa. – Down three with under a minute to play visiting Brookville stunned Clearfield with four points in a span of under 10 seconds to defeat the homestanding Bison, 40-38.
The Raiders got a pair of steals and subsequent baskets in bang-bang fashion to grab the lead.
Aaron Park led Brookville with 11 points with Bryan Dworek adding 10.
Taye Lynch and Reese Wilson each had eight points to pace Clearfield with Case Walker adding seven points and 15 rebounds.
COUDERSPORT 76, OTTO-ELDRED 33
COUDERSPORT, Pa. – Coudersport continued to roll getting 50 combined points from Owen Chambers and Jared Green to beat visiting Otto-Eldred, 76-33, in North Tier League action.
Chambers led the Falcons, who led 70-27 after three quarters, with a game-high 29 points with Green adding 21. Derek Keglovits chipped in nine tallies and Hunter Ricke eight.
Sawyer Drummond had a team-high 16 points for Otto-Eldred with Jordan Sherwood scoring 10 for the Terrors.
PORT ALLEGANY 79, NORTHERN POTTER 38
PORT ALLEGANY, Pa. – David Talkington and Howie Stuckey exploded for 53 total points to help Port Allegany breeze past visiting Northern Potter, 79-38, in North Tier League play.
Talkington led the Gators with a game-best 28 points with Stuckey adding 25. A.J. Edgell chipped in 10 points for Port Allegany with Jordan Card adding nine.
Holden Cowburn led Northern Potter with 19 points with Ezra Sprow scoring eight and Tristan Byron seven.