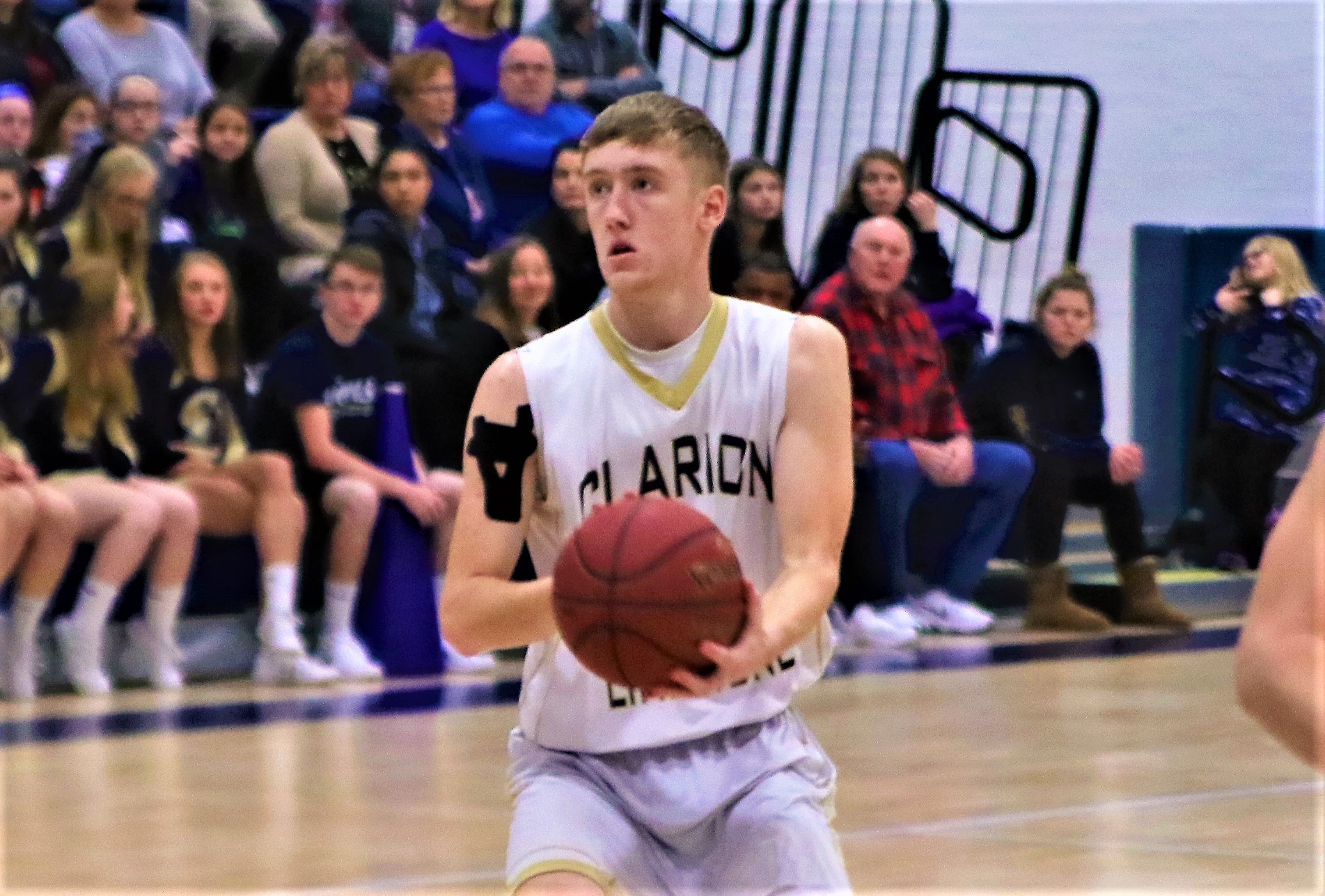 Feb. 1 boys' basketball recaps.
CLARION-LIMESTONE 56, NORTH CLARION 43
FRILLS CORNERS, Pa. – Outscoring North Clarion by 13 points over the final 9:27, Clarion-Limestone retook control of the KSAC North with a 56-43 win over the homestanding Wolves.
Relisten to the game:
North Clarion (16-2, 7-1 KSAC North), which beat C-L by 32 points in mid-December, had rallied from an eight-point third-quarter deficit to tie the game at 31 on a Kyle Mills basket with 1:50 to play in the third quarter.
But Hayden Callen scored the next four points to give C-L (14-3, 7-1) the lead for good, and the Lions went on a 12-2 run to take a 43-33 lead on another basket by Hayden Callen a minute into the fourth quarter.
Hayden Callen scored 13 of his game-high 21 points after North Clarion had tied the game at 31, including nine in the fourth quarter. He added 10 rebounds and three steals and talked about the win.
Deion Deas added 13 points for the Lions, including 10 in the first half, despite suffering a sprained ankle in the third quarter (he did play some in the fourth quarter), while Ian Callen chipped in nine points, 12 rebounds and three steals.
Kyle Mills had a double-double for North Clarion with 15 points and 16 rebounds, while Logan Minich added nine points.
C-L now controls its own destiny in the North and can win a sixth straight KSAC North title by winning its remaining two KSAC North contests while also beating Keystone Monday. A Lions loss to Keystone Monday could reopen the door for North Clarion to take the North crown.
MONITEAU 43, KEYSTONE 39
WEST SUNBURY, Pa. – Down 12 at halftime, Moniteau rallied to send the KSAC South race into chaos with a 43-39 win over visiting Keystone.
The Panthers, who could have all but clinched the KSAC South title with a win, led 27-15 at halftime after outscoring the Warriors 20-7 in the second quarter.
But Keystone scored just 12 points the rest of the game, including only four in the fourth quarter, to allow Moniteau to come from behind and get the win.
Gage Neal scored 10 of his game-high 17 points in the fourth quarter, as the Warriors won the quarter, 11-4, after trailing 35-32 after three.
Free throws helped Moniteau take control in the second half, as the Warriors were 9 of 16 from the line in the half compared to Keystone's 1 of 2. For the game, Moniteau was 12 of 22 with Keystone going 5 of 6.
Jared Lomenski added 10 points in the win with Bobby Mathews scoring seven.
Keystone got 12 points from Troy Johnson, 11 from Andrew Lauer and nine from Dawson Steele.
Moniteau (11-7 overall, 5-2 KSAC South) is still a ½ game off the KSAC South lead behind Keystone (13-4, 6-2) but the teams are tied in the loss column. Karns City and Redbank Valley are just one game back in the loss column of both Moniteau and Keystone. Karns City has a game left against Moniteau, while Redbank Valley still plays both Keystone and Moniteau.
COUDERSPORT 64, BROOKVILLE 56
BROOKVILLE, Pa. – Owen Chambers exploded for 29 points and led visiting Coudersport to a 64-56 victory over Brookville.
Derek Easton added nine points for the Falcons with Hayden Keck and Travis Gleason adding seven tallies apiece.
Aaron Park tallied 14 points to pace Brookville.
JOHNSONBURG 62, CURWENSVILLE 26
JOHNSONBURG, Pa. – Thanks to 25 Austin Green points Johnsonburg defeated visiting Curwensville, 62-26.
Isaac Schloder netted 12 points for the Rams, Logan Notorianni added six and Nick Bliss and Cameron Stelene chipped in for four apiece.
Christian Bakaysa and Ty Terry paced the Tide with six points apiece.
CAMERON COUNTY 58, KANE 36
EMPORIUM, Pa. – Dino Brown and Caden Beldin led Cameron County to a 58-36 victory over visiting Kane.
Brown had a game-high 22 points for the Red Raiders and Beldin recorded a double-double with 13 points and 12 rebounds. Jake Walters netted 15 points.
Chad Greville had 13 points to pace the Wolves.
REDBANK VALLEY 78, A-C VALLEY 58
NEW BETHLEHEM, Pa. – Keaton Kahle and Nick Smith combined for 39 points to help Redbank Valley defeat visiting A-C Valley, 78-58.
Kahle netted a game-high 21 points with Smith adding 18 for the Bulldogs. Tanner Kerle and Logan Wadding chipped in for seven tallies apiece.
Eddie Stevanus led A-C Valley with 20 points with Levi Orton adding 16.
DUBOIS 53, ST. MARYS 45
ST. MARYS, Pa. – Eighteen points from Alex Beers helped visiting DuBois defeat St. Marys, 53-45.
Chase Husted tallied 15 points for the Beavers with Jonathan Cruz adding 10.
Cahil Parrish had a team-high 16 points for St. Marys and Nick Catalone chipped in for 14.
COWANESQUE VALLEY 57, NORTHERN POTTER 44
SHINGLEHOUSE, Pa. – Despite 19 points from Ezra Sprow, Northern Potter lost to visiting Cowanesque Valley, 57-44.
Christian Kemp had a team-high 14 points for Cowanesque Valley with Seth Hyler adding 12 and Tyler Vorgesan 11.
ELK COUNTY CATHOLIC 69, SHEFFIELD 28
ST. MARYS, Pa. – Twelve different Elk County Catholic players scored, as the Crusaders finished a perfect AML regular season with a 69-28 win over visiting Sheffield.
Ben Hoffman led unbeaten ECC (18-0, 10-0 AML North) with 14 points with Brady Schneider adding 13 points and Bryce O'Leary eight.
Jacob Vinopal had 10 points to pace Sheffield.
CLEARFIELD 56, PENNS VALLEY 38
HYDE, Pa. – Cade Walker scored 18 points, grabbed eight rebounds, came away with three steals and handed out two assists to lead Clearfield past visiting Penns Valley, 56-38, in Mountain League play.
Karson Rumsky added 16 points for the Bison with Taye Lynch scoring 10.
Cam Shaffer's 13 points led Penns Valley.
CLARION 66, CRANBERRY 37
CLARION, Pa. – Nick Frederick recorded a double-double to help Clarion beat visiting Cranberry, 66-37.
Frederick had 12 points and 10 rebounds for the Bobcats, while Cal German paced Clarion with a game-high 19 points. Jake Burns also scored 12 for the home squad with Gavin Brinkley adding 10.
Preston Forrest had a team-best 12 points for Cranberry with Cameron Russell scoring 11 and JT Stahlman 10.
VENANGO CATHOLIC 85, FOREST AREA 60
MARIENVILLE, Pa. – Ben Gillispie had 28 points and 13 rebounds to lead Venango Catholic to an 85-60 win over Forest Area at East Forest.
Parker Slagle also had a double-double for the Vikings with 14 points and 10 assists with Andrew Burda also scoring 23 points and Thomas Fink eight points.
Franklin Meals paced Forest Area with 23 points and Noah Burke added 17 points.
BRADFORD 65, BROCKWAY 36
BROCKWAY, Pa. – Tyler Gigliotti had 29 points and nine assists to lead visiting Bradford to a 65-35 win at Brockway.
Steve Knowlton added 12 points for the Owls.
Alec Fremer had nine points for Brockway.