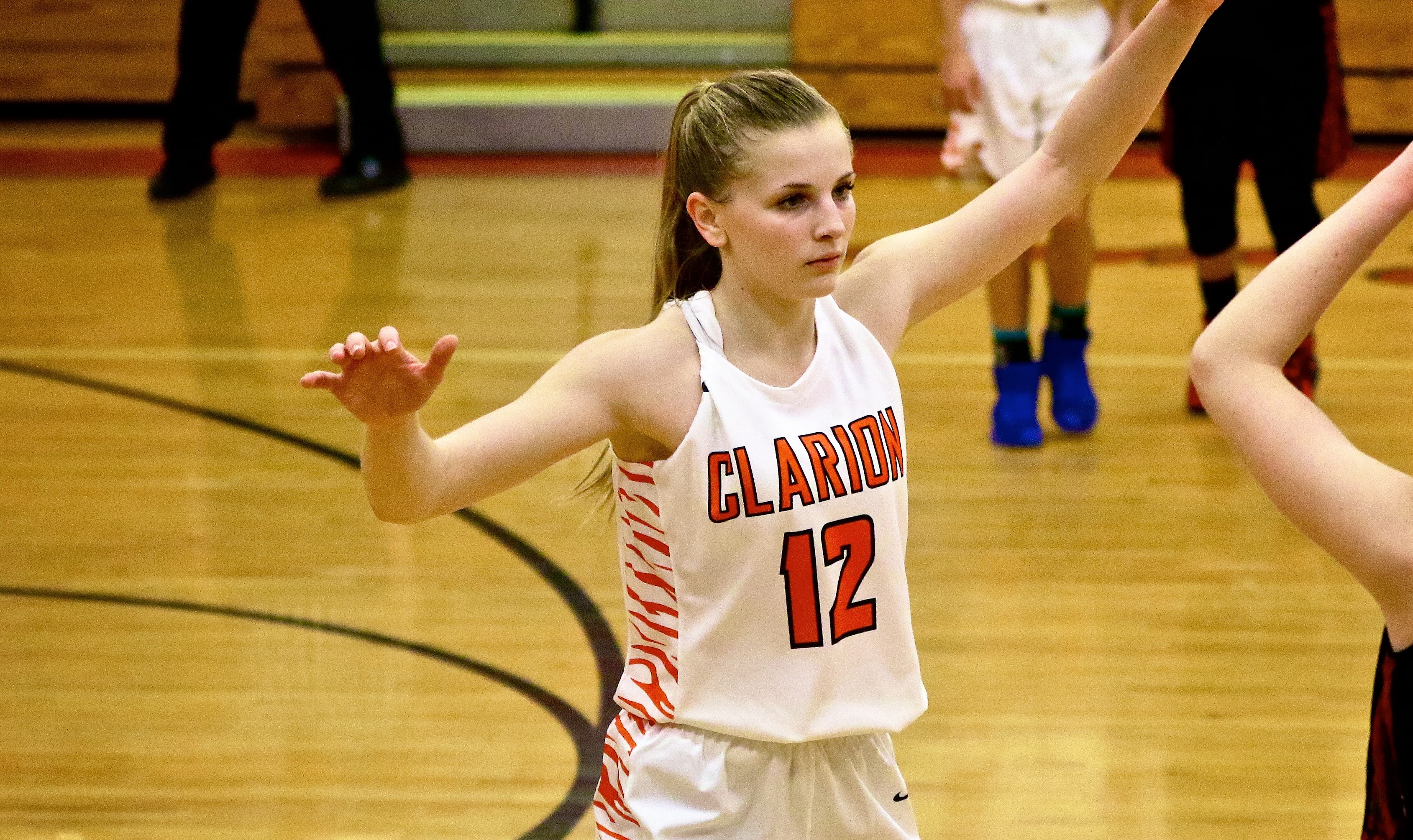 Feb. 1 girls' basketball recaps.
(Photo: Clarion's Kait Constantino scored six of her team-high 16 points in overtime to lift Clarion past Cranberry. Photo by Matt Lerch)
CLARION 48, CRANBERRY 45, OT
SENECA, Pa. – Kait Constantino scored all six of her overtime points from the free-throw line, as visiting Clarion knocked off Cranberry, 48-45.
The game was tied at 39 at the end of regulation after Cranberry rallied from a 26-21 halftime deficit, but Clarion got three points from Jordan Best and six from Constantino in overtime to outscore the Berries, 9-6, in the extra period.
Constantino led Clarion with 16 points with Best adding 12 and KK Girvin and Wendy Beveridge eight each.
Malliah Schreck had a game-high 19 points to go with 15 rebounds for Cranberry with Kaylie Bruce adding eight points.
OTTO-ELDRED 37, OSWAYO VALLEY 27
DUKES CENTER, Pa. – A balanced team effort helped Otto-Eldred defeat Oswayo Valley, 37-27.
Reilly Raught led the Lady Terrors with 12 tallies, four rebounds and two steals. Britney Greeley had 11 points, four rebounds and five steals with Lauren Cousins and Jadelyn Spinny chipping in for four points apiece.
Macy West paced Oswayo Valley with 18 points.
BRADFORD 41, COUDERSPORT 36
BRADFORD, Pa. – Thanks to 23 points from Hannah Lary, Bradford defeated visiting Coudersport, 41-36.
Erica Marshall added 11 tallies for the Lady Owls with Mackenzie Maley chipping in for five.
Shaelyn Black had a team-high 14 points to pace Coudersport.
PENNS VALLEY 55, CLEARFIELD 24
PENNS VALLEY, Pa. – Clearfield fell to Penns Valley, 55-24.
Hannah Montminy had a game-high 19 points for Penns Valley and Paige Kubalak had 12.
Alayna Ryan and Tesa Miller netted seven apiece for the Lady Bison.
JOHNSONBURG 58, CURWENSVILLE 33
CURWENSVILLE, Pa. – Cassidy King led a balanced team attack in Johnsonburg's 58-33 victory over Curwensville.
King had a game-high 21 points for Johnsonburg with Maria Jones adding 15. Rylee Casilio and Lindsey Kocjancic netted 11 points apiece.
Madi Weber paced the Lady Tide with 14 points.
NORTHERN POTTER 41, GALETON 37
GALETON, Pa. – Abbi Anderson helped Northern Potter defeat Galeton, 41-37.
Anderson netted a game-high 17 points for Northern Potter with Courtney Martin chipping in for nine.
Jessie Evans had a team-high 16 points for Galeton.
CAMERON COUNTY 54, SMETHPORT 12
SMETHPORT, Pa. – Kailee Bresslin and Alyvia McKimm combine for 25 points and led Cameron County to a 54-12 victory over Smethport.
Bresslin netted a game-high 13 points with McKimm adding 12 for the Lady Red Raiders.
Erin Herzog paced Smethport with six points.
BROOKVILLE 60, BROCKWAY 23
BROOKVILLE, Pa. – Eleven different players found the scoring column as Brookville routed visiting Brockway, 60-23.
Marcy Schindler scored 14 points for the Lady Raiders while Lexis Hatzinikolas added eight points. The Lady Raiders led 36-13 by halftime and reached the PIAA Mercy Rule running clock mark with a 41-point lead at 56-15 with 5:45 left in the third quarter.
Morgan Lindemuth scored 11 points for Brockway. Selena Buttery collected a game-high 12 rebounds, scoring two points.
ELK COUNTY CATHOLIC 60, SHEFFIELD 19
SHEFFIELD, Pa. – Behind 21 points from Taylor Newton, visiting Elk County Catholic beat Sheffield, 60-19.
Julia Aikens added 11 points with Sady VanAlstine adding 10 and Maddie Kear chipped in nine points for the Lady Crusaders
Lilly Lauffenburger paced Sheffield with seven points.
ST. MARYS 50, DUBOIS 45
DUBOIS, Pa. – Kyla Johnson scored 19 points as St. Marys held off DuBois, 50-45, in D9 League action.
The game was tied at 22 at halftime before St. Marys took a 37-35 lead after three quarters.
Samantha Hayes added eight points for the Lady Dutch with Kaylee Muccio adding seven points.
Chelsea DeSalve had a game-high 26 points for DuBois with Saige Weible adding eight points.
MONITEAU 54, KEYSTONE 47
KNOX, Pa. – Kristin Auvil scored 16 points, came away with five steals and blocked four shots to lead visiting Moniteau past Keystone, 54-47, in KSAC South play.
Aslyn Pry added 12 points, nine rebounds, four assists and four steals for the Lady Warriors with Andie Arblaster contributing eight points, seven rebounds and four assists and Haley Pry and Ivie Scott each scored eight points.
Kenzie Hovis had a game-high 17 points for Keystone with Maddie Dunlap adding 10 and Emily Lauer eight.
A-C VALLEY 67, REDBANK VALLEY 42
NEW BETHLEHEM, Pa. – Four A-C Valley players scored in double digits, as the Lady Falcons all but clinched the KSAC South with a 67-42 win at Redbank Valley.
Olivia Boocks paced A-C Valley with 18 points, Kylee Eaton added 16 points, Cami McNeely had 13 tallies and Andrea Meals scored 11 points.
Kelsie Elmer had a game-high 21 points for Redbank Valley with Tara Hinderliter adding 13.
A-C Valley now has a three-game lead in the loss column over Keystone and Union in the KSAC South with just three games to play.
NORTH CLARION 66, CLARION-LIMESTONE 26
STRATTANVILLE, Pa. – Haley Sherman and Gabby Schmader each scored 12 points to help visiting North Clarion roll past Clarion-Limestone, 66-26.
Abby Gatesman and Gabby Carll each added 10 tallies for the She-Wolves with Mackenzie Bauer scoring seven.
Maddy Craig had a game-high 13 points for C-L.
KANE 55, DUBOIS CENTRAL CATHOLIC 42
DUBOIS, Pa. – Ella Marconi had 26 points, 10 rebounds and four blocked shots to lead visiting Kane to a 55-42 non-conference win over DuBois Central Catholic.
Hannah Buhl added four 3-pointers for 12 points while dishing out six assists for the Lady Wolves with Emily Bucheit adding nine points, six assists and six rebounds and Hannah Brown seven points. Sierra Hillman chipped in seven rebounds and a point.
Shay Gulvas paced DCC with 15 points with Alyssa Bittner and Haley Pettenati each scoring eight points.