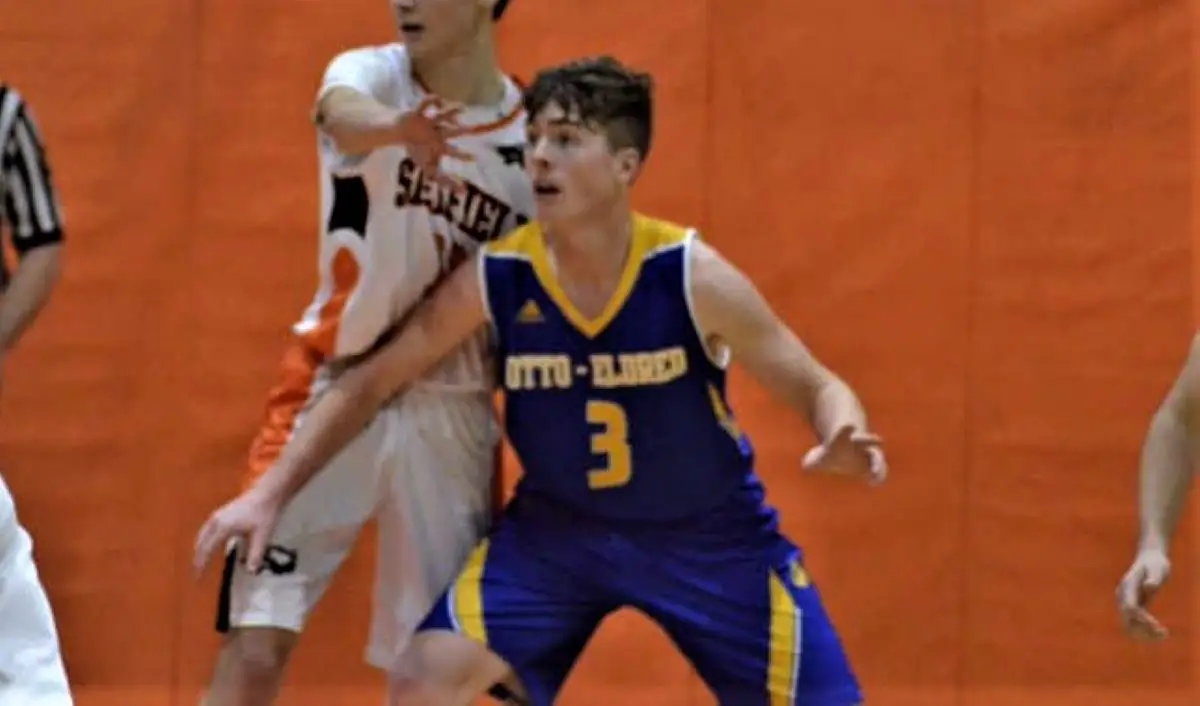 Feb. 1 boys' and girls' basketball recaps.
(Photo of Otto-Eldred's Jake Merry. Photo by Jena Albaugh)
BOYS
OTTO-ELDRED 62, GALETON 28
GALETON, Pa. – Jake Merry scored 10 of his game-high 18 points in the first quarter to help Otto-Eldred to an easy 62-28 win over Galeton in NTL play.
All but one of Merry's points came in the first half helping the visiting Terrors take a 39-16 halftime lead.
Braden Maholic added 12 points for O-E with Gavin Jimmerson chipping in 10.
Noah Shutt had 11 points for Galeton.
RIDGWAY 66, EISENHOWER 41
RUSSELL, Pa. – Matt Dush led a trio of Ridgway players in double digits with 23 points, as the visiting Elkers beat Eisenhower, 66-41.
Domenic Allegretto added a career-best 22 points in the win for Ridgway while hitting four 3-pointers, and Dan Park connected on a pair of triples on his way to 10 points.
Jared Martone paced Eisenhower with 18 points with Zane Alexander adding 10.
GIRLS
OTTO-ELDRED 68, GALETON 22
GALETON, Pa. – Getting contributions throughout the lineup, visiting Otto-Eldred rolled to a 68-22 win over Galeton in NTL action.
Katie Sheeler had a game-high 12 points to go with eight steals, Bri Heller added eight points and a game-best 13 rebounds, Reilly Raught contributed nine points and seven rebounds, Jadelyn Spinney had eight points, five rebounds, four assists and three steals, Haley Cousins chipped in 10 points and Kayley Heller added five points and seven rebounds.
Alli Macensky had seven points to lead Galeton.
DUBOIS 54, CENTRAL MOUNTAIN 43
DUBOIS, Pa. – Olivia Johnson and Abby Guiher combined to score 31 points to help DuBois down visiting Central Mountain, 54-43, at the DuBois Middle School.
Johnson led the charge for the Lady Beavers with 16 points with Guiher adding 15.
Saige Weible added 10 points and Alexas Pfeufer nine in the win for DuBois.
Quinlynn McCann scored 15 points to pace Central Mountain with Alyssa Fisher hitting three 3-pointers and finishing with nine points.
YOUNGSVILLE 24, SHEFFIELD 16
ERIE, Pa. – Sadie Hoffman scored 10 points to lead Youngsville to a 24-16 win over Sheffield at Erie Insurance Arena in Erie.
Lilly Lauffenburger paced Sheffield with eight points.