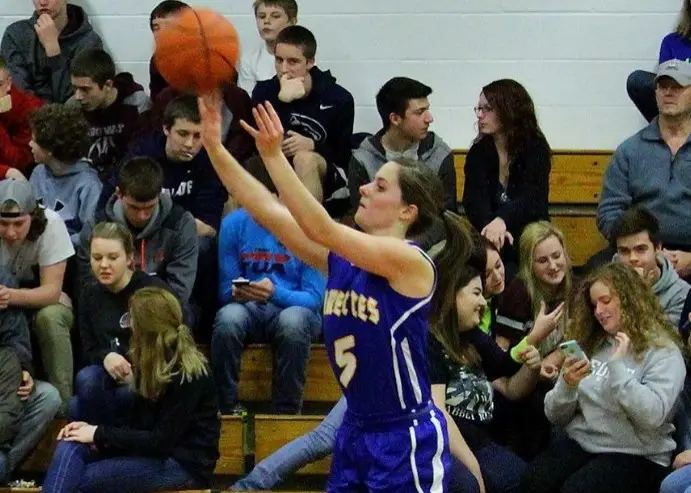 JOHNSONBURG 64, BROCKWAY 32
BROCKWAY, Pa. – Nicole Myers and Ashton Watts both recorded double-doubles as Johnsonburg claimed the second AML playoff spot awarded to the AML North with a 64-32 win at Brockway.
The win moves the Ramettes to 7-3 in AML play and 12-10 overall. They tied for second place with Elk County Catholic but win the third tiebreaker, overall record. The Lady Crusaders finished the regular season 10-12. The first two tiebreakers – head-to-head and divisional record – found the teams still tied thus the need for the third tiebreaker.
Myers had 15 points and 10 rebounds, while Watts added 10 points and 10 rebounds. Cassidy King chipped in 12 points and five steals, and Brianna Quiggle had six points and 10 steals.  
Kaitlyn Morelli paced Brockway (5-16, 4-6) with 12 points.
Brockway's loss also gives Ridgway an AML playoff berth as the second-place team out of the AML South.
BRADFORD 44, ELK COUNTY CATHOLIC 37
BRADFORD, Pa. – Bri Wells and Lee Woodmansee combined to score 25 points, as Bradford knocked off Elk County Catholic, 44-37, in D9 League play.
Wells scored 14 points for the Lady Owls with Woodmansee adding 11 tallies. Raya Henningan added eight points.
Reilly Herzing paced ECC with nine points. Josie Smith and Mackenzie Cashmer each added eight points.
Bradford is 10-11 overall and 5-4 in the D9 League. ECC finishes the regular season 10-12 and 2-8 in the league.
DUBOIS 56, BROOKVILLE 49, OVERTIME
DUBOIS, Pa. – DuBois outscored Brookville 14-7 in overtime to pick up a 56-49 D9 League victory.
Courtney Chandler scored five of her 19 points in overtime with Dayna DeSalve scoring four of her 14 points in the extra session, Taylore Uplinger also scored 19 points for the Lady Beavers.  
Hali Olson led Brookville with 15 points. Elaina Powell added nine tallies.
CURWENSVILLE 52, MOSHANNON VALLEY 47
CURWENSVILLE, Pa. – Christine Limbert scored 13 points and grabbed 17 rebounds  as Curwensville closed out its season with a 52-47 win over visiting Moshannon Valley.
Hannah Dixon led the Lady Tide (3-19) with 19 points, and Shauna Guy added 14.
OTTO-ELDRED 60, AUSTIN 24
DUKE CENTER, Pa. – Camryn Thomas scored 16 points to lead Otto-Eldred to a regular-season ending 60-24 win over visiting Austin in North Tier League play.
Tiffany Bair added 12 points, eight rebounds and four assists for the Lady Terrors (13-9, 9-7 NTL) with Kylie Stuck also scorin 12 points.
Madison Hooftallen led Austin (0-22, 0-16) with six points. Jordan Brewer added five.
CAMERON COUNTY 67, OSWAYO VALLEY 51
SHINGLEHOUSE, Pa. – Cameron County ended its season with a 67-51 win at Oswayo Valley thanks to 25 points, seven assists and five steals from Madi Guisto and 21 points and 10 rebounds from Alyvia McKimm.
Madison Harrier also had a double-double for the Lady Raiders (7-15, 6-10 NTL) with 11 points and 10 rebounds.
Hope Howard paced Oswayo Valley with 18 points while hitting five 3-pointers. Brianna Siebert added 17 points, five rebounds and four steals for the Green Wave (8-14, 3-13).
NORTHERN POTTER 33, GALETON 19
ULYSSES, Pa. – Northern Potter got 12 points from Kali Cowburn and closed out the regular season with a 33-19 win over visiting Galeton.
The Lady Panthers (17-5, 13-3 NTL) led 8-0 at the end of the first quarter and never trailed.
Makaya Shadle, Cortney Parsell and Ashley Cizek each scored six points for Galeton (14-7, 11-5).
SMETHPORT 41, PORT ALLEGANY 37
PORT ALLEGANY, Pa. – Visiting Smethport outscored Port Allegany 13-7 in the fourth quarter to claim a come-from-behind 41-37 win over the Lady Gators in North Tier League action.
Addyson Gross-Benjamin scored eight of her game-high 13 points in the fourth quarter with Abbey Woodard adding five of her 10 in the quarter for the Lady Hubbers (13-9, 10-6 NTL), who are D9 Class A playoff bound. Katie Treat also scored 10 points for Smethport.
Autumn Buchsenschutz led Port Allegany (6-16, 4-12) with 12 points, all in the first three quarters.  
PUNXSUTAWNEY 63, KEYSTONE 50
KNOX, Pa. – Visiting Punxsutawney got 21 points and 20 rebounds from Leah Miller to beat Keystone, 63-50, in non-conference action between two playoff-bound teams.
Alli Lunger added 13 points for the Class AAA Lady Chucks (17-4), while Emma White had 11.
Josselin Geer paced Keystone (15-7) with 16 points and six rebounds. Taylor Geer and Amber Hess each added 11 points. Hess added six board with Taylor Geer chipping in seven rebounds and five blocked shots.