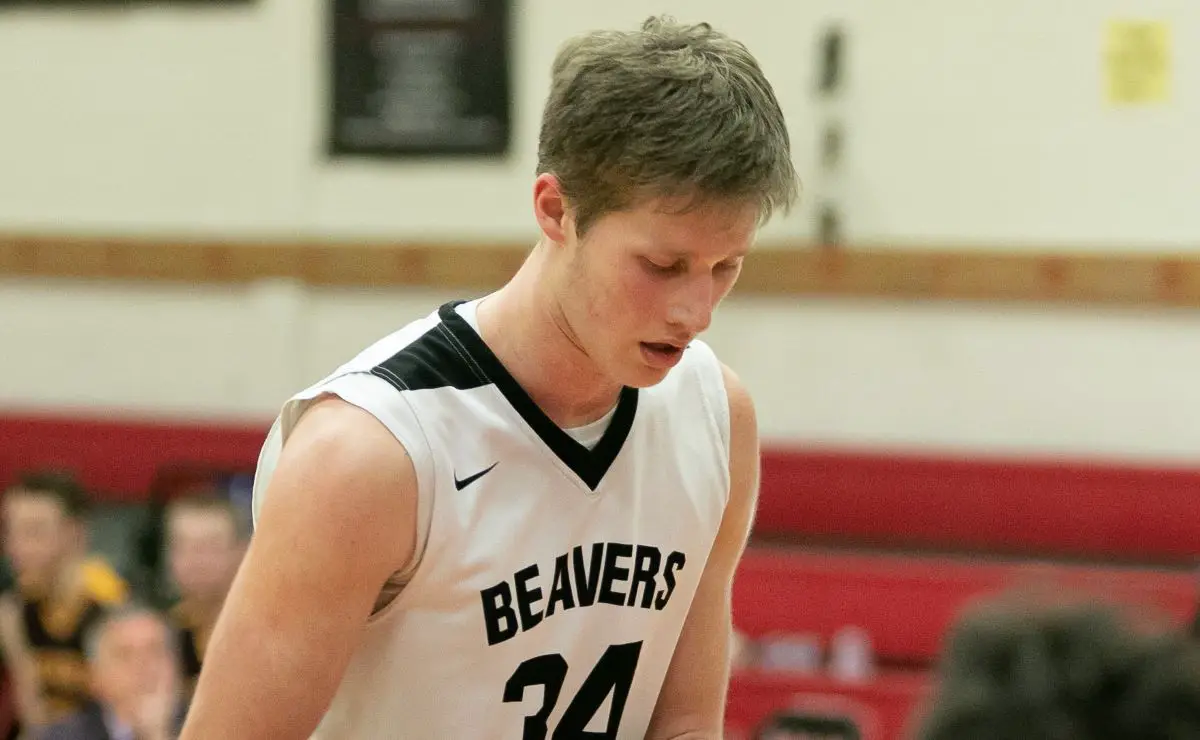 Feb. 10 boys' basketball recaps.
(Photo of DuBois' Chase Husted, who scored 15 of his game-high 22 points in the second quarter of the Beavers 80-49 win over West Shamokin. Photo by Jared Bakaysa of JB Graphics. See more of Bakaysa's work here)
Also see: Johnsonburg secures AML playoff berth with win over Kane
DUBOIS 80, WEST SHAMOKIN 49
RURAL VALLEY, Pa. – Lennon Lindholm and Chase Husted were too much for West Shamokin to handle, as DuBois rolled to an impressive 80-49 road win over the Wolves.
The victory for the Beavers (18-2) broke West Shamokin's six-game win streak and was just the fourth loss of the year for the Wolves (16-4).
Lindholm did the damage in the first half scoring 17 of his 21 points before halftime while knocking down three 3-pointers to help DuBois take a 48-24 halftime lead after a 24-5 second-quarter advantage.
Husted then took over after the break netting 15 of his game-high 22 points in the final 16 minutes, including scoring 10 in the third quarter.
Jordin Sommers also reach double digits for DuBois with 12 points, while Nick Farrell and Nick Felix each chipped in nine points.
Bo Swartz paced West Shamokin with 14 points, Trevor Smulik added 11 and Eric Spencer scored eight.
CLARION 54, BROCKWAY 41
CLARION, Pa. – Hunter Craddock scored eight of his 14 points in a span of 2:45 in the second quarter, and Clarion used the 12-2 run that was created from that to beat visiting Brockway, 54-41.
The win coupled with Smethport's loss to Ridgway most likely secures at worst the No. 5 seed in the upcoming District 9 Class 2A playoffs for the Bobcats (13-8), who play at Karns City Wednesday with the fourth seed on the line.
Clarion led 17-14 following Alec Freemer's second 3-pointer of the second quarter for Brockway when Craddock took over scoring baskets at the 4:27 mark, 3:34 mark, 3:11 mark and 2:42 mark, the last off an offensive rebound, to put the Bobcats ahead 25-16.
Craddock talked about his production and what the win meant to Clarion.
Nick Frederick, who added 12 points and eight rebounds, then added four more points to the run to push the Bobcats' lead to 29-16 late in the first half, and Clarion led 29-18 at halftime.
The advantage grew to 15 twice in the third quarter, the latest at 40-25 following another Craddock basket with 2:26 left in the quarter, before Brockway closed with 11, 44-33, going to the fourth quarter.
The Rovers (6-15) then got back-to-back baskets from Elijah Snell and Chad Bennett to open up the fourth quarter cutting Clarion's lead to 44-37 with 6:51 to play.
But Josh Craig answered with a fastbreak bucket just five seconds later, and that started and 10-0 run for the Bobcats that put the game away.
Cal German scored a game-high 22 points for Clarion, including 10 of the Bobcats' first 17 tallies.
Fremer and Jon Wood led Brockway with nine points each.
NORTH CLARION 82, VENANGO CATHOLIC 42
FRILLS CORNERS, Pa. – On Senior Night at North Clarion, seniors Matson Higgins and Bryce Byers combined to score 41 points to lead the Wolves past visiting Venango Catholic, 82-42, in KSAC North action.
Higgins scored 19 of his team-high 26 points in the first quarter while hitting five first-quarter 3-pointers to help the Wolves (14-7 overall, 7-3 KSAC North) take a 31-12 lead after eight minutes.
Byers added a career-high 15 points for North Clarion, while fellow seniors Drew Gatesman (eight points, six rebounds), Devon Walters (four points, five assists), Chance Schmader (six points, four assists) and Jacob Bauer (six points) also all contributed to the victory.
Andrew Burda scored a game-high 28 points for Venango Catholic (0-21, 0-9).
CURWENSVILLE 58, HARMONY 56
WESTOVER, Pa. – Scott Condon's layup with about 14 seconds to play lifted visiting Curwensville to a come-from-behind 58-56 road win over Harmony in Moshannon Valley League action.
The Golden Tide (3-16 overall, 3-4 MoValley League) trailed 50-44 going to the fourth quarter but rallied for the win behind eight points from Ty Terry, who hit a pair of fourth-quarter 3-pointers on his way to 15 points.
Terry's triple with under a minute to go tied the game at 56.
Adam Miller scored a career-high 21 points for Curwensville, including 10 of the Tide's 13 third-quarter points, while Trevor Landsberry chipped in 12 points.
Adam McGarvey led Harmony with 16 points.
CAMERON COUNTY 55, DUBOIS CENTRAL CATHOLIC 30
EMPORIUM, Pa. – A 26-point outburst from Caden Beldin helped Cameron County beat visiting DuBois Central Catholic, 55-30.
Hayden Brown added nine points for the Red Raiders (16-4) with Dylan Guisto scoring eight.
Alec Srock paced DCC (3-19) with nine points with Ethan Kness chipping in eight points.
RIDGWAY 50, SMETHPORT 33
SMETHPORT, Pa. – Ridgway continued to fine-tune for the District 9 Class 2A playoffs with a 50-33 win at Smethport.
Matt Dush scored a game-high 17 points for the Elkers (15-6), who have won four straight games and seven of eight, while Domenic Allegretto added 10 tallies. Zack Zameroski and Dan Park each chipped in eight points in the win.
Layne Shall led Smethport (12-9) with eight points. Richie McDowell added seven for the Hubbers and Conner Alfieri chipped in six points.
CLEARFIELD 66, PUNXSUTAWNEY 35
PUNXSUTAWNEY, Pa. – Cade Walker and Cole Miller teamed up to score 31 points, as visiting Clearfield beat Punxsutawney, 66-35.
Walker led the Bison (13-8) with 16 points and seven rebounds with Miller, a freshman, adding 15 points on five 3-pointers, including four first-half triples.
Karson Rumsky added nine points and six rebounds in the win, while Matt Pallo scored eight points and Andrew Lopez had five points while dishing out six assists.
Daren Byers paced Punxsutawney (6-13) with 11 points.
TYRONE 67, ST. MARYS 57
ST. MARYS, Pa. – A 24-point night from Damon Gripp helped visiting Tyrone top St. Marys, 67-57.
Landen DeHaas (15 points) and Brandon Lucas (14 points) also reached double digits for the Eagles (19-2).
Cahil Parrish scored a team-best 20 points for St. Marys (5-16) with Mitchell Reiter adding 14 points, Nick Catalone 10 and Luke Lasko eight.
WILLIAMSON 83, NORTHERN POTTER 61
TIOGA, Pa. – A 24-point third-quarter advantage lifted Williamson to an 83-61 win over visiting Northern Potter
The Warriors (4-18) trailed 37-32 at halftime but outscored Northern Potter 29-5 in the third quarter to take control of the game.
Kolby Allen led Williamson with 28 points, Brennan Bolt added 20 points, Devin O'Dell 12 and Carter Strange 10.
Living up to his name, Trey Swanson hit five 3-pointers on his way to a game-high 29 points for Northern Potter 8-13) with Carter Anderson adding 15 points.
BUCKTAIL 59, GALETON 45
RENOVO, Pa. – Gabe Conway netted a game-high 20 points to help Bucktail beat visiting Galeton, 59-45.
Liam Dwyer added 17 points in the win for the Bucks.
Noah Shutt paced Galeton (0-21) with 15 points with Ty Stover adding 12.