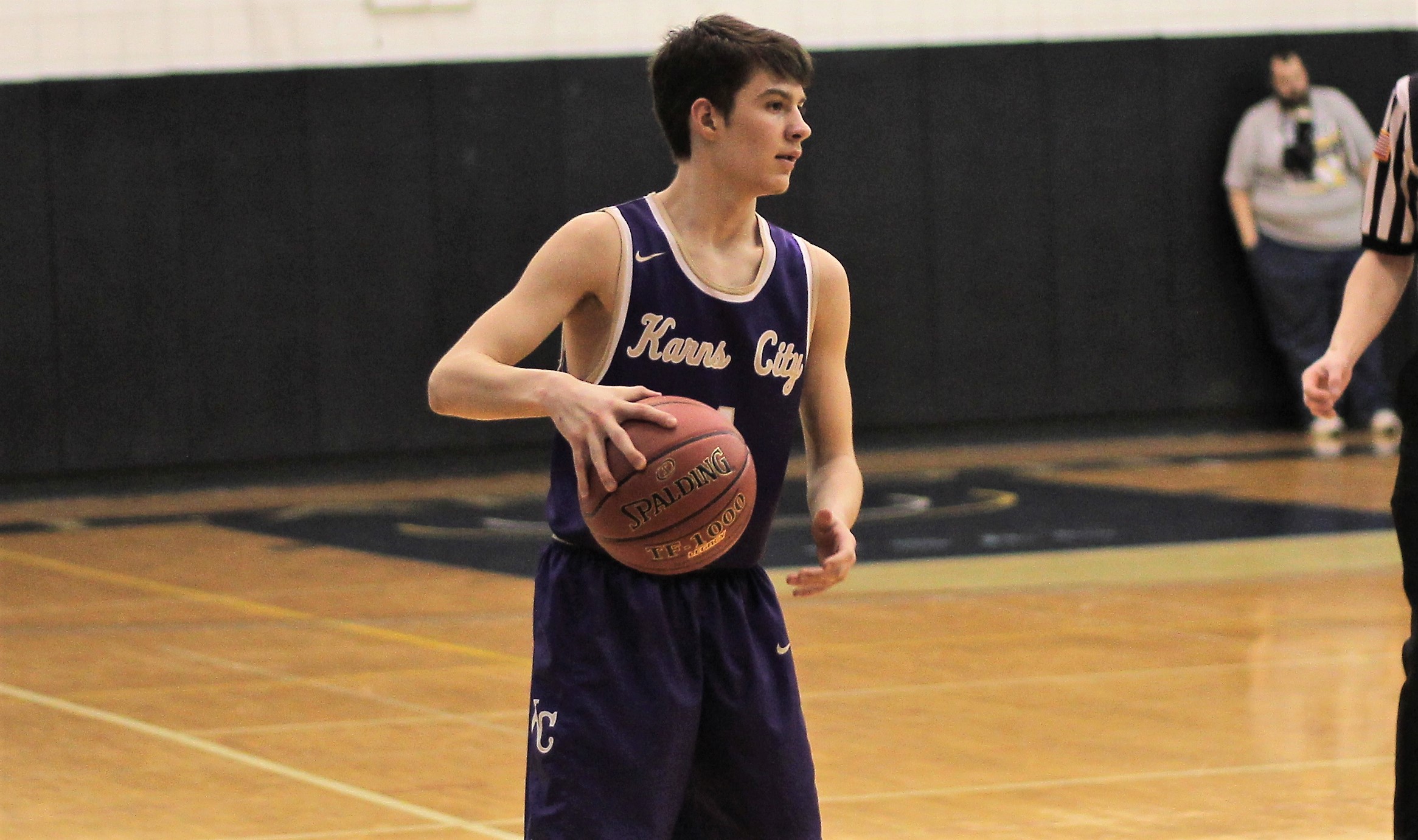 Feb. 11 boys' basketball recaps.
(Photo: Chase Beighley scored the winning bucket with three seconds to play in Karns City's win over Leechburg Monday. Photo by Jared Bakaysa of JB Graphics. See more of Bakaysa's work here)
KARNS CITY 52, LEECHBURG 51
LEECHBURG, Pa. – Chase Beighley's driving layup with three seconds to play gave visiting Karns City a 52-51 win over Leechburg.
The Gremlins trailed by seven, 27-20, at halftime and by six, 42-36, going to the fourth quarter before rallying for the win.
Austin Fahlor and Nathan Waltman each scored seven points in the fourth-quarter comeback.
Waltman finished with 19 points and 13 rebounds with Fahlor adding 11 points, eight rebounds and six assists. Beighley finished with 15 tallies.
John Miskins and Connor McDermott led a balanced Leechburg attack with 13 points each. Jake Blumer added 11 tallies and Dylan Cook 10.
CAMERON COUNTY 88, NORTHERN POTTER 38
EMPORIUM, Pa. – Jake Walters had a double-double of 17 points and 11 rebounds to help Cameron County knock off visiting Northern Potter, 88-38, in NTL play.
Caden Beldin and Dino Brown led the Red Raiders with 19 points each with Marcus Brown adding 18 tallies and Matt Swartz 12 on four 3-pointers.
Cameron County shared the basketball with 27 assists on 33 made shots.
Carter Anderson led Northern Potter with 17 points.
DUBOIS 63, JOHNSONBURG 53
DUBOIS, Pa. – A 27-point night from Jonathan Cruz helped DuBois knock off visiting Johnsonburg, 63-53.
Alex Beers added 14 points for the Beavers with Chase Husted chipping in 13.
Austin Green led Johnsonburg with 22 points with Isaac Schloder adding 11.
SMETHPORT 56, OTTO-ELDRED 45
DUKE CENTER, Pa. – Smethport was 23 of 29 from the free-throw line on its way to a 56-45 road win over Otto-Eldred in NTL action.
Caleb Lutz was 17 of 20 from the line on his way to a game-high 22 points for the Hubbers. Conner Alfieri added a 6 of 6 performance from the charity stripe and scored 18 points.
Gavin Jimerson paced Otto-Eldred with 11 points, Cole Sebastian added 10 and Jake Merry nine.
BROCKWAY 71, CLARION 67
BROCKWAY, Pa. – Brockway outscored visiting Clarion by eight points in the third quarter on its way to a 71-67 win.
Clarion led 35-31 at halftime but were outscored 14-6 in the third quarter.
Alec Freemer paced the Rovers with a game-high 28 points with Zane Puhala scored 19 tallies.
Cal German had 24 points for Clarion with Jake Burns scoring 12 and Archer Mills and Nick Frederick 11 apiece.
CLARION-LIMESTONE 76, A-C VALLEY 68
FOXBURG, Pa. – Ian Callen exploded for a career-high 39 points and Clarion-Limestone rallied for a 76-68 win at A-C Valley.
Twenty-six of Callen's points came in the middle two quarters helping the Lions stay in the game despite A-C Valley scoring 41 points in the second and third quarters combined.
The Falcons led 57-51 after three quarters but C-L rallied in the fourth outscoring A-C Valley 25-11 behind 10 points from Hayden Callen and eight from Ian Callen.
Hayden Callen added 24 points in the victory.
Levi Orton hit five 3-pointers on his way to a team-high 25 points for A-C Valley with Caleb Penny adding 14 points and Eddie Stevanus 12. Orton added seven rebounds, while Stevanus completed a double-double with 11 rebounds.
PUNXSUTAWNEY 75, HOMER-CENTER 50
PUNXSUTAWNEY, Pa. – Carter Newcome netted 19 points to help Punxsutawney to a 75-50 win over visiting Homer-Center.
Ethan Blose added 16 points for the Chucks with Micah Kriebel adding 11, Darren Byers nine, Nick Humble eight and Ethan Presloid seven.
Tanner Yancy and Jon Gearhart each scored 13 points for Homer-Center.
BROOKVILLE 62, REDBANK VALLEY 35
BROOKVILLE, Pa. – Behind 19 points from Aaron Park Brookville beat visiting Redbank Valley, 62-35.
Park, who added eight rebounds, was 9-for-9 from the field on the night.
Logan Byerly added 12 points for the Raiders.
Chris Marshall had a team-high 12 points for Redbank Valley with Keaton Kahle and Bryson Bain each scoring seven.
COMMODORE PERRY 61, CRANBERRY 55
HADLEY, Pa. – Jared Mink scored 22 points and Commodore Perry held off a late Cranberry rally for a 61-55 win.
The Panthers led 46-31 going to the fourth quarter before Cranberry outscored the home team, 24-15, in the final eight minutes to make things close.
Nathan Stringert added 12 points for Commodore Perry with Keane Cropp chipping in 11.
Cameron Russell had a career-high 23 points for Cranberry. JT Stahlman added 11 tallies and Zac Kiefer had 10.