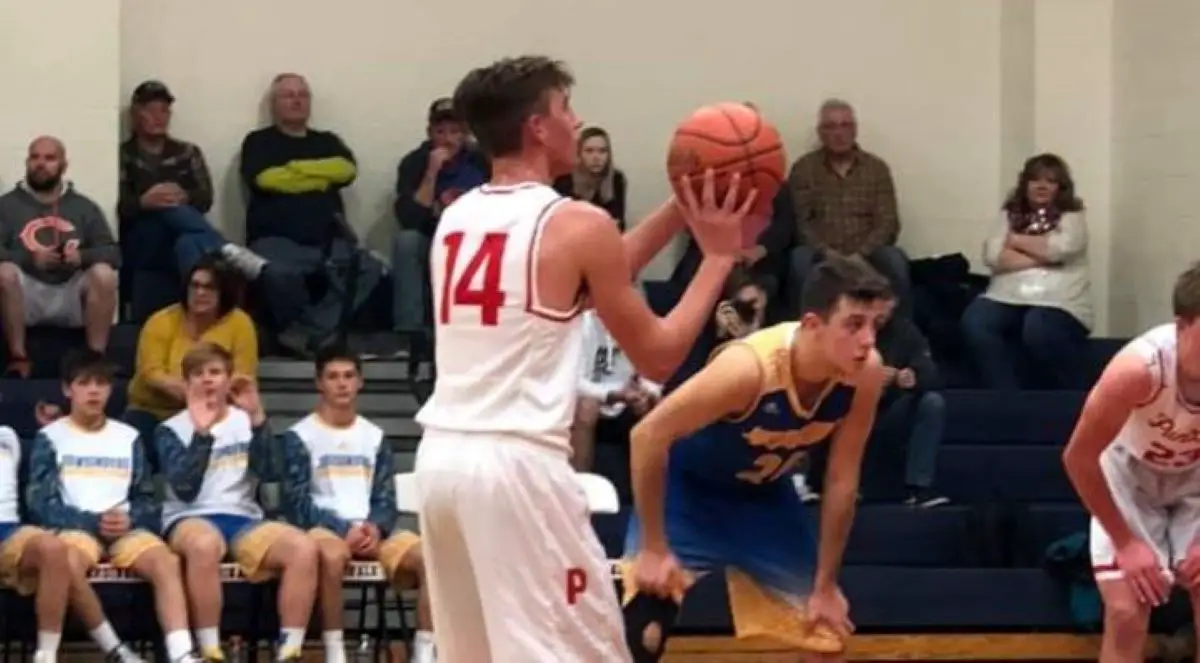 Feb. 11 boys' basketball recaps.
(Photo of Punxsutawney's Ethan Presloid, who hit the game-winning free throw with 2.1 seconds left in double overtime at Homer-Center Tuesday. Photo by Patty Presloid)
Also see: Keystone secures top seed in 2A; ECC Earns at Least Share of D9 League Title
PUNXSUTAWNEY 75, HOMER-CENTER 74, 2 OTS
HOMER CITY, Pa. – Ethan Presloid connected on a free throw with 2.1 seconds left in the second overtime to give Punxsutawney a 75-74 two-overtime win at Homer-Center.
Presloid's overtime heroics helped the Chucks hold off a valiant comeback by Homer-Center, which trailed by 11, 51-40, going to the fourth quarter before outscoring Punxsutawney 23-12 in the fourth to force overtime tied at 63.
Jon Gearhart hit a pair of fourth-quarter 3-pointers for the Wildcats while scoring 10 if his 13 points in the fourth quarter, while Drew Kochman scored six of his eight in the fourth to help force overtime.
The teams each scored six points in the first overtime before Punxsutawney was able to come out on top in the second extra four minutes.
Daren Byers had a game-high 29 points for the Chucks while hitting five 3-pointers. Micah Kriebel added 16 points with Presloid and Andrew Wehrle each scoring nine points in the win.
Jaden Evancik led Homer-Center with 22 points with Ryan Sardone adding 14.
MONITEAU 60, REDBANK VALLEY 56, OT
NEW BETHLEHEM, Pa. – Mason Mershimer scored four of his 10 points in overtime to help visiting Moniteau rally past Redbank Valley, 60-56, in KSAC South action.
The Warriors trailed 42-36 after three quarters but rallied to tie the game at 49 at the end of regulation thanks to five points from Gage Neal in the fourth quarter and four from Ethan McDeavitt including a big 3-pointer from Neal.
Then in overtime, Mershimer scored twice, Nate Tack drilled a 3-pointer, and Moniteau went 4 of 5 from the free-throw line to secure the win.
McDeavitt led the Warriors with 18 points, six assists and six rebounds. Neal added 12 points, six rebounds and four assists and Kyle Pry had 11 points, six rebounds and three assists.
Redbank Valley, playing without second-leading scorer Chris Marshall, got a game-high 27 points from Bryson Bain, who hit five 3-pointers. Bain scored five in overtime for the Bulldogs.
Declan Fricko added 13 points in the loss for Redbank Valley.
RIDGWAY 73, SHEFFIELD 36
RIDGWAY, Pa. – Matt Dush exploded for a game-high 28 points to help Ridgway roll past visiting Sheffield, 73-36.
Zack Zameroski added 12 tallies for the Elkers while Domenic Allegretti and Dan Pack each added seven.
Tyler Hepinger netted 13 points for the Wolverines in the loss.
CAMERON COUNTY 69, OSWAYO VALLEY 31
SHINGLEHOUSE, Pa. – Behind 26 points from Caden Beldin, Cameron County went on the road and defeated Oswayo Valley, 69-31.
Beldin completed a double-double with 14 rebounds for the Red Raiders. Dino Brown added nine points while Hayden Brown chipped in eight.
Gunner Bean paced Oswayo Valley with 14 points with Noah Wichert grabbed a team-best 11 rebounds.
KANE 54, CRANBERRY 44
SENECA, Pa. – Twenty points from Chad Greville helped Kane to a 54-44 road victory over Cranberry.
Greville also grabbed four rebounds and dished out four assists for the Wolves. Carson Whiteman scored eight of his 10 points in the fourth quarter and Matt DeLuca hit a pair of 3-pointers and finished with eight tallies. Brennan Smith had three rebounds, three assists and a pair of steals.
Matt McQuaide went 7-for-8 from the charity stripe and finished with 15 points to pace the Berries offense. JT Stahlman chipped in 13 tallies.
BROOKVILLE 47, JOHNSONBURG 43
BROOKVILLE, Pa. – A balanced scoring effort helped Brookville hold off visiting Johnsonburg, 47-43.
Robert Keth led the Raiders with 13 points while hitting 5 of 6 free throws. Jace Miner added 12 points and five rebounds, Aaron Park had eight points and Jack Krug six points and seven rebounds.
Keth's two free throws with 3.4 seconds left following an offensive rebound of a missed charity shot by Miner with 6.8 seconds to play by Logan Byerly helped secure the win.
Johnsonburg trailed by two, 45-43, with 18.1 seconds to play when Miner came away with a big steal before being fouled.
Austin Green paced Johnsonburg with 13 points and eight rebounds with Cameron Stelene adding 11 points.
A strong started helped Brookville as well, as the Raiders led 18-6 after on quarter.
CLARION-LIMESTONE 87, FOREST AREA 32
TIONESTA, Pa. – Deion Deas and Hayden Callen combined to score 55 points while coming away with 13 combined steals, as visiting Clarion-Limestone rolled to an 87-32 win over Forest Area at West Forest.
Deas scored a game-high 28 points to go with six steals and five assists, while Callen added 27 points, 10 rebounds, eight blocked shots and seven steals.
Curvin Goheen chipped in nine points and nine rebounds in the win with Mitch Knepp scoring seven points to go with six rebounds.
Noah Burke paced Forest Area with 10 points with Allen Johnston scoring seven.