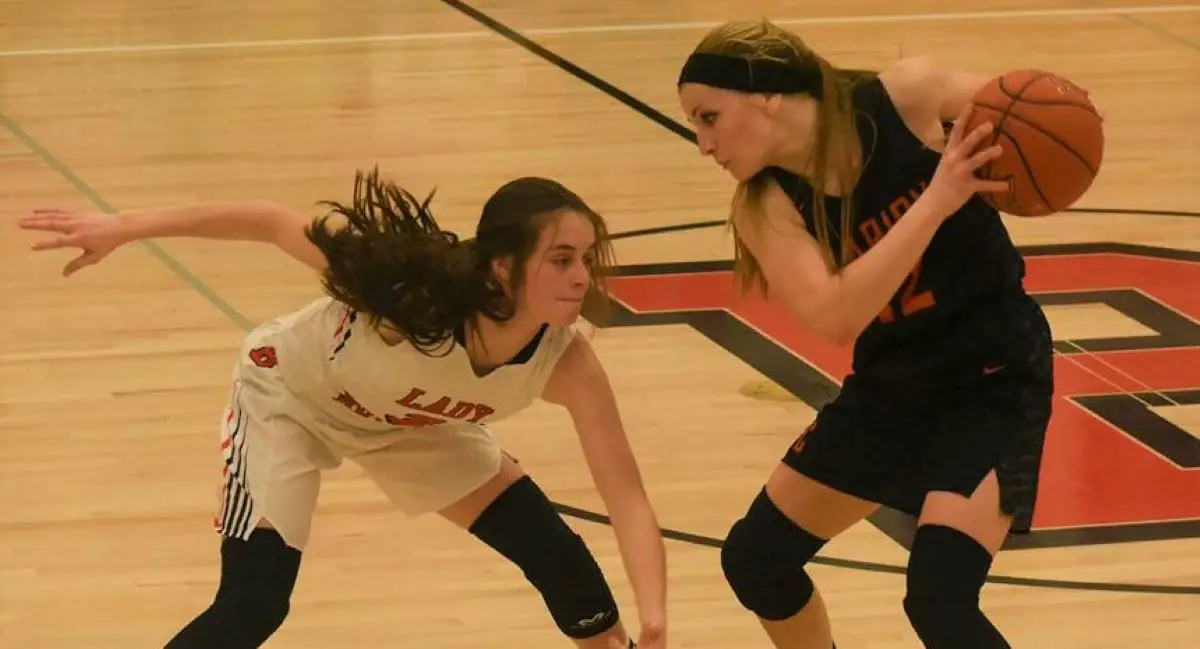 Feb. 11 girls' basketball recaps.
(Photo: Kait Constantino of Clarion (right) is guarded by Brockway's Morgan Lindemuth (left) during Tuesday's game won by Clarion, 49-33. Constantino scored 24 points in the win, while Lindemuth had seven points in the loss. Photo by Kim Constantino)
CLARION 49, BROCKWAY 33
BROCKWAY, Pa. – With seeding at stake in the District 9 Class 2A playoffs, visiting Clarion got 24 points from Kait Constantino on its way to a 49-33 win at Brockway.
Constantino scored eight of her points in the first quarter helping Clarion, which improved to 12-9 on the season, take an 18-12 lead after one quarter of play.
The Lady Cats then took a 26-21 lead into halftime before outscoring Brockway 13-6 in the third quarter behind seven points from Jordan Best and six from Constantino.
Free-throw shooting played a key role in the game with Clarion going 15 of 21 from the line compared to Brockway shooting 4 of 5 from the stipe. Constantino was 9 of 10 from the line herself for the Lady Cats.
Best added eight points in the win with KK Girvin scoring seven and Payton Simko six on a pair of first-quarter 3-pointers in the victory for Clarion.
Danielle Wood led the Lady Rovers, who fell to 12-10, with 14 points, Morgan Lindemuth added seven points, Selena Buttery had two points and 12 rebounds and Macie Smith chipped in four points and nine boards.
Thanks to the victory, Clarion can still be as high as probably the sixth seed in the District 9 Class 2A tournament. This much is known, if the Lady Cats beat DuBois Central Catholic Wednesday they can't finish any lower than the seventh seed and could possibly, depending on tiebreakers, move into the sixth seed. A Clarion loss to DCC, the Lady Cats will drop into the eighth seed with Brockway moving into the seventh seed. The Lady Rovers can be no higher than seventh after the loss Tuesday.
COUDERSPORT 50, OTTO-ELDRED 35
DUKE CENTER, Pa. – Sarah Chambers and Rosalyn Page combined to score 43 of Coudersport's 50 points as the visiting Lady Falcons upended Otto-Eldred, 50-35, in NTL action.
Page led the Coudersport offense with 22 tallies while Chambers hit four 3-pointers and went 5-for-6 from the free-throw line to finish with 21 points.
Jadelyn Spinney had nine points, four rebounds and three steals to pace the Lady Terrors offense. Kayley Heller and Bri Heller each had eight tallies and Morgan Dalton grabbed four rebounds and dished out four assists.
BRADFORD 43, ELK COUNTY CATHOLIC 34
BRADFORD, Pa. – Behind six 3-pointers and 20 points from Hannah Larry, Bradford defeated visiting Elk County Catholic, 43-34, in D9 League play.
Erica Marshall added 11 tallies for the Lady Owls, all coming in the fourth quarter. Alanna Benson chipped in eight points.
Tammi Geci paced the Lady Crusaders offense with 11 tallies and six steals while Taylor Newton completed a double-double with 10 points and 12 rebounds.
KANE 47, JOHNSONBURG 29
KANE, Pa. – Emily Bucheit, Sarri Swanson and Madi Koza combined to score 27 points to lead Kane past visiting Johnsonburg, 47-29, in AML action.
Buchheit led the Lady Wolves with 10 points, Swanson scored nine and Koza added eight.
Julia Jones and Kaci Stelene tied for game-high honors for Johnsonburg with 11 points each.
RIDGWAY 48, SHEFFIELD 4
SHEFFIELD, Pa. – Shutting out Sheffield in the second and fourth quarter, Ridgway rolled to a 48-4 road win in AML action.
Christina Fullem led the Lady Elkers with 21 points with Julie Peterson adding eight and Gabbi Rohr seven.
NORTH CLARION 57, VENANGO CATHOLIC 20
FRILLS CORNERS, Pa. – Nine different North Clarion players scored, as the She-Wolves cruised past visiting Venango Catholic, 57-20, in KSAC North action.
Gabby Schmader led North Clarion with 13 points, Amya Green added 10, Mackenzie Bauer and Gwen Siegel each scored eight and Abby Gatesman added seven.
Emmy Ekis and Mariah Wessell each had eight points and four rebounds for Venango Catholic.
CAMERON COUNTY 61, GALETON 37
GALETON, Pa. – Morgan Lorenzo and Kaelee Bresslin teamed up to score 33 points to lead visiting Cameron County to a 61-37 victory over Galeton in NTL action.
Lorenzo had 17 points to lead the Lady Raiders offense while Bresslin added 16. Mallory McKimm chipped in 15 tallies with Reggie Goodrow netting seven.
Alli Macensky had a double-double with 12 points and 14 rebounds for the Lady Tigers in the loss. Lauren Sauley had 10 tallies, two assists and four rebounds.
OSWAYO VALLEY 42, AUSTIN 12
SHINGLEHOUSE, Pa. – Jadyn Brabhom netted 19 points to help Oswayo Valley roll past visiting Austin, 42-12, in NTL play.
Brabham hit three 3-pointers and went 3-for-4 from the charity stripe for the Green Wave. Mikayla Bell added 10 tallies and Macy West chipped in nine.
Kendra Valenti paced the Lady Panthers with three points.
PORT ALLEGANY 50, NORTHERN POTTER 37
ULYSSES, Pa. – Bree Garzel had a double-double with 16 points and 10 rebounds to lift Port Allegany over Northern Potter, 50-37, in NTl action.
Garzel had a team-best four 3-pointers while also dishing out four assists for the Lady Gators. Cailey Barnett added 12 tallies, seven rebounds, six steals and three assists with Shannon Curfman chipping in eight points, 10 rebounds and five steals.
Courtney Martin and Aubrey Anderson each had 10 points to pace the Lady Panthers offense in the loss. Martin and Anderson both added three steals with Becca Martin grabbing nine rebounds to go with three points.
HOMER-CENTER 43, PUNXSUTAWNEY 40
HOMER CITY, Pa. – Marlee Kochman scored six of her team-high 12 points in the fourth quarter, a Homer-Center rallied past visiting Punxsutawney, 43-40.
Punxsutawney led 32-28 going to the fourth quarter but was outscored 15-8 in the final eight minutes.
Macy Sardone added nine points for the Lady Wildcats in the win with Molly Kosmack scoring eight.
Riley Presloid paced Punxsutawney with 18 points and six rebounds with Sarah Weaver adding 13 points. Ryley Casaday handed out six assists to go with five steals, four rebounds and four points, and Abby Gigliotti had seven rebounds and two points.
Poor shooting hurt the Lady Chucks, who were just 14 of 54 (25 percent) from the floor despite hitting 9 of 22 3-pointers.
DUBOIS 61, BELLEFONTE 54
BELLEFONTE, Pa. – Behind 36 combined points from Olivia Johnson and Saige Weible, DuBois earned a 61-54 road victory over Bellefonte.
Johnson led the Lady Beavers offense with 19 points while Weible went 7-for-10 at the free-throw line and finished with 17 tallies. Alexis Pfeufer hit three 3-pointers and finished with 12 points and Abby Guiher chipped in nine points for DuBois.
Maddie Tice had 14 points to pace the Lady Raiders offense while Sarah Dettaas chipped in 11. Mia Johnson added 10 points.