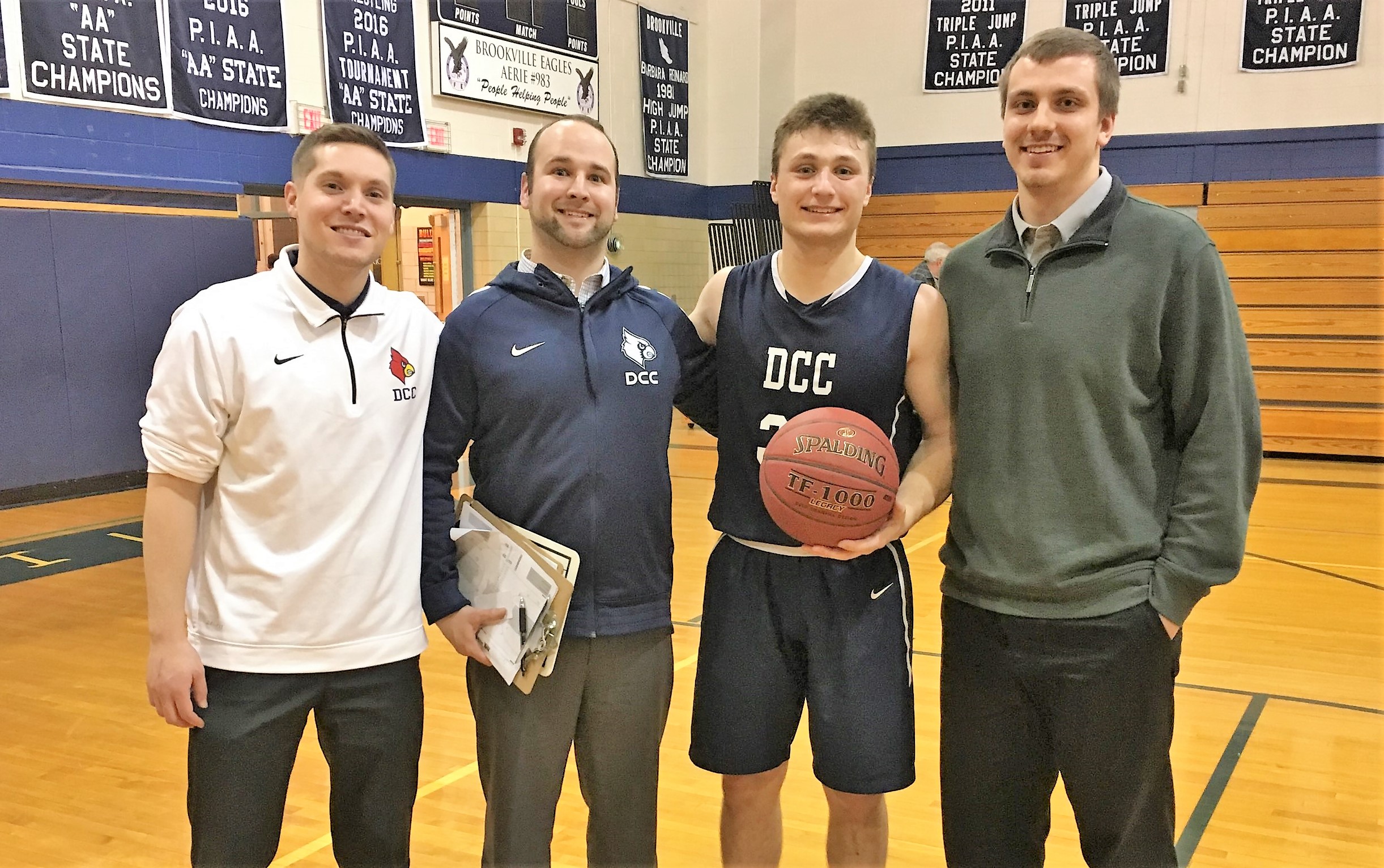 Feb. 12 recaps.
(Photo of DCC's Justin Miknis with the Cardinals coaching staff after scoring his 1,000th career point Monday)
BROOKVILLE 65, DUBOIS CENTRAL CATHOLIC 40
BROOKVILLE, Pa. – Needing 17 points to hit 1,000 in his career, DuBois Central Catholic's junior Justin Miknis scored 20 in a 65-40 loss at Brookville.
Miknis had a double-double in the game with 20 points and 10 rebounds and finished the night with 1,003 career tallies.
Aaron Park had a double-double for Brookville with 10 points and 11 rebounds, while Trenton Gilhousen had a team-best 13 points, Nick Keth 12 points and Bryan Dworek 11.
CLARION 62, BROCKWAY 55
CLARION, Pa. – Cam Craig's double-double helped Clarion knock off visiting Brockway, 62-55.
Craig had a game-high 19 points to go with 10 rebounds and three steals to help the Bobcats to the victory.
Freshman Calvin German added 14 points, five rebounds and three steals for Clarion with Austin Hummell chipping in 10 points and eight rebounds despite three first-half fouls.
Noah Vokes had a double-double for Brockway with 13 points and 10 rebounds while also adding a pair of blocked shots, while Carter Adams chipped in 15 points and eight boards, Zane Puhala nine points and Jon Wood five points, eight rebounds and four steals.
Clarion led 31-26 at halftime then used an 8-3 run at the start of the second half pulled by five points from German to push the lead to 10, 39-29, before going into the fourth quarter up nine, 46-37.
In the fourth, a 12-6 sput to start the quarter got the lead to as many as 15, 58-43, with three minutes left before Brockway made a late push helped by 3-pointers from Puhala, Wood and Vokes to get the game back in single digits.
Spencer Miller, who had eight points and was tasked with following Adams around the court, talked about the win.
RIDGWAY 30, CAMERON COUNTY 17
EMPORIUM, Pa. – Points were at a premium when visiting Ridgway edged Cameron County, 30-17.
Andy Breier led the Elkers with 14 tallies and Neil MacDonald added 10.
Adam Shaffer paced Cameron County with six points.
Ridgway led 17-9 at halftime and then outscored the Red Raiders 13-8 in the second half.
KARNS CITY 74, LEECHBURG 69
KARNS CITY, Pa. – Austin Fahlor scored 10 of his team-high 24 points in the fourth quarter to help Karns City rally past visiting Leechburg, 74-69.
The Gremlins trailed 59-55 going to the final eight minutes before exploding for 19 fourth-quarter points with seven of Fahlor's 10 coming on 7 of 8 from the line.
Chase Beighley added a double-double for Karns City with 11 points and 10 assists, while Jacob Friel had nine points and 11 rebounds, Nolan Riley 11 points and Ethan McElroy 10 points.
Christian Hawk had a game-high 28 points for Leechburg.
JOHNSONBURG 54, DUBOIS 37
JOHNSONBURG, Pa. – Austin Green hit seven 3-pointers on his way to 21 points to lift Johnsonburg to a 54-37 win over visiting DuBois.
Kacey Raubenstrauch added 13 tallies for the Rams.
Justin Manduley paced DuBois with 17 points with Jonathan Cruz adding 13.
CLEARFIELD 49, CURWENSVILLE 29
CURWENSVILLE, Pa. – Ryan Chew had 10 points, five steals and five rebounds to lift visiting Clearfield to a 49-29 win over Curwensville.
Keagan Hess added eight tallies for the Bison with Wyatt Porter chipping in with seven points.
Josh Terry had 20 of Curwensville's 29 points.
A-C VALLEY 62, VENANGO CATHOLIC 55
FOXBURG, Pa. – Thanks in part to 18 points, eight rebounds, five assists and three steals from Eddie Stevanus, A-C Valley knocked off visiting Venango Catholic, 62-55.
Dalton Callander added 11 points and five helpers for the Falcons with Jeff Ginn chipping in 10 points and eight steals.
Ben Gillispie had a game-high 20 points for Venango Catholic with Parker Slagle adding 18.
PUNXSUTAWNEY 69, REDBANK VALLEY 40
NEW BETHLEHEM, Pa. – Led by 18 points from Brandon Matthews, 13 different Punxsutawney players scored in a 69-40 road win over Redbank Valley.
Kevin Constant and Ethan Blose each chipped in eight points for the Chucks, who have won five in a row.
Keaton Kahle led Redbank Valley with nine points with Logan Wadding adding eight tallies.
GALETON 68, AUSTIN 51
GALETON, Pa. – Evan Brooks exploded for 27 points to lead Galeton past visiting Austin, 68-51, in North Tier League action.
Isaiah Shuemaker added 17 points for the Tigers with Joel Griffen chipping in 15 tallies.
Jackson Glover's 13 points paced Austin and Mason Valenti added 12 points.
SMETHPORT 49, PORT ALLEGANY 39
PORT ALLEGANY, Pa. – Brendon Peterson poured in 22 points to lead Smethport to a 49-29 road North Tier League win over Port Allegany.
Conner Alfieri added 11 points for the Hubbers.
David Talkington led Port Allegany with 13 points and Payton Caden added 10. But Howie Stuckey, who had gone off for back-to-back career highs and set a school record with 12 3-pointers Saturday, was limited to nine tallies on three second-quarter 3-pointers.
COUDERSPORT 76, OSWAYO VALLEY 35
SHINGLEHOUSE, Pa. – Jared Green paced a trio of Coudersport players in double digits with a game-high 25 points as the visiting Falcons rolled past Oswayo Valley, 76-35.
Owen Chambers and Hunter Ricke both added 19 points for Coudersport.
Theo Henry paced Oswayo Valley with 12 points.
YOUNGSVILLE 62, FOREST AREA 40
YOUNGSVILLE, Pa. – Gage Henrickson netted a game-high 22 points to help Youngsville beat visiting Forest Area, 62-40.
Seth Berlin had another double-double for Forest Area with 11 points and 10 rebounds while adding six blocked shots. Jarrett Kahle led the Fires with 12 points.
WEST SHAMOKIN 84, UNION 62
RIMERSBURG, Pa. – Drew Orlosky and Carson Dewitt combined for 36 points to lead visiting West Shamokin to an 84-62 win over Union.
Orlosky led the Wolves with 19 points with Dewitt adding 17. Ethan Libengood chipped in 12 tallies and Tyler Lightean 10 for the winners.
Lucas Bowser had a double-double for Union with a game-high 21 points and 11 rebounds. Hunter Johnston added 12 points, Luke Bowser 11 and Reice Saylor 10 for the Golden Knights.
GENESEE VALLEY (N.Y.) 67, OTTO-ELDRED 55
BELMONT, N.Y. – Noah Windus netted 27 points to help Genesee Valley (N.Y.) hold off visiting Otto-Eldred, 67-55.
Otto-Eldred got within two with 2:30 to play but couldn't get any closer.
Sawyer Drummond led the Terrors with 16 points with Jordan Sherwood adding nine.