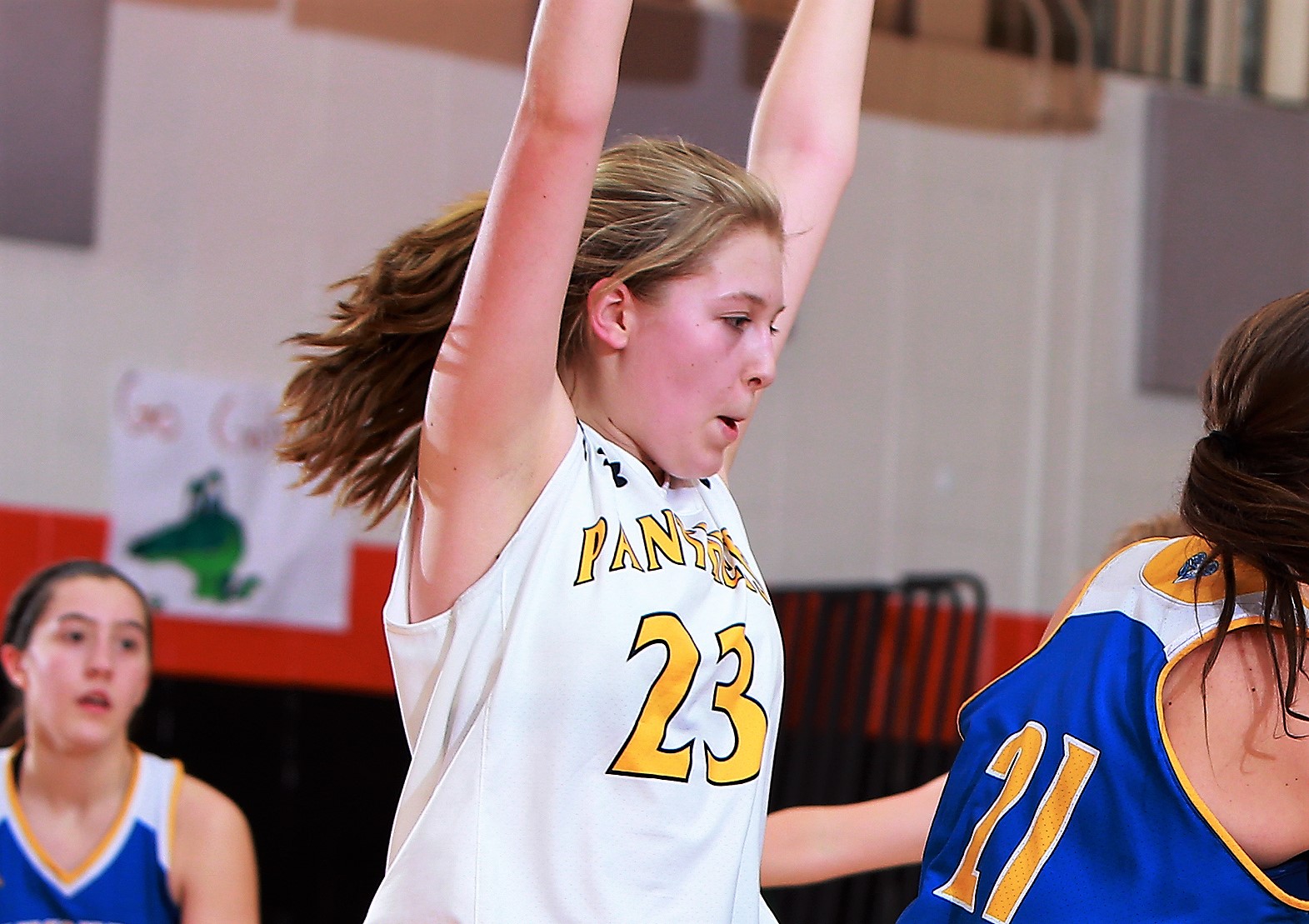 Feb. 12 recaps.
(Photo of Kalie Cowburn of Northern Potter. Photo by Paul Burdick. Check out more of Burdick's work here)
NORTHERN POTTER 40, OTTO-ELDRED 29
DUKE CENTER, Pa. – Kalie Cowburn and Becca Morgan combined to score 14 fourth-quarter points, as visiting Northern Potter stunned Otto-Eldred, 40-29, in North Tier League action.
The win by the Lady Panthers, who trailed 23-22 going to the fourth, means that Otto-Eldred's chances of an NTL title rest on Coudersport losing at home to Oswayo Valley Tuesday. The Lady Falcons beat the Green Wave, 76-21, Jan. 17.
Cowburn and Morgan both scored seven points for NoPo in the fourth quarter to help the Lady Panthers outscored the Lady Terrors, 18-6 in the quarter.
Morgan finished with a team-high 13 points with Cowburn adding nine.
Camryn Thomas had a double-double for Otto-Eldred with 14 points and 10 rebounds while adding five steals despite leaving early with an injury. Emily Smith chipped in five rebounds.
KEYSTONE 66, REDBANK VALLEY 50
KNOX, Pa. – Kenzie Hovis scored seven of her 11 points in a key third quarter, as Keystone overcame a slight halftime deficit to beat visiting Redbank Valley, 66-50, in KSAC South action and secure a trip to the District 9 Class 2A playoffs.
The win helped the Lady Panthers finished the regular season 11-11 after an 0-6 start and ensured they would be allowed to enter the D9 postseason, which is an open tournament but many schools have either a strict or fairly-strict .500 policy to allow a team to enter, including Keystone. If the Lady Panthers had lost, it would have been up to the district's athletic committee (school board committee) to decide if the team would be allowed to participate.
Keystone trailed 29-26 at halftime but outscored the visiting Lady Bulldogs, 19-7, in the third quarter thanks in part to Hovis.
The onslaught continued in the fourth quarter with the Lady Panthers outdistancing Redbank Valley, 21-14, in the frame with Taylor Geer scoring seven of her game-high 24 in the fourth.
Geer also had a big second quarter for Keystone netting 10 points, all from the free-throw line, in the quarter.
Emily Lauer also added 11 points in the game for Keystone with Tessa Weaver scoring nine.
Lexi Holt and Tara Hinderliter both scored 18 for Redbank Valley with Lauren Smith chipping in eight.
There were 53 fouls called in the contest, including 31 on Redbank Valley. Three players fouled out, two from Redbank and one from Keystone.
MONITEAU 46, KARNS CITY 43
WEST SUNBURY, Pa. – Emma Bair scored six of her 20 points in the fourth quarter, as Moniteau outscored visiting Karns City by three in the frame to complete the season sweep of the Lady Gremlins with a 46-43 KSAC South win.
The victory gives Moniteau the second seed in the District 9 Class 3A playoffs over Karns City, which will be the third seed. The two will meet for a third time this season in the D9 postseason most likely on a neutral court.
The game was tied at 34 after three quarters before Moniteau won the fourth quarter and the game.
Bair completed a double-double with 14 rebounds and also had six blocks and four steals.
14 rebounds, 6 blocks 4 steals. Kristin Auvil added eight points and Andie Arblaster 11 for Moniteau.
Emily Hegedus paced Karns City with 24 points with Olivia Mourer adding eight.
BROCKWAY 53, SHEFFIELD 49
SHEFFIELD, Pa. – Brockway overcame a slow start then held off Sheffield for a 53-49 non-conference road win.
The Lady Rovers trailed 10-6 at the end of a quarter but led 26-24 at halftime and 42-34 going to the fourth quarter.
Leah Lindemuth recorded her 13th double-double of the year with 20 points and 14 rebounds. Kaitlyn Morelli added 15 points and Morgan Lindemuth 10.
Mya Grubbs led Sheffield with a game-high 23 points, Lexi Lyon added 15 and Eliza Davidson 10.
DUBOIS 59, INDIANA 38
DUBOIS, Pa. – Behind 23 points and 12 rebounds from Ashley Hallowell, DuBois rolled to a 59-38 win over visiting Indiana.
Hallowell netted 10 first-quarter points to help the Lady Beavers take am 18-7 lead after one, and that lead grew to 34-17 at halftime.
Chelsea DeSalve added 21 points for DuBois, including eight in the second quarter,
Alexis Bonatch scored 11 to lead Indiana with Bailey Dills adding 10.
CRANBERRY 52, FOREST AREA 14
MARIENVILLE, Pa. – Malliah Schreck had a double-double with 24 points and 10 rebounds while adding four steals and four assists in a 52-14 KSAC North road victory over Forest Area.
Ava Ferringer added nine points for the Berries with Hannah Duncan chipping five points and seven rebounds.
Bianca Hetrick led Forest Area with four points.
NORTH CLARION 60, DUBOIS CENTRAL CATHOLIC 32
DUBOIS, Pa. – Tori Obenrader and Abby Gatesman combined to score 42 points to lead the She-Wolves to the first undefeated regular season in school history with a 60-32 win at DuBois Central Catholic.
Obenrader had 22 points and 22 rebounds with Gatesman adding 20 points. Makenzie Bauer chipped in eight points for North Clarion.
Ashley Wruble paced DCC with 11 points with Shay Gulvas adding 10 points.