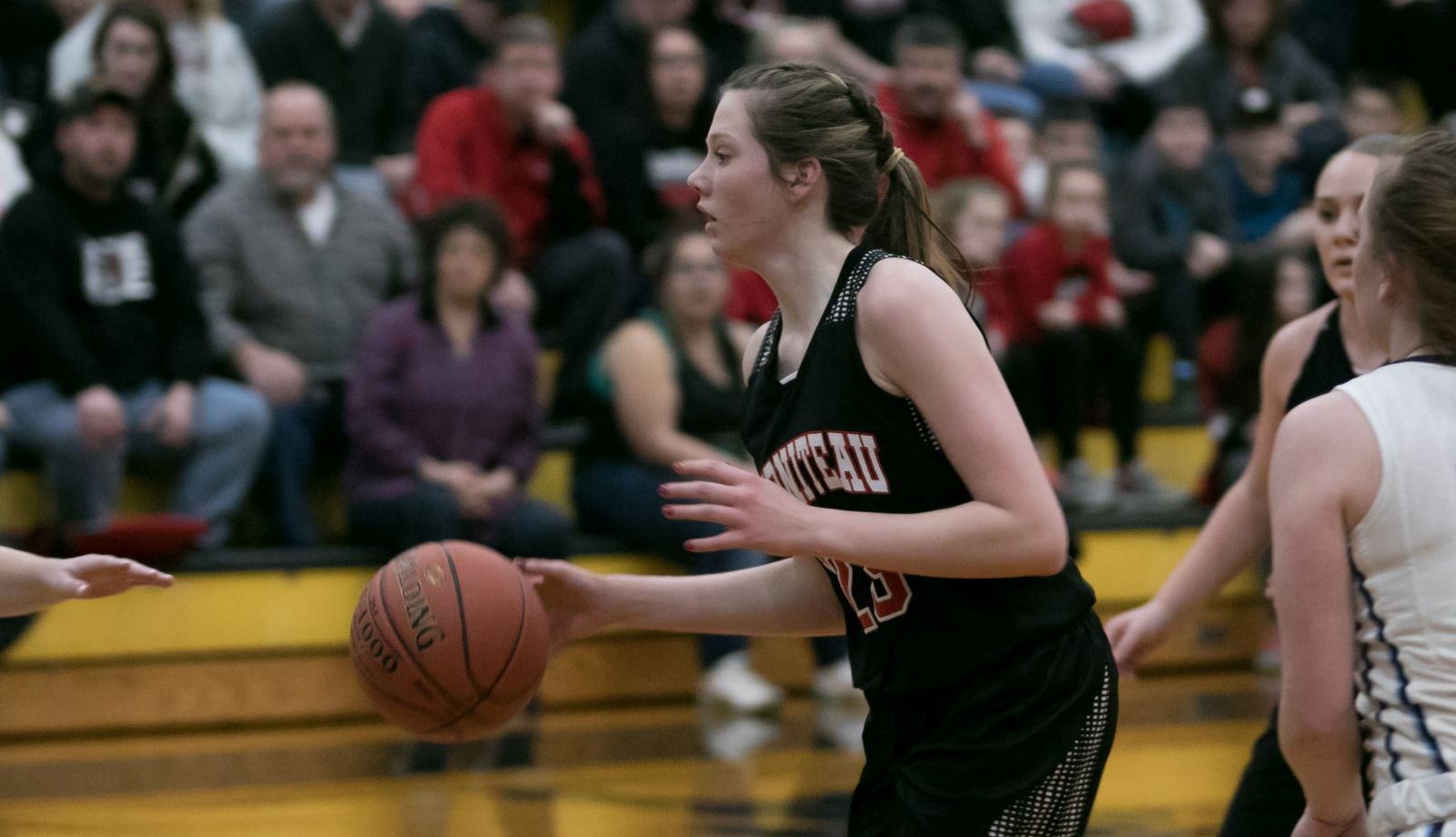 Feb. 12 girls' basketball recaps.
(Photo of Moniteau's Aslyn Pry. Photo by Jared Bakaysa of JB Graphics. See more of Bakaysa's work here)
MONITEAU 57, REDBANK VALLEY 47
WEST SUNBURY, Pa. – A monster game from Aslyn Pry helped Moniteau play the role of spoiler in Redbank Valley's quest for the top seed in the District 9 Class 2A playoffs, as the Lady Warriors beat the visiting Lady Bulldogs, 57-47.
Pry led the way with 17 points and 22 rebounds, while Kristin Auvil added 18 points and four blocked shots.
Haley Pry and Katie Chesnois each contributed eight points to the win.
Tara Hinderliter paced Redbank Valley with 18 points with Lauren Smith adding eight points and Madison Forninger seven.
The loss by Redbank Valley gives the top seed in the D9 2A playoffs to Ridgway (16-5) while dropping Redbank Valley (16-6) to the No. 2 seed. The Lady Bulldogs should get the tiebreaker over Port Allegany (16-6) based on beating Mercer while the Lady Gators lost to Mercer.
NORTH CLARION 63, CRANBERRY 28
FRILLS CORNERS, Pa. – Abby Gatesman recorded a triple-double of 12 points, 10 rebounds and 10 assists, as North Clarion completed its second unbeaten regular season in three years with a 63-28 win over visiting Cranberry.
Gwen Siegel scored a team-high 13 points for the She-Wolves, who are now 101-9 in the regular season since the 2016 season, with Mackenzie Bauer adding 11 points and Gabby Schmader 10.
Kaia Dean led Cranberry with nine points.
ST. MARYS 46, BROOKVILLE 44
ST. MARYS, Pa. – Hitting four third-quarter 3-pointers, St. Marys used a 19-10 advantage in the third frame to get past visiting Brookville, 46-44, in D9 League action.
The Lady Dutch trailed 15-6 after eight minutes and 24-21 at halftime before getting triples from Kaylee Muccio, Kyla Johnson, Britney Shaw and Allison Schlimm in the third quarter to take a 40-34 lead. They then held off Brookville in the fourth quarter to get the victory.
Muccio led St. Marys with 12 points with Shaw adding seven.
Marcy Schindler led Brookville with 15 points with Morgan Johnson scoring 13 and Lauren Hergert 10.
A-C VALLEY 43, UNION 33
RIMERSBURG, Pa. – Rachel Cullen scored 11 of her game-high 23 points in the fourth quarter, as visiting A-C Valley rallied past Union, 43-33, in KSAC North action.
The Lady Falcons trailed 27-26 going to the fourth quarter before outscoring the Golden Damsels 17-6 in the final eight minutes behind Cullen.
Hailey Kriebel led Union with nine points with Maggie Minick adding eight.
Despite the loss, Union (11-11) will still be the No. 5 seed in the upcoming District 9 Class 1A playoffs thanks to Clarion's win over DuBois Central Catholic Wednesday. The Golden Damsels and Cameron County are both tied at 11-11 but Union wins the tiebreaker having beaten the Lady Raiders in a head-to-head matchup.
CURWENSVILLE 51, MOSHANNON VALLEY 41
CURWENSVILLE, Pa. – Alyssa Bakaysa led a trio of Curwensville players in double digits with 17 points, as the Lady Tide picked up a 51-41 MoValley League victory over Moshannon Valley.
Tarah Jacobson added 13 points and Hannah Condon 12 for Curwensville.
Sydney Bubb led all scorers with 22 points for Moshannon Valley.
BELLEFONTE 54, CLEARFIELD 38
HYDE, Pa. – Mal Smith scored a game-high 21 points to lead Bellefonte to a 54-38 win at Clearfield in Mountain League action.
Maddie Tice added 19 points in the win.
Kylie VanTassel led Clearfield with 11 points with Megan Durandetta and McLain Alt each scoring nine points.
WEST SHAMOKIN 49, KARNS CITY 30
RURAL VALLEY, Pa. – Sophie Fusaro and Shelby Cessna combined for 32 points to lead West Shamokin to a 49-30 win over visiting Karns City.
Fusaro led the Lady Wolves with 17 points with Cessna adding 15.
Emma Johns hit three 3-pointers and finished with a double-double of 18 points and 11 rebounds for Karns City.
CLARION 54, DUBOIS CENTRAL CATHOLIC 35
CLARION, Pa. – Behind 19 points from Kait Constantino, Clarion beat visiting DuBois Central Catholic, 54-35.
KK Girvin added 12 points for the Lady Cats in the win.
Shay Gulvas led DCC with 13 points with Maia Cogley adding eight.