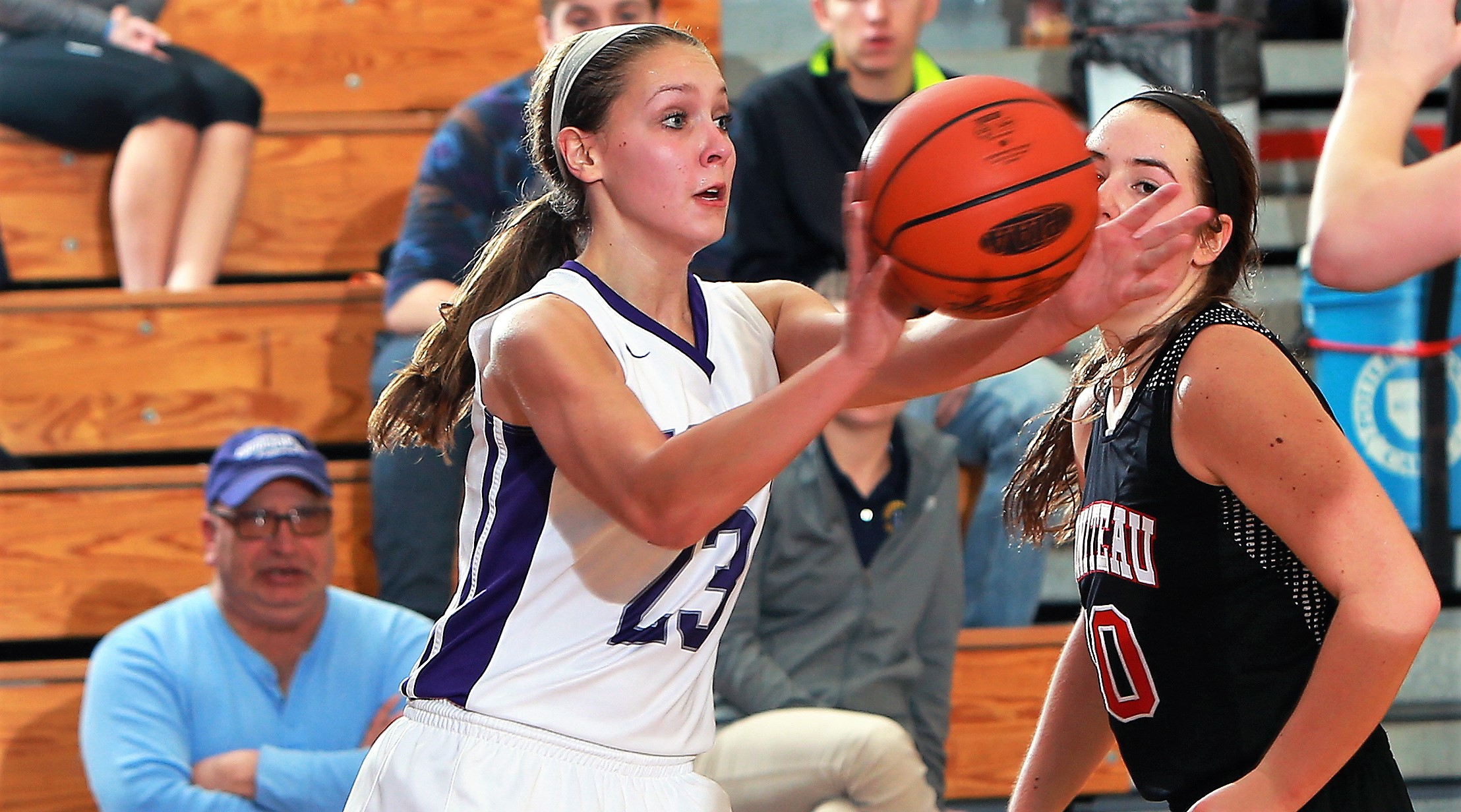 Feb. 13 recaps.
(Photo Haley Keck, Coudersport. Photo by Paul Burdick. Check out more of Burdick's work here)
COUDERSPORT 91, OSWAYO VALLEY 31
COUDERSPORT, Pa. – Haley Keck exploded for 32 points, eight assists and seven rebounds as Coudersport clinched its third straight North Tier League title with a 91-31 win over visiting Oswayo Valley.
After having the door to the outright title opened to them Monday night when Northern Potter upset Otto-Eldred, the Lady Falcons walked straight through it jumping out to a 23-15 lead after a quarter and a 55-19 halftime advantage.
Keck scored 25 of her points before intermission including 17 in the 32-point second quarter.
Shaelyn Black added 17 points for Coudersport with EmmaRae Easton chipping in 13 points and 12 rebounds and Sarah Chambers 12 points and nine boards.
Shayla Bickel had a team-high 21 points for Oswayo Valley.
GALETON 49, AUSTIN 25
AUSTIN, Pa. – Behind 18 points and 17 rebounds from Makaya Shadle visiting Galeton knocked off Austin, 49-25, in North Tier League action.
With the 17 boards, Shadle is now five rebounds shy of becoming the first girl in Galeton school history to record 1,000 points and 500 rebounds in a career.
Katelyn Pagano added 11 points for the Lady Tigers with Cara Parsell chipping in nine.
Jordan Brewer had 15 points for Austin with Angie Watson adding two points and 11 rebounds.
PUNXSUTAWNEY 56, BROOKVILLE 50
PUNXSUTAWNEY, Pa. – With her team down a point going to the fourth quarter, Punxsutawney senior Leah Miller netted nine of her game-high 29 points in the final eight minutes to rally the Lady Chucks past visiting Brookville, 56-50, in D9 League action.
Punxsutawney trailed 40-39 after three but outscored the Lady Raiders, 17-10, in the fourth quarter.
Miller completed another monster double-double 22 rebounds, her second 20-20 game in her last four outings and the sixth straight game she has had at least 15 points and 15 rebounds. She also chipped in four blocks and two steals.
Kate Horner added 11 points and six assists for Punxsutawney.
Marcy Schindler paced Brookville, which trailed 24-23 at halftime, with 15 points with Madison Johnson adding 14 and Morgan Johnson nine.
ELK COUNTY CATHOLIC 40, BRADFORD 37
BRADFORD, Pa. – Taylor Newton had 18 points and 17 rebounds to lift visiting Elk County Catholic to a 40-37 win over Bradford in D9 League action.
Josie Smith chipped in 16 points for the Lady Crusaders, who led 23-16 at halftime and 32-27 after three quarters.
Erica Marshall paced Bradford with 15 points and Hannah Lary added 12.
RIDGWAY 53, SHEFFIELD 41
SHEFFIELD, Pa. – Emily Fullem's 15th consecutive double-double led visiting Ridgway to a regular-season ending 53-41 AML road win at Sheffield.
Fullem scored 31 points, her fourth 30-point game of the year, while adding 12 rebounds, eight steals, six blocked shots and an assist. She finished the regular season with 20 double-doubles in 21 games while averaging 21.2 points, 14.9 rebounds and 5.5 blocks per game. She is third in rebounding in District 9 behind Punxsutawney's Leah Miller (16.1) and North Clarion's Tori Obenrader (15.0).
Casey Woodford added eight points, four rebounds and four assists for Ridgway with Alyssa Kasmierski chipping in eight tallies, five assists and four rebounds.
Mya Grubbs' 15 points led Sheffield with Eliza Davidson adding 12 tallies.
The win clinches the AML South title for Ridgway over DuBois Central Catholic via the better overall record tiebreaker.
A-C VALLEY 52, DUBOIS CENTRAL CATHOLIC 42
FOXBURG, Pa. – Up by three at halftime, A-C Valley outscored visiting DuBois Central Catholic 12-2 in the third quarter to gain separation on its way to a 52-42 win over the Lady Cardinals.
Ellie Thompson had 26 points to pace the Lady Falcons, who were up 28-25 at halftime, while Kylee Eaton added 10 points and Cami McNany eight.
Shay Gulvas led DCC with 13 points.
CLEARFIELD 52, CURWENSVILLE 21
HYDE, Pa. – Nicollette Brossard scored 11 points and hauled down a game-high 21 rebounds to lead Clearfield to a 52-21 win over visiting Curwensville.
Brooke Cline scored a game-high 20 points for the Lady Bison with Alyana Ryan adding 16 points and eight assists.
Madi Weber had 18 of Curwensville's 21 points and added 11 rebounds.