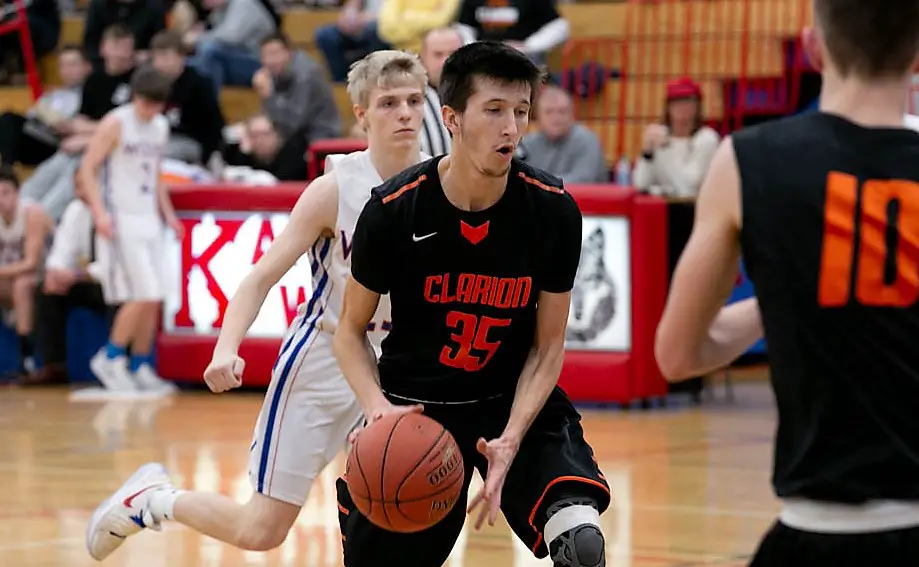 Feb. 13 boys' basketball recaps.
(Photo: Nick Frederick scored 20 points to lead Clarion past Kane. Photo by Tessa Boschert. Check out more of Boschert's work here)
CLARION 73, KANE 41
KANE, Pa. – Nick Frederick scored a game-high 20 points and Gavin Brinkley added a double-double with 12 points and 12 rebounds to help visiting Clarion clinch a playoff berth with a 73-41 win over Kane.
Jake Burns added 10 points for the well-balanced Bobcats with Archer Mills and TiJon Faulk-Taylor each adding nine tallies and Cal German eight points.
Alex Rezzelle scored 10 points for Kane with Tommy Holt adding nine and Chad Greville eight.
ELK COUNTY CATHOLIC 76, BRADFORD 53
BRADFORD, Pa. – Alex Breindel and Regis Wortman combined for 43 points, as Elk County Catholic completed it third unbeaten regular season in the past four years with a 76-53 road win over Bradford in D9 League action.
Breindel paced the Crusaders, who also finished 22-0 in the regular season in 2016 and 2017, with 23 points with Wortman adding 20 tallies. Alec Wheler contributed 14 points and Brady Schneider chipped in with 10 points.
Steve Knowlton had 13 points and Tyler Gigliotti 11 for Bradford.
DUBOIS CENTRAL CATHOLIC 46, CAMERON COUNTY 40
DUBOIS, Pa. – Justin Miknis and Jonathan Kurtz combined for 32 points to lead DuBois Central Catholic past visiting Cameron County, 46-40.
Miknis led the Cardinals with 19 points with Kurtz adding 13. Peter Downer chipped in eight tallies.
Caden Beldin had 12 points for Cameron County with Dino Brown adding nine and Jake Walters seven.
REDBANK VALLEY 73, UNION 65
RIMERSBURG, Pa. – Behind a game-high 27 points from Nick Smith, visiting Redbank Valley knocked off Union, 73-65, in KSAC South play.
Keaton Kahle added a double-double for the Bulldogs with 11 points and 11 rebounds, Declan Fricko scored 10 points and Chris Marshall added eight.
Freshman Caden Rainey had 24 points to lead Union while Karter Vogel scored 12 points and Luke Bowser 10.
MONITEAU 62, A-C VALLEY 50
FOXBURG, Pa. – Ethan McDeavitt scored 24 points, grabbed seven rebounds, swiped seven balls and dished out four assists to lift visiting Moniteau to a 62-50 win over A-C Valley in KSAC South action.
Gage Neal chipped in nine points, nine assists and four steals for the Warriors with Jared Lominski adding seven points, seven rebounds and four assists.
Caleb Penny paced A-C Valley with 13 points, Eddie Stevanus added 11 points and seven rebounds and Levi Orton scored nine tallies.
AUSTIN 84, OSWAYO VALLEY 34
AUSTIN, Pa. – Garrett Rees scored a game-high 20 points to help Austin beat visiting Oswayo Valley, 84-34, in NTL play.
Dempsey Glover and Blake Burgett each added 13 points for the Panthers with Joseph Glover hitting three 3-pointers on his way to nine tallies.
Noah Wichert led Oswayo Valley with 12 points.
CLARION-LIMESTONE 64, BROCKWAY 51
BROCKWAY, Pa. – A 25-point, eight-steal, eight-rebound effort from Ian Callen helped visiting Clarion-Limestone beat Brockway, 64-51.
Julian Laugand added 12 points for the Lions with Hayden Callen adding 11 points and Curvin Goheen 10.
Alec Freemer led Brockway with 17 points, Zane Puhala added 13 tallies and Matthew Clark nine on three 3-pointers.
OTTO-ELDRED 69, NORTHERN POTTER 53
ULYSSES, Pa. – Cole Sebastian tickled the twine for 16 points to help visiting Otto-Eldred to a 69-53 win over Northern Potter in NTL action.
Jake Merry added 12 points for the Terrors with Andrew Sheeler scoring nine and Braden Maholic eight.
Holden Cowburn had a game-high 22 points for Northern Potter with Carter Anderson scoring 19.
GALETON 76, PORT ALLEGANY 63
GALETON, Pa. – Evan Brooks exploded for a game-high 26 points to lead Galeton past visiting Port Allegany, 76-63, in NTL action.
Isaiah Shuemaker added 18 points in the win for the Tigers with Joel Griffen scoring 13.
Howie Stuckey scored a game-high 30 points for Port Allegany while hitting seven 3-pointers.
RIDGWAY 68, SHEFFIELD 41
SHEFFIELD, Pa. – Jake Reynolds and Matt Dush combined for 30 points to help visiting Ridgway to a 68-41 AML victory over Sheffield.
Reynolds netted a game-high 16 points for the Elkers with Dush adding 14. Daunte Allegretto chipped in 10 points.
Jake Vinopold paced Sheffield with 15 points with Tyler Hepinger adding 13.
HOLLIDAYSBURG 82, PUNXSUTAWNEY 42
PUNXSUTAWNEY, Pa. – A 26-point night from Sam Servello helped visiting Hollidaysburg roll past Punxsutawney, 82-42.
Josh Holsopple added 19 points for the Tigers, Jaden Delerme had 13 tallies and Mitch Barton scored 12 points.
Nick Humble led Punxsutawney with 13 points with Carter Newcome scoring nine.
TIDIOUTE CHARTER 46, CRANBERRY 40
TIDIOUTE, Pa. – Jared Veasey led a balanced Tidioute Charter attack with 12 points, as the Bulldogs knocked off Cranberry, 46-40.
Ryan Williams chipped in 11 points and Patrick Shields nine for Tidioute Charter.
JT Stahlman led Cranberry with 18 points with Preston Forrest adding eight.